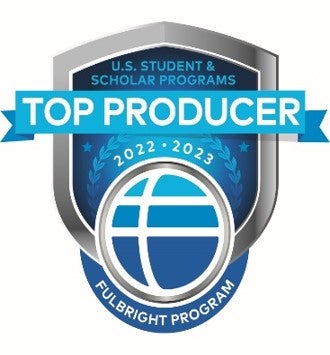 The Fulbright program was established in 1946 and is administered by the Institute of International Education Council for International Exchange of Scholars. The program is designed to "increase mutual understanding between the people of the United States and the people of other countries" and provides the opportunity to study, teach, and conduct research, exchange ideas and contribute to finding solutions to shared international concerns.
The Fulbright Scholars Program sends faculty from the U.S. abroad to lecture, conduct research, or participate in seminars. Faculty generally stay abroad anywhere from two months to a full academic year. This award is often taken in conjunction with research, development or sabbatical leave options. Arizona State University faculty Fulbright scholars have canvassed the world serving in different countries and institutions. ASU is recognized as one of the top producers of Fulbright Faculty Scholars. View ASU Fulbright membership.
The Fulbright Scholar Program is currently accepting applications for the awards for the 2024–2025 academic year. Application deadline is: Sept. 15, 2023. Opportunities are available in more than 125 countries for college and university faculty and administrators as well as other professions. For more information about the program visit Core Fulbright U.S. Scholar Program.
The ASU Fulbright Office provides extensive resources to faculty and staff applying to either the Scholars or Specialists program, including consultations, coaching, and application reviews. The ASU Fulbright Office also assists units with the hosting of visiting scholars.  To learn more about how ASU Fulbright can help you reach your Fulbright goals, set up a consultation with Karen Engler-Weber, ASU's Fulbright liaison at karen.engler@asu.edu. Students applying to the U.S. Fulbright Student Program should contact the Office of National Scholarship Advisement hyperlink to https://onsa.asu.edu/fulbright.