People
---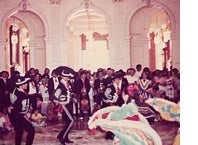 HBLI has five different areas that make up the people who work with the consortium. The four-member Coordinating Council is made up of the orginal founders of HBLI and oversees the general direction and focus of consortium
The National Advisory Panel, consisting of 24 member, advises the Executive Director and the Coordinating Council on what direction HBLI should take and the identification of possible funding.
The Scholars Program is a network of expert researchers and practitioners who share their knowledge with the graduate fellows and inform interested parties about salient educational issues impacting Latinos.
There are Doctoral Fellows and Alumini at various stages completing their doctorates at four campuses: Arizona State University, New Mexico Sate University, University of California, Riverside and University of Texas, Pan America. The fellows are training to be a change agents so as to create systematic change and improve the educational condition of Latinos.
Lastly, no organization can run without a dedicated Staff, and HBLI's hard-working staff are featured here.