About Us
---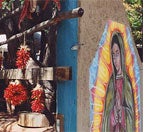 The Hispanic Border Leadership Institute (HBLI) is a consortium of eight institutions of higher education as well as a leadership development initiative and a doctoral fellowship program in educational leadership.

HBLI was established in 1996 by four U.S. Southwestern border-state institutions of higher education to promote the improvement of education for Hispanics in the United States. In 1998, three universities were added to the consortium, and another joined in 2000. HBLI was born of the realization that, while Hispanics have made modest progress in achieving access and success in education, their status has not improved substantially over what it was in the past. Thus, the Institute seeks to address issues that affect the education of Hispanics at all levels, K-16, particularly along the U.S.-Mexico border.

The consortium recognizes that in order to significantly improve the educational conditions of Hispanics, bold new approaches must be taken. The Institute seeks to bring about systematic change in education by designing new approaches to the doctoral preparation programs of educational leaders, by providing relevant leadership and policy training for trustees of public schools and community colleges as well as universities of the Southwest, and by examining and influencing public policy directly impacting Hispanic education in the Southwestern United States.

HBLI is a six-year initiative funded in part by the W. K. Kellogg Foundation. The project is headquartered at Arizona State University, directed by Leonard A. Valverde, Professor of Educational Leadership and Policy Studies. HBLI Consortium members are: Arizona State University, California State University-Bakersfield, Maricopa County Community College District, New Mexico State University, Palo Alto College, Southwest Texas State University, University of California-Riverside, and University of Texas-Pan American.