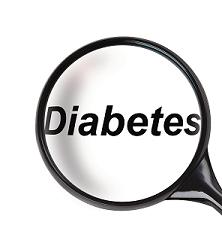 La diabetes puede ser definida como una condici車n en la cual el nivel de glucosa sanguina se encuentra en un nivel alto. La glucosa es el carbohidrato m芍s com迆n y se clasifica como un monosaccharide, an aldose, a hexose y reduce el az迆car. Tambi谷n se conoce como dextrosa porque es dextro-rotatoria (es decir que como un isomer 車ptico gira el plano de luz polarizada hacia la derecha) y tambi谷n se conoce como un origen de la designaci車n D.
La glucosa tambi谷n es conocida como az迆car sanguina mientras circula en la sangre en una concentraci車n de 65-110 mg/ml de sangre. Inicialmente la glucosa es sintetizada por medio de clorofila en plantas utilizando mon車xido de carbono por medio del aire y luz solar como fuente de energ赤a. La glucosa aun se convierte en az迆car para almacenaje. Mientras que el cuerpo necesita cierta cantidad de az迆car en la sangre, mucha no es saludable. Para m芍s informaci車n visite el sitio electr車nico: http://www.diabetes.niddk.nih.gov/dm/pubs/type1and2/what.htm
Una versi車n en espa?ol esta disponible en este sitio.
What is diabetes?
Diabetes can be defined as a condition in which one's blood glucose level is too high. (Glucose is by far the most common carbohydrate and classified as a monosaccharide, an aldose, a hexose, and is a reducing sugar. It is also known as dextrose, because it is dextrorotatory (meaning that as an optical isomer is rotates plane polarized light to the right and also an origin for the D designation. Glucose is also called blood sugar as it circulates in the blood at a concentration of 65-110 mg/mL of blood. Glucose is initially synthesized by chlorophyll in plants using carbon dioxide from the air and sunlight as an energy source. Glucose is further converted to starch for storage .) While the body needs a certain amount of blood sugar, too much is unhealthy. For more information visit this site: http://www.diabetes.niddk.nih.gov/dm/pubs/type1and2/what.htm. A Spanish version text is available here.