As a maturing women there are several steps you must take to ensure your body stays healthy.
#1. and most important is to visit the gynecologist. The gynecologist or GYN is a strictly women's doctor who specializes in women's reproductive health. The gynecologist will perform a general check up which will include a breast exam, pelvic exam and Pap Smear. Many women feel uncomfortable or have anxiety about getting these exams but they are extremely important for recognizing early signs of problems.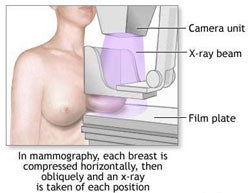 Pelvic exams and mammograms like the picture above, are relatively painless and can prevent serious future health problems.
If you are sexually involved, a GYN can perform tests to make sure you have not contracted any sexually transmitted disease's and they can prescribe you birth control to avoid unplanned pregnancy.
If you do not have a gynecologist
If you do not have insurance
If your parents will not provide for you
Planned Parenthood can provide free or low cost reproductive care.