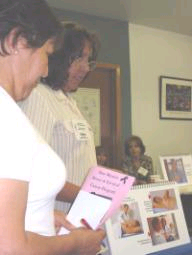 What is the Promotoras Program?
The Promotoras Program is an education and medical outreach program in which adult Latinas ("promotoras") share information about reproductive health, sexuality and Planned Parenthood services with other Latinas. The Promotoras Program addresses the health needs of Spanish-speaking, immigrant Latinas living in some of the US poorest areas.
Who are Promotoras?
Promotoras are Spanish speaking Latina women recruited from within the community. They tend to be older respected women in the community.
Promotoras are trained to:
provide accurate, culturally appropriate health information and distribute non-prescription birth control upon request
conduct street outreach
arrange and conduct talks with their peers
make presentations in the larger community
Platicas
At the heart of the Promotoras Program are interactive, peer-to-peer outreach sessions called platicas ("small talks"). Promotoras and the Promotoras Coordinator coordinate and conduct platicas with neighbors, friends and family in participant's home or in another familiar setting.
Topics covered during the one and a half hour session include:
Sexual Decision Making
Parent Education: how parents can speak with their children regarding sexuality
Birth Control Methods
Sexually Transmitted Infections
Anatomy and Physiology
General Reproductive Health Care (including pelvic exams, vaginal infections and breast care)
Cross-cultural issues for Latinas in the United States
Promotoras = Promoters of Health
One successful education and outreach program began at San Diego State University, where Scripps created a group of health care workers called Promotoras de Salud, or Promoters of Health.

Breast health coordinator Elizabeth Ramos, MA, who oversees the promotoras program, looks for volunteers with strong ties to the community who can help women overcome their natural reluctance to seek care. Working through BCEDP, promotoras debunk myths about breast cancer, explain early detection programs and help demystify an intimidating process.

The first goal of the program is to find women who need care. Promotoras attend health fairs, speak at community gatherings, visit churches and pass out literature at trolley platforms to encourage women over 40 to come in for screening. Because they work through existing social networks, their message often gets carried forward by word of mouth.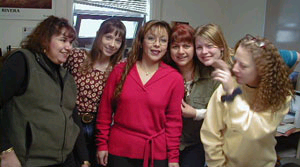 Links:
To find out more about the Promotoras Program visit plannedparenthood.org
Visit LaRaza.com to read about the success stories of the promotoras in Spanish.
Works Cited:
Planned Parenthood: Golden Gate. Promotoras Comunitarias.
Baxt, Josh. The Scripps Foundation . Promotoras Save Lives in South Bay.