Having insurance is important for every individual; however many Latinos lack insurance.
Among women, Hispanic/Latinas are most likely to be uninsured. About one out of every three Hispanic/Latina woman does not have health insurance. This is almost three times the rate for White women. People who are uninsured are less likely to receive routine and preventive care, which results in poorer health overall (4).
In not being insured, the Latina women deal with many pains when they are unable to see a doctor.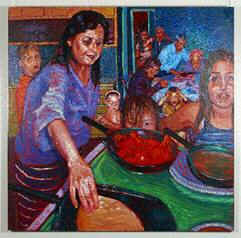 As for job-related predictors of well-being, having experienced discrimination, higher job stress, and less peer support were significantly associated with poor mental health outcomes (6).
Many women can't get the right health services, medicines, and supplies when they need them. Some reasons for this include:
- not having health insurance and/or being unable to afford it



         - not having a way to get to a doctor 

         - having physical limitations that make it hard to get to a doctor 

         - lack of child care 

         - not being able to take time away from work 

       - not understanding the language (4). 
There needs to be a window in reaching Latina women in seeking health.
Interpreters can help bridge this gap. Ask your doctor or nurse for an interpreter the next time you visit (4).