On the Campaign Trail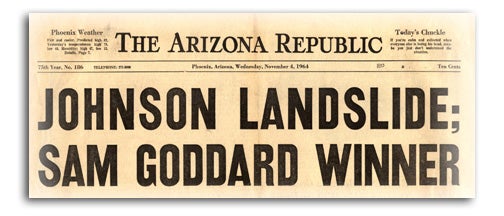 MSS-163 Box 23 Folder 3
Politcal Platforms and
Election Returns, 1962 - 1968
Sam Goddard grew up in a Republican household in Missouri, but he cast his first vote in a presidential election for the Democratic candidate, Franklin D. Roosevelt. In Arizona, Goddard established himself as a prominent Democrat within the state. When he decided to run for the governor's seat in 1962, Goddard had built his record as a local businessman, lawyer, philanthropist, and politician. His founding of the Tucson Arts Festival in 1959, his leadership in a successful United Way campaign, and his role as the chairman of the Arizona Democratic Committee had offered him opportunities to be involved in civic activities and to become familiar with important issues in the state. Goddard run for governor four times. Each time, he promoted social and economic agendas that he believed were important for Arizona's growth and welfare, such as fiscal reform, industrial development, federally-sponsored social programs, equal rights, water, and Arizona's relationship with Mexico and Sonora.
When Goddard ran for governor in 1962, he lost to incumbent Paul Fannin. Two years later, Goddard ran successfully against the then chairman of the Republican Party in Arizona, Richard Kleindienst. On November 3, 1964, Sam Goddard became the 12th governor of Arizona since statehood. In 1966, he lost re-election to Jack Williams, a former Phoenix and radio announcer on radio station KOY. Goddard also unsuccessfully challenged Williams in 1968. Goddard was the last Arizona governor to serve only a two-year term. Voters extended the govenor's term from two to four years in 1968.
Click here to view the election results for all four Goddard campaigns.