On the Campaign Trail
Political Campaigns and the Media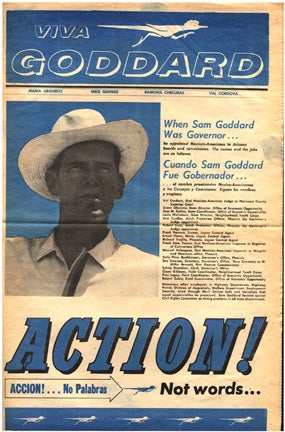 Viva Goddard! multilingual campaign brochure
MSS-163 Box 30 Folder 2
In addition to traveling, Sam Goddard used the radio and a newer form of media, television, to introduce himself to Arizonans and campaign for office. Goddard also posted advertisements in both English and Spanish publications to reach the voters of Arizona.
Arizona politicians, such as Goddard, relied on the local newspapers for endorsements and opinion articles to promote their campaigns. When Goddard was running for office during the 1960s, Eugene Pulliam was the owner and publisher of the two most widely circulated newspapers in the state: The Arizona Republic and The Phoenix Gazette. The Arizona Republic had a good record of electoral success with its candidate endorsements. Candidates for positions in Maricopa County and in the state who received the Pulliam Press's endorsement had a better than four-to-one record of success from the late 1940s through the early 1970s1. Goddard's contentious relationship with the Pulliam Press often played out in print. While Pulliam was criticized for the paper's attacks on Goddard in the 1962 campaign, later campaigns proved less divisive.
Editorial cartoons also addressed important issues during the campaigns. A fellow Missouri native, Reg Manning served as an editorial cartoonist for The Arizona Republic. A Pulitzer Prize winner, Manning published over 15,000 cartoons that were distributed to The Arizona Republic and other newspapers through syndication.
1 Graham J. Robertson, Editorial Endorsements by the Arizona Republic from 1947-1974, and Arizona Election Results, M.A. Thesis, (Arizona State University, December 1981), iii.