When to see a doctor
If you're feeling depressed after your baby's birth, you may be embarrassed to admit it. Many Latinas conform to the cultural traditions of marianismo without even realizing it. A mother's cultural beliefs effects how she copes with life and what her self-expectations are (16). For many Latinas, PPD is a lonely battle. Afraid of being called crazy or loca, Latinas will try to hide their feelings. Often, trying to handle it on their own only makes the situation worse (17).
More often than not, postpartum depression must be treated by a doctor. PPD can become dangerous when it affects the mother's well-being and her ability to take care of her baby. The mother can also have thoughts of suicide or visions of harming the baby (18). When this happens, PPD needs to be treated by a doctor. Counseling, support groups, and medication are things that can help. There are many antidepressants available that do not interfere with breastfeeding. With treatment, PPD usually goes away within a few months (19).
Postpartum Psychosis is a rare, but dangerous form of PPD. It usually comes on suddenly. Some symptoms include high levels of energy, extreme confusion, delusions or hallucinations, and paranoia (20). Researchers have not been able to discover the causes of PPD or of postpartum psychosis. Theories include hormonal imbalance, high levels of stress, a history of depression or bipolar disorder, and a lack of family support (21).
When someone you love has the "baby blues" or PPD
Helpful Links (English and Spanish) and Sources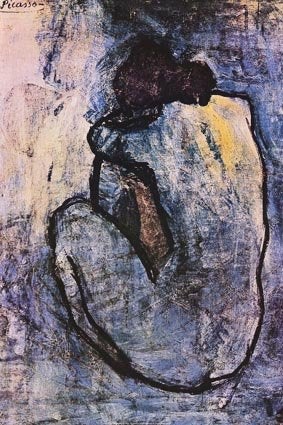 Blue Nude by Pablo PIcasso