Sonora, Arizona 1907-1965
For photographic exhibit select the underlined titles below.
In the early 1900s, Mexican and Mexican American workers and their families came to the Arizona region to work for the Ray Consolidated Copper Company, and founded the community of Sonora, Arizona in 1907. By 1912, a post office was established. The town of Sonora was located one mile south of Ray. At that time, residential segregation imposed by the mining company was the norm that kept workers and their families separated. Euro-Americans lived in Ray. Spaniards lived in Barcelona. And Mexican and Mexican Americans lived in Sonora. A dual wage system of pay was also common. Mexican and Mexican Americans earned unequal wages than the Euro-Americans earned for the same type of work. Mexican and Mexican American workers relied on their union, the International Union of Mine, Mill and Smelter Workers (IUMMSW) and their Local #915, to rid themselves of such inequities. At one time, the population of Sonora, Arizona numbered 6,000 people. Sonora prospered as a copper mining community until 1965, when the town was destroyed by the Kennecott Copper Corporation, Ray Mines division, to improve and develop its open pit operations. Many residents settled in communities nearby; i.e., Kearny, Winkelman, Hayden, and Superior.
A principios de 1900, los trabajadores Mexicanos y México-Americanos y sus familias llegaron a la región de Arizona para trabajar en la Compañía de Cobre Ray Consolidated, y fundaron la comunidad de Sonora, Arizona en 1907. Alrededor de 1912, establecieron una oficina de correos. El pueblo de Sonora estaba ubicado una milla al sur de Ray. En ese entonces la segregación residencial impuesta por la compañía minera era la norma que mantenía separados a los trabajadores y sus familias. Los Euro-Americanos vivían en Ray. Los Españoles vivían en Barcelona. Y los Mexicanos y México-Americanos vivían en Sonora. Existía un sistema dual para pagar los salarios. Los Mexicanos y México-Americanos ganaban sueldos más bajos que los Euro-Americanos por el mismo tipo de trabajo. Los trabajadores Mexicanos y México-Americanos dependían de la Unión Internacional de Minas, Mill and Smelter Worker (IUMMSW) y su Unión Local #915, para deshacerse de tales inigualdades. Alguna vez la población de Sonora llegó a tener 6,000 habitantes. Sonora prosperó como una comunidad minera de cobre hasta 1965, que fue cuando la Corporación Kennecott Copper, Ray Mines division, con el objeto de adelantar y desarrollar operaciones en un pozo abierto de minas, destruyó el pueblo. Muchos residentes se ubicaron en comunidades cercanas; por ejemplo: Kearny, Winkelman, Hayden y Superior.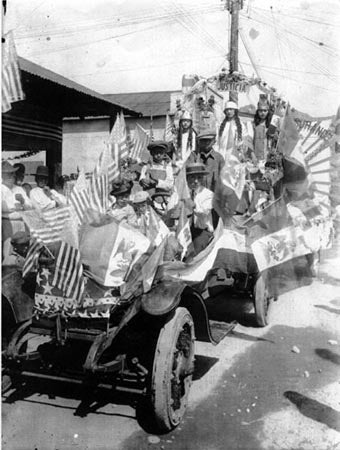 The citizens of Sonora, Arizona celebrate Independence Day in a parade showing Mexican and American flags/ Los ciudadanos de Sonora, Arizona celebrando el Día de la Independencia, desfilan con las banderas de México y los Estados Unidos.
September 16, 1919.
Club Sonorense Records
MSS 159 7/3.3