Diet - A diet low in carbohydrates is recommended for diabetics. Carbohydrates are a simple sugar that the body easily converts to sugar and tends to build up in the body. A diet high in protein, yet low in cholesterol, would be better.
Exercise - Daily exercise (at least 5 days a week) is recommended. 30-60 minute sessions of cardiovascular exercise is a good workout, although weight training is a great addition.
Clinical and Home Testing - Daily home blood sugar monitoring should be done by both Type I and Type II diabetics. Clinical testing should be done annually for Type I Diabetes and Type II Diabetes testing should be done annually after being diagnosed for 3-5 years.
Medication - Insulin and/or hypoglycemic agents should be taken according to individual needs in consultation with a doctor.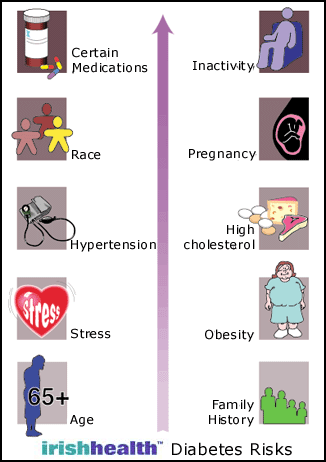 Diabetes Risks chart from Irish Health