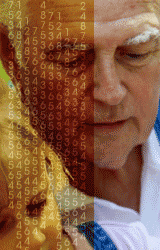 Alzheimer's is a disease that mainly affects the elderly population. It is a progressive disease that slowly destroys a person's memory, ability to learn and carry out daily activities. Though a person can be living with the disease for up to 20 years, on average, people die within 8 years of first showing symptoms.
-- In the United States, one in every eight persons are Latino.
-- Latinos tend to experience Alzheimer's symptoms, on average, 6.8 years earlier than whites at an average age of 67.6.
-- Today, it is estimated that 200,000 Latinos are affected by the disease.
-- The population of older Latinos is expected to reach 4.7 million by 2020 and 12.5 million by 2050.
-- This increase means 1.3 million Latinos will develop and be affected by Alzheimer's.