SUPPORT
SUN DEVIL LACROSSE APPAREL
SOCIAL
Coach's Newsletter
November 1, 2010
The following awards were given out at the team banquet held on Oct. 31, 2010


2010 Team Awards
Freshman of the Year
Dylan Westfall, Ian Anderson
Attackman of the Year
Tyler Westfall
Midfielder of the Year
Ryan Westfall
Defenseman of the Year
Justin Krider
Most Improved Player
AJ Redford
Unsung Hero Award
Stephen Turner
Most Valuable Player
Tyler Westfall
September 8, 2010
Lacrosse magazine's Jac Coyne ranks the 2011 Sun Devils #1 in DIV I MCLA.

Full Story >>
August 26, 2010
August 19, 2010
May 21, 2010
The MCLA (Men's Collegiate Lacrosse Association) selects 7 Sun Devils to the 2010 All-America list.


2010 MCLA All-America Awards
1st Team Attack
Tyler Westfall
1st Team Midfield
Ryan Westfall
3rd Team Attack
Eric Neslon
3rd Team Defense
Ian Anderson
Honorable Mention Midfield
Anthony LaFlam
Honorable Mention Defense
Justin Krider
Honorable Mention Goalie
Dylan Westfall

The SLC (Southwestern Lacrosse Conference) selects 6 Sun Devils to the 2010 All-Conference list.


2010 SLC All-Conference Awards
1st Team Attack
Tyler Westfall
1st Team Attack
Eric Nelson
1st Team Midfield
Ryan Westfall
1st Team Defense
Justin Krider
2nd Team Midfield
Anthony LaFlam
2rd Team Defense
Ian Anderson
May 18, 2010
The Arizona State University Sun Devils had an impressive showing at the MCLA Division I National Championship, advancing all the way to the championship match before falling to top-seeded Michigan.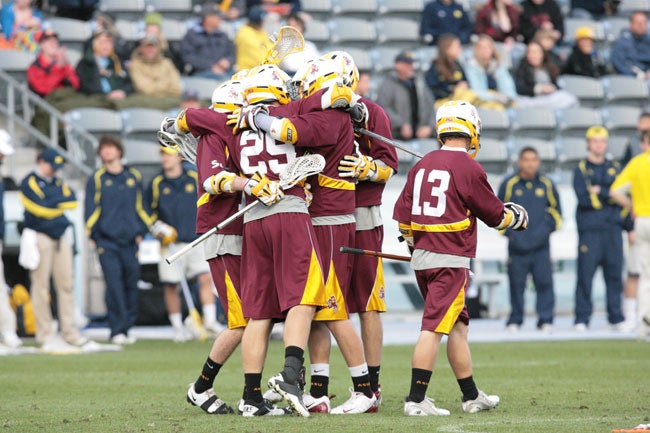 The Sun Devils started strong in the tournament, defeating Cal Poly 10-5 on May 11 and then defeating Colorado 13-11 on May 13. In the semifinal match on May 14, Arizona State faced Simon Fraser. Simon Fraser had previously defeated the Sun Devils, 14-7, in a game on April 4. There would be no repeat of that loss this time around, as the Sun Devils dominated all game and never trailed in a resounding 19-9 victory to advance to the finals.

The championship game pitted the Sun Devils against Michigan. Again, the Sun Devils looked to avenge a past defeat as Michigan defeated Arizona State 11-10 in Tempe on March 3. The teams battled back and forth throughout the first half as the lead shifted between the teams. Michigan would try to pull away in the second half but Arizona State would continually keep the game close. However, the Sun Devils would fall just short as they lost, 12-11.

Thank you for your support for the team all season long and throughout the playoffs, Sun Devil fans!

Stats provided by mcla.us
May 10, 2010
The Arizona State University lacrosse team are champions of the 2010 Division I Southwestern Lacrosse Conference, defeating the UC Santa Barbera Gauchos 13-9 on May 1 and the Chapman Panthers 12-11 on May 2.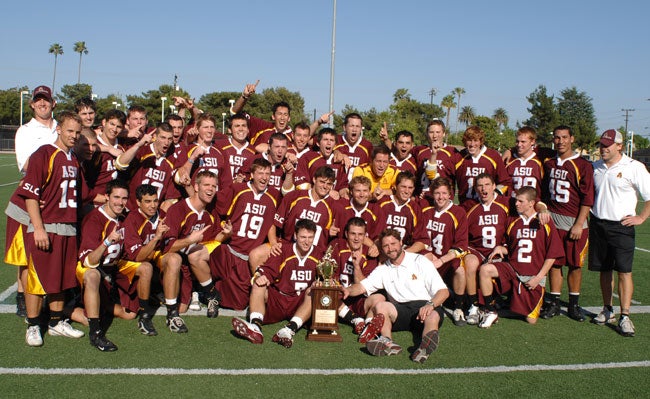 In their exciting overtime victory over the Panthers, Tyler Westfall led the team with four goals, while his brother Ryan scored three for the Sun Devils. Devin Chiappari, Eric Nelson each had two and AJ Redford scored one. In a battle that saw both goaltenders make great saves, Dylan Westfall stopped 20 Chapman shots. The Sun Devils are the number three seed in the MCLA Division I National Championship and will face number 14 seed Cal Pony on May 11.

Stats provided by mcla.us