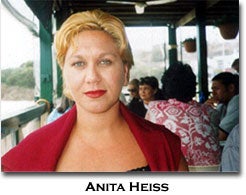 Anita Heiss
Working Note
I don't regard my writing as poetry as much as social observations and political and personal statements that are not written in standard prose. My work reflects the role of non-Indigenous people in Australia in identifying, categorising and stereotyping Aboriginal people, particularly those within urban environments. My life as a contemporary Koori woman, and all that entails, provides me with the basis of much of my writing, which aims to confront, educate and entertain the reader.
---
You're fascinated by us
Preoccupied with us
Making money off of us
But you're not one of us.
You're sympathetic, empathetic towards us
You say you understand and support us
But you're still not one of us.
You may even be Indigenous to a land elsewhere,
But you are still not one of us.
So what psyches you to write about us?
Do you think we can't do it ourselves?
Do you think you know and write better?
Tell me what is it then that psyches you?
Because, to us you will never be authentic.
You and your academic, historian, anthropological friends
Who sit in ivory towers,
You will never know what it's like
To walk in our shoes.
No matter how long you research,
No matter how many interviews you do,
notes you take,
videos you make
opinions you form.
You are the contemporary oppressor,
The inverted racist
The ongoing, modern-day thief
of our knowledge
of our rights
to tell
our own stories
our own way.
How do you sleep at night?
---
I'm not racist,
I like white people.
My best friend's white.
And I even had a white boyfriend once.
But he didn't have a job and
He drank way too much.
He had two children to two women
And paid no maintenance.
But he loved me.
He tried hard, but was just too lazy.
And then he hit me,
Gave me a black eye and broken nose,
And slept with my cousin.
Put me off white men forever.
But I'm not racist,
My best friend's white.
I worked with a white person once.
They were always late for work,
Took too many sickies,
Long boozy lunches.
Didn't want to work with a white woman ever again.
But I'm not racist.
My best friend's white.
---
Bicultural Blackfella

I am a Wiradjuri woman
Proud and strong.
Raised in white institutions, made to get along.
Socialised, educated, employed
The white-man's way.
These have shaped who I am today.
But I never forget where I'm from,
Or what ancestry runs through my veins.
I am who I am.
I am a bicultural Blackfella
And I apologise to no one.
---
Why do you always question my identity?
Ask about my "relationship with the land"?
Try to trace my ancestry to work out what "breed" I am?
To you I am not a "pedigree",
but a "mongrel",
or some even say "bastard".
What you don't realise
Is that my genealogy, bloodlines and heritage
are part of the history of this land since time began.
My origins are not to be found in
STD stained hulks
or at the hands of thieves.
My descent is from the Wiradjuri nation,
a proud people.
My identity is of an Aboriginal woman,
Tired of trying to fit your
Uneducated and limited
definition of who I,
your view of what,
an Aboriginal person,
       should be.
---
Bio: Anita Heiss is a Wiradjuri woman. She was born and grew up in the eastern suburbs of Sydney. Anita has been writing for many years since being the editor of Aboriginal projects at Streetwize Comics from 1992 to 1994. In 2000 Anita completed her PhD in Communication and Media (University of Western Sydney Nepean), researching Aboriginal literature and publishing. Anita has two published collections, Sacred Cows (Magabala Books, Broome, Western Australia 1996) and Token Koori (Curringa Communications, Sydney 1998). Anita is currently working on an autobiographical novel, entitled Kissed By The Sun. She has performed at many festivals, including the Nambundah Cultural Festival (1994), the Maleny Folk Festival (1994), Sydney Fringe Festival (1995), Sydney Writers' Festival (1996-99), Spring Writing Festival (1996-98), Byron Bay Writers' Festival (1997), Brisbane Writers' Festival (1997), The Festival of the Dreaming (1997), A Summer Readers' Feast (1998), Spring Poetry Festival (1998), Bermagui Festival of Words (1999-2000), the Canberra Word Festival (1999), the Queensland Poetry Festival (2000) and the World Congress of Poets (2000). Apart from working in Native American Publishing houses in Canada, Anita has also conducted workshops with emerging writers throughout New South Wales and spent one month as writer-in-residence at the Wagga Wagga Writers' Centre in 1998. She was also script writer and presenter of Arts Yarn-Up in 1996. Anita is on the Management Committee for the Australian Society of Authors and is on the Board of Directors for Gadigal Information Services. Anita's work has been published in many journals and papers including Meanjin, Idiom 23, Australian Humanities Review, Australian Book Review, Ulitarra, Australian Short Stories, Muse, Social Alternatives, Southerly, The Koori Mail, QWC News, QCAN Journal, HoriZons, The Eastern Door (Canada), Australian Multicultural Book Review, Windspeaker (Canada) and Habitat.
Links:
AWARD:  http://www.asauthors.org/award
(AWARD is an online database set up by the Australian Society of Authors to promote Australian writers around the world.)
---