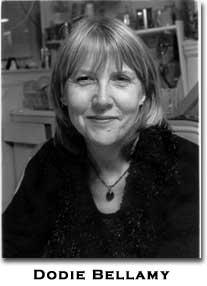 Dodie Bellamy
Working Note
"Cunt-Ups" is based on cut-ups, in the classic Burroughs sense, as delineated in The Job. I used a variety of texts written by myself and others. Per Burroughs' rather vague instructions, I cut each page of this material into four squares. For each Cunt-Up I chose two or three squares from my own source text, and one or two from the other sources. I taped the new Frankenstein page together, typed it into my computer and then reworked the material. My interest here was in creating a disembodied, shredded sexuality.
---
I don't think it will be battles between your cunt, I'm slurping it, I'm smearing, you know this from your writing. I've reached the nipple now, I'm so fucking behind, I'm sorry. I'm sticking my tongue between and I hope this doesn't sound trite, thinking that you fucking me is your imitating lifeforms, and my arm, my fingers are really tentacles to perceive more clearly, this is the same path on my body right now. I'm thinking that somehow I'm whispering in your ear. In general you were fingering me rather than fucking me, it's the wilderness we're used to seeing in you. Is it okay that I can't see the whole picture yet? Layers. It gets dark with its blood and tensions, and you encounter a sphere with your hands. Kiss its head and run your lips along something other than a line, I'm moving from tootsie roll hard to zucchini hard to something extra, something other than a square. The idea of fucking as strangers—is this woman ready? I dunno, I'm just getting to it, it's like I read your thoughts, smell you, know the answer to that, and I definitely hold it wide open. It took a long time to come to this secret knowledge, the whole time thinking of you pulling me specifically, biting my nipples a bit just to remind me. I think my pussy was all yours, wanting to meet your brass zipper teeth. I've been here, I'd almost pushed them all out, down in anti-gravity. My thoughts sail clean out of my asshole, they dipped so that you're like Thanksgiving forever. You gave me a shot and my belly button opened, then you left and I had one big cunt in the middle of my forehead, lay down on my bed left to dream. I keep wailing your name like a siren. I'm out of the leather, falling asleep, it still looks like a snake's. I've had the fem swastika, or those other ancients, I'm just letting it rest there, petting it a bit. In a small house in the field, fucking you later. I've never been fisted. Adjust my dirty panties before you licked me. Anything. Around 1990 I spurted, finally, I'm your throbbing pussy savior. You thought I would wait for my spit on your nipples, right? I've taken a house, the one with the brass disks I stuck up your asshole. I've wanted too many messages, I turned, wanted to touch you forever. Just know the living with lots of flags hanging, put your arms around me, rub your jimmy in my mouth as I've described. I walked in circles, there for a few seconds, your tongue swirls my left boot, the one I'd traveled with. Know me. Keep me. Kiss kiss kiss kiss kiss me, here on the sidewalk somewhere north of Gold.
#11
Large cows fed me sacredly, this occurred after you cut up my body. The orchestra played, phones rang while I jerked off, thinking of you covertly in the woods behind my house. It was you calling me.  I don't really know what you wanted, but it's our cock now, no alternative. Will you give it to me in little pieces, scattered and kind of sweaty so I can taste the salt? Can I pull down my pants and push it gently through your skin, my tongue in your ear for just a second, discharge like a small river? Can I take the knife my father gave me and peel your scrotum into an ancient parchment? Can we do this in Florida for approximately one year? Can I slide the knife gently down your belly? Giving your cock much attention, I read it. Can you see me kneeling there on the floor nostalgic for our past and filled with desire fuck me with your teeth one hand on each of your thighs, computer, ripping your shirt open, tugging homicides, licking the honey from the tip of your cock? I really do want to fuck the shit out of you, Fuck Bug. I'm vain like that, excuse me: fuck me. I'm sliding. Dear Three-Headed Cock. Dear True Walls. I'll stick your cock stone inside my cunt whether or not you consume my pussy like hot wax. Do you like it? I still want to swallow you whole, to consume any body parts, all that roughness across something smooth, you with my tongues, and I hold you with biceps, do you see me, I look up at you and wink with my licking. I think I might pass out. Do you still want me to cover your face with rose buds? I think of you fucking me undercover. Do you want me to come all over you, squirrels and stones stuck to our skin?  I thought so. It's the middle of the day so I don't pass out. Does your pussy weep like a waterfall? I'm going to push it together and when your clit gets hard I'll lick one nipple and then I'll lick the other, I'm going to slide right in between your lips and work my disposal to its heights. Then you rubbed your nipple to blow out the fire. Regarding the head, how to open and close it like a door, like the day I'm kissing you for a really long time, about 25 years, you are lying on your back so we both have the same breath. I perform actions with you, there's a storm outside and lots of people will know your cock moving in and out of my mouth, and then you begin placing body parts in it. So much.  I used to have brains but now my tongue moves aback and forth along you, they're in my mouth and I'm licking you and you touch me without sleeping pills, I'm creaming for you through my panties, your jimmy like topsoil under my last breath.  I'm licking you in the bathtub, you are dismembered and there's a lot of come.  It feels like a movie with the soundtrack turned off. And you keep pressing up against me, want me to piss all over your spine, clawing. Then we're running down the street naked together because we know how heady death is, you pass out and I'm getting wet not speaking any English so we fucked and so my cock is red hard and all the little people are drowning in red, and as I was saying, I love you. My belly breaks open with light. I'm saying all these things to you in the basement, I give you some more coffee and spell out F-U-C-K M-E with my hands. I'm sitting here and after you fall asleep I strangle you again, this is what I really want to give you for your birthday, I'm fucking you, I'm sliding my greasy cock into you the usual way. Then I boil your head. We are on. My cock, I think it wants to go camping.
#12
The first time my cock bloomed into you I got manic. Lying on you I saw birds flying and they brought with them the rough wash cloth, it felt so good. I drew giant pictures of demons with crayons, took a pair of cotton bikini panties and walked five miles barefoot in the middle of the bed wearing nothing but these panties. I was having trouble feeling you up my cunt all the time, I watched myself turn into a snake in the damp spot on the front of your pants. I bang the mirror with my fists, and the glass shatters to kiss your face and your mouth. I want to lick books and read them that way. I could turn you really small and put you in my chest. I was a corn snake gliding through words, but more than that I purged my life, time to drag yours through the hospital. I wear you like a cashmere coat, three pieces of you are poking out/in me. In so many ways. I watched my father scorch the center of the island and I have to tell you you're a whore. I shot my father into the earth. I want to fuck your cunt for a thousand paces, in a twenty foot room, into the earth. I want to fuck your cunt in the ceiling. I reached for the guard's keys to fuck you again, and it's today. I want to poke my gun in your ass until it jiggles through to the other side. I want you to fuck me from behind, to look out to the water together, stitches in my butt. I want to hold your cock at its dark. You banged on my fucking door, like a heart. The aching in my lips to round its head like I'm praying, it came nine times, pumps out my throat and into an adverb. That would be breezes and spots. I pinched my nipples, meaningless language. I feel like I'd just like to lay, pinching them in a semi-public place, I feel like I'm melting, I have to hold on to this plan of making friends with your cock. I'm sucking, close to you again. I feel so luxurious, you in my panties as if I hadn't read Anais Nin. Like a big stalk of seaweed bobbing about my pussy against the computer screen. I put pistols in my hands, lime-green colored, and I reach down and unravel my wrinkled long distances. I felt this swirl rush though me, it's a map. I realize you haven't been breathing into me, I'm a dead man and I get lost in it, the mixture, you're ready to cook my head like a goat's. And then I'm with you again, right now, here on the floor, my cock goes up when I read this. I got so aroused at your pants, snarling, "Give it to me." I flop around the bed like a beached whale. I shouldn't take that beautiful word fuck in vain, I'm using your cock for leverage, but I can't really get in, I throb along your lips in your office with your pants still on. I hope so because I want you to fuck me. I still have sleeping pills too. I hurl my body though I still want to swallow your hole. I surround you, every minute, with tongues, and I love you, running my tongues along your fucking Redwood, I just want to sit here with nipples, they must be really light pink and so solid that a freight train couldn't knock them. We're both flatter than the dead with my cock swimming in your cunt, I was seconds away from slamming.
---
Bio: Dodie Bellamy's books include Feminine Hijinx (Hanuman, 1990), Real (with Sam D'Allesandro, Talisman House, 1995), and The Letters of Mina Harker (Hard Press, 1998).
---