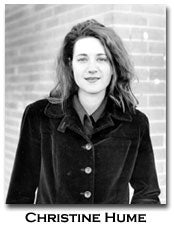 Is That a Real Poem or Did You Make it Up Yourself?
Prageeta Sharma, Bliss to Fill, Subpress and A'A' Arts, $10

by Christine Hume

            Like many excellent books by young poets, Prageeta Sharma's aggressively blurs institutionally endorsed "schools" of poetics, and some of the liveliest examples in her Bliss to Fill act as weirdly wonderful piecemeal recombinations of poetic tools and techniques. Her rich attempts to reconcile competing claims of abstraction and representation lead her into investigations of the original and the copy. The collection begins playing with the genres of letter and dictionary—"Dear_____," tricks out a defining impulse into the space of seriality:
Replication: n. I cannot dream of losing you so I will answer to your gesture
until I have a word. I will utter this word again and again.
I cannot protect you or defend you. To mimic you is to dress you.
Dearest echo, please arrive here without fear but with confidence!
But I love you now because together, and more than once,
we have challenged the language of carriages.
And although I have not thought of anything new tomorrow,
I will countersign the papers. Today, I love the horse.
Your vision has walked loosely onto the ranch.
We think together, we copy each other. Reach for a narrow-necked bottle
bent, identical, and silver.
There, I have written you, twice. 
Sharma's world creates and recreates itself like "Zirma" in Calvino's Invisible Cities: "The city is redundant: it repeats itself so that something will stick in the mind...Memory is redundant: it repeats signs so that the city can begin to exist." In Sharma's work, New York City repeats signs and sounds so that its inhabitants can begin to recognize themselves. Replications of structures build from the collection's title and the epigraph from Dickinson: "Our share of night to bear— / Our share of morning— / Our blank in bliss to fill / Our blank in scorning—." And Sharma aims to fill a blank in bliss. She makes good on the zestful serendipity of template (mad-lib) and collage techniques, and her results are as slippery and playful as a Rosmarie Waldrop paragraph. Repetition (in traditional and nonce forms alike) in Sharma's work generates a misleading but potent rhythm; we may not arrive where we thought we were going, but the march carries us happily through. The book is as much a meditation of the inevitability of imitation and duplication as a demonstration of delight in its small variations. Sharma rhymes and chimes her way through as if each word were a homophonic translation for the next. An ebullient cadence and devilish diction, teetering on the verge of apprehension, pin-ball through Bliss. Each word feels its way to the next with a fierce fidelity to the sound and sense of language, and in doing so, poem after poem create strange, searching linguistic landscapes.
Ironically, one of the words Sharma utters again and again is "real": "To feel that children are innocently real"; "...to fret a discourse to you, sunshine, will not let me discover the gears // to real sensations"; "we stop / the poem from the real dream that stood underneath her"; "...the fastest way to count your own real red chickens"; "first you have to become a real person, so to speak." She creates an artificial space in which to replicate "the real," and so reveals its absurdities and amusements. The urban jungle reproduces itself everywhere as does the self—all things subject to definition in Sharma's work are subject to replication and analogy. And definitions pattern her work, yet they ask to be read reciprocally rather than cumulatively. "'The most beautiful analogy // of repeatable space'" is the face, says a speaker in one poem. Of course, the symmetry of the face displays a structural reflection, and a tendency to see in terms of reflection, enacting Walter Benjamin's idea that "the gift we possess for seeing similarity is nothing but a feeble vestige of the formerly powerful compulsion to be similar and to behave mimetically." "Poorly matched the world and she / or so her best self would say."
The first section of the book (which is divided into two chapbook-like sections) is bracketed by "Dear______" and "Apology," both epistolary poems that could be addressed to the reader or a lover. Her use of doubles recalls Ashbery, especially in their stunt-person-like ability to argue with themself, to mock and expose their own romantic notions and visionary aspirations. Sharma insists, "you don't know me anymore. This will be a re-occurring theme." The prismatic self—"a blank and simply symphonic you" refracting experience, transmuting representations of self—allows utter self-doubt and confidence, vulnerability and invisibility to co-exist. Yet "no flowery dualism" resides here. Multiple subjectivity bends toward relationships, not a dynamic sense of self, and underscores one of the book's obsessions—misunderstandings, lamentable and laudatory, implicit in all communication, but especially between intimates.
The mischievous delight taken in the slippage of daily communication here serves to complicate relationships in the first section and focuses more on cultures and lifestyles (rock star, poet, vendor, assassin, suburbanite) in the second.  Urban human relations in Bliss percolate with "cranky spark" and "mistakes worth claiming." Sharma combines the elastic loopiness of O'Hara's improvisational riffs on idiom and the creepiness of Berryman's colloquial twists; she embraces the infelicities of American street talk and the diction of translation guidebooks and cartoons: "You are pointing west when you say dish-desh"; "I am happy to be organized with my problems." Disjunctive dialogues continually morph the terms of argument and short circuit in frenetic and funny inflations. The book pulses with mania that's checked by a straight-faced delivery, a real delivery, Sharma might say, and a real joy.
---
BIO: Christine Hume's book Musca Domestica is the 1999 Barnard New Women Poets Award winner. Her recent work is forthcoming in American Letters & Commentary, New American Writing, Epoch, Colorado Review, and Verse. She was a resident at the Wurlitzer Foundation in Taos, New Mexico this summer and will begin teaching at Illinois Wesleyan University this fall.
---