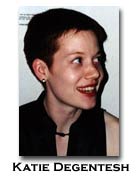 Freud in Brooklyn: Poems by Joanna Fuhrman
July 2000, Hanging Loose Press, Brooklyn, NY (softcover, 68 pp.)

by Katie Degentesh

"Self-consciousness" is a strange phrase of Americanese, one that can serve as reference to someone's worst hang-ups or to his or her best qualities. There's the typical sentence, "I couldn't bring myself to talk to her; I was too self-conscious" -- and then there's the "heightened sense of self-consciousness" that stars in the blurbs of so many book jackets.

Writers who can play to both sides of this coin may be rare, but it would seem that Joanna Fuhrman is such a writer. Her first collection of poems, Freud in Brooklyn, is a collection that's simultaneously introspective and entertaining, and exhibits a voice that's equally at home in silly tones or honest, serious ones.

The book begins with a section in which the poet keeps herself pretty much "Out of the Picture." The only "us" here belongs to a bunch of brains hanging around "swapping chordates" by  the five and dime, and the few "I"s  and "we"s belong mainly to germs and dreamers. Ms. Fuhrman has a talent for narration, and displays it well, particularly in the title poem, which features a Freud who travels to Brooklyn to see Coney Island's Dreamland Park just as it starts to burn. But my favorite line from this section comes from the fragmented "Blue Poem #6":  "Some words are heavier than others. Try carrying it."

Poking fun at Yiddish in "Shticking with the Shtotics," the second section of the book, the poet tackles the subjects of family and Jewishness with humor. Even her descriptions of a grandmother's funeral in "Afterimage" carry honest, funny details: "The rest just watch each other to see who is crying, who is looking / at the ground, what kinds of shoes you can wear with black."

For me, most of the book's gems are seeded in the book's final section, "Personal Ad," which contains many of the most personal and the most experimental pieces, mainly in the form of uniquely hilarious love poems that manage to conflate love and art or love and nature as freshly as they do love and vegetables. "You could have been more / than the egg in the tempera. / O you, who will always be a you," mourns the speaker in "A History of Western Art." Ms. Fuhrman is at her funniest and most inventive in these poems. Freud reappears, if only inferentially, in the opening lines of "Window as Camouflage":
If either of us mentions the other's name            
accidentally in the midst of some argument           
about the problems of third-world development
it doesn't mean that the name is a window,
allowing the view of a banana-colored parrot
in an avocado tree.
Thus begins a poem about subtext which itself carries a subtext -- and yet somehow manages to keep from being either obscure or facetious. The result is a charming, teasingly obvious yet inventive verbal dexterity, wielded by a poet who is very much her own person, and knows it.
---

BIO: Katie Degentesh was a Stadler Younger Fellow at Bucknell in 1995 with Joanna Fuhrman. Her poems have appeared in numerous publications, including Fourteen Hills and The Washington Post. She lives in San Francisco, where she is an editor for the lit mag 6,500 and has a day job as poetry and fiction editor for the Internet publisher MightyWords.com.
---