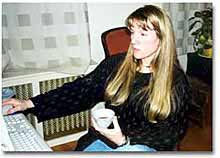 Lynn Behrendt
WORKING NOTE by Lynn Behrendt
I think this poem talks about opposites and how opposites cannot be reconciled; that any given idea is not even at simplest an inverse reflection of any other idea, and that the best one can do is follow the language into itself in order to discover the deeper hopefully on occasion deepest image. I think the poem is an auditory attempt ultimately to live right and in the process accept the ambiguity inextricable from words like: embrace and dread; karma and lacerated time; life and death; thirst and euphoria; absence and presence; carcass and angel; freedom and slavery; sound and true intent; bloodless poems and the car radio.
This Hysterical Embrace
This hysterical embrace and dread of humanity was cast long ago.
My idea of you, however, is different.
In my mind you are the early June scythe
plotting my heart's demise.
No rain for eight days.
A lucid innocent landscape
in the first moments of the world.
Adam already infused with wisdom.
In my mind you are alms,
a brush fire at the base of my tinder heart.
Sticks and stones. Most dire
sweet light
soaking up the yellow-green spring
and falling
unfettered
to sleep.
*
When the light hits four o'clock
the gray earth begins to hum.
It reminds me of you.
After I die
I suppose I may not feel the same.
Though I'm not sure.
I strain to see and understand the sidewalk
covered with rain. Haven inside.
I still somehow believe that you are this long winter,
Tusk of spring. Africa in bloom.
Mindful of my bleak history
you remind me still silent in the spurious moment
how I remain unsure of the hereafter
and you reconcile me to the moment,
always just you,
here, having just
arrived.
From somewhere.
*
In my mind you are not disparate
and time is not lacerated time.
Nothing like the lonely inception of tempo.
In my mind there is always a thunderstorm
just about to happen. And you are there,
looking up at the sky, saying
"carry this torch"
and I always agree to.
*
I do not really know who you are.
*
I am willing to bear this disquiet.
*
In my dream someone was muttering some drivel
about how my spirit had scurvy,
was just a perfunctory mechanical device
going nowhere. A summer camp assignment
I needed to weave a doormat out of.
Karma scribbled on a second grade chalkboard.
I am willing to consume this jagged host.
Other than this I have no idea how to proceed.
*
Then revealed
the feather falling
and how light
how used-up
in the difference
a thing
out of its element
can be.
The task is to abide.
Through only this hour.
To at least endure
the fall
without fleeing.
An arm.
A wing.
An angel
descending the stairs.
While her history unfolds itself
I see finally without trying to
and in this time
and in this place
I at last remember you.
*
Thirst and euphoria are not so different.
Neither lasts.
But what sense
in this procession of angels
encircling my thoughts?
To reply would be inconceivable
so I orbit
and in my sleep
think about beauty.
About you.
How lost
in the difference
a thing out of its element is.
How every soul
is ignited then marred.
Except for my thirst for you I am all used up.
*
They will say that we were the evenhanded generation.
Neither lost nor found.
That we left memory up to the machines
and just sat here watching
as history leaked out
through a sieve of
megabytes. Gone.
I have not tired of your light
but can offer no solace.
Only these intemperate words.
---
BIO: Lynn Behrendt is the author of two chapbooks: The Moon As Chance and Characters. She edited the poetry/critical essay series called Lines which published work by Kimberly Lyons, Mary Egan, H.R. Stoneback and others. Her work has been put to music and performed by the alternative rock band, "The Blind Pilgrims." She lives in Red Hook, New York with her two year old son.
---