Hoa Nguyen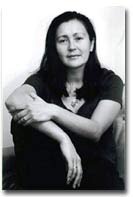 WORKING NOTE by Hoa Nguyen
I write really slowly, but I thought I'd offer the poems below as they are very much about my practice, the space in which I do my writing: as participant and teacher of creative writing classes. In Teachers & Writers' virtual writing workshop (http://www.writenet.org/virtualpoetrywrkshp.html), I present writing exercises and the class writes from them. The exercises propose using acrostics, half-rhymed word lists, index card vocabulary, found language, mandala meditations, continuous line drawings and other writing strategies. (I also teach writing classes in person here in Austin). The following poems were written from the exercises that I mentioned above.
I do not have an office-y formal writing space. I write in a notebook, a medium-sized artist sketch book, during class (where most of my poems begin), sitting up in bed, on the couch or our front stoop. Photographer Blake Justice kindly agreed to document my writing space and took pictures of me flinching on the couch and on the dusky stairs.
FIVE POEMS
[Hummingbird chimes from Mai 2 years gone]
[Find & fund It's a prison oven]
---
[Hummingbird chimes from Mai 2 years gone]
Hummingbird chimes from Mai 2 years gone
She can't hear them say, "Would you like to hear
My voice?" (They don't say that) Your faith
Becomes a kind of registered mail
Ricocheting in imaginary timetables
It's terrible
To tell the elephant destroyer
Time to "fall back" time to inspect
The iffy father and tally resentful icons
You know she's gone won't eat eggs
Won't ever complain because she didn't
And looked impeccable and wrapped presents
As if they were to be given to her
And not to you or you
---
[Find & fund It's a prison oven]
Find & fund It's a prison oven
(U.S.) sterilized and smells good like
chemicals engines manufactured
houses
Hey vingpie!
I'm great and so are you
grooving on Armageddon gas
where therapy is tomorrow's lover's lane
Pupipara
Groove in a boob tube
---
[Pretty headdress on Kidumiel]
Pretty headdress on Kidumiel
Kick the angel in the air
Kick and beat the brilliant air
Adorn your loud voice
Hurt my broken grinding kiss
Keep your pretty headdress house
I love you, afraid mother
Pure angel Lameck leave me
infant kisses on my T-shirt
Let me bleed fat and big
Slide alongside my boat
to mix my years with serpent tears
---
tracing the pink fading as a hand
print exactly because it was the thin
cotton had embroidered slowly as
your mother's fine crimson the crisp
leaves wouldn't cut a hand being she looked
at it rendered in thread but your back was
turned doodling roses on a notebook
funny how the innocent night gown
taking it out you don't remember what
it was you didn't stitch most
likely see through light blue garbage chore
maybe complicated flowers not
taking it out he came up from behind
surprising like that and your mother joined
you in the bathroom to see to say nothing
is the matter really as it fades there
---
[Crows and grackles grackles]
Crows and grackles grackles
in the sycamore food cruising
I'm broke and the sauce burns
I sprinkle ashes in the flowerbed
I kiss your cat
It doesn't matter that fate can't rain
and write flower again
Want me a handsome bird
black toenails that curve
West of Sunny's Wigs
the goddess Gaia shaking her dirty hair
---
BIO: Hoa Nguyen lives in Austin Texas where she teaches creative writing and edits the poetry magazine Skanky Possum with her husband Dale Smith. Her second book Parrot Drum is forthcoming from Leroy press this spring. Visit the online poetics journal r e a d m e, for an interview and discussion of her approach to writing, teaching and publishing.
---