In more recent years, Diabetes has been on the forefront of the minds of most people in the medical profession. It has become more and more apparent that our children are becoming more susceptible to the risk factors involved in contracting Diabetes.
"Diabetes is one of the most common chronic diseases among children in the United States. About 150,000 young people under 18 years — or about one in every 400 to 500 — have diabetes"(CDC Fact Sheet 2004) In recent years, medical professionals are seeking to educate our youth and more inclined to focus on the risk factors involved with Diabetes. In a more twisted sense of fate, it is up to you to make the difference and make a stand against Diabetes.
In July 2002, the Center for Disease Control and Prevention started a program to study DIabetes within the population of the Youth of America. The Program entitled SEARCH for Diabetes in Youth, is a multi-center study of Diabetes (mainly Type 2), in an effort to understand the disease better and possibly find news methods of prevention and treatment ("Search" 2004)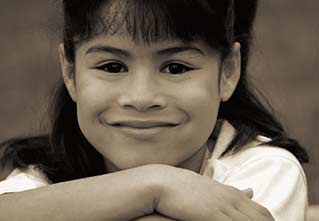 Our children are our future. Protect them.
What Can You Do to Help as Parents?
In recent studies, most health care professionals have made greater strides towards prevention. One of their main focuses has been diet and exercise. Most children are governed by schools and have on-site nutritionists who provide healthy meals while they are on school campuses. Parents, it is your job from the afterschool portion of their day to the dinners at night to carry on with a very health-conc ious planning of what goes on the dinner table.
Some ways in which parents can help are illustrated on this site. A simple way to keep meals balanced is available to you.
More >>
New Facts
According to the CDC, "each year, more than 13,000 young people are diagnosed with type 1 diabetes"
"Health care providers are finding more and more children with type 2 diabetes, a disease usually diagnosed in adults aged 40 years or older."
"Most children who develop type 2 diabetes are typically overweight or obese,have a family history of the disease, and most are of American Indian, African American, Asian, or Hispanic/Latino decent."
News for Kids
The Idea of helping out Mom and Dad should lead you to a better idea of what is the right and wrong thing to do. When you come home from school, and you are hungry, what would you rather snack on, a pop tart or an apple?