Arizona State University
Department of English
Box 870302
Tempe, AZ 85287-0302
480.965.3168
Main Office Location:
G. Homer Durham Language and Literature Building - LL 542
ASU English Home > Special Features > Poetry on the Range: an Interview with Professor James Blasingame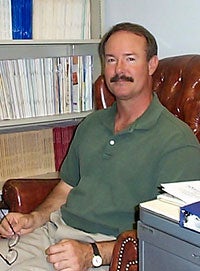 I hear you are doing some Cowboy Poetry at this year's English Department Homecoming event. What sparked your interest in Cowboy Poetry? What should listeners expect from your reading?
Bruce, I was a high school teacher in rural Iowa when Baxter Black came there to record a series of half hour performances for national public television. They were first aired on Iowa Public Television for several weeks in a row, and I couldn't help but see the connection that the "former large animal veterinarian and western humorist" made with all the Iowa farmers in the audience. His poetry was often about the tightrope that ranchers and farmers walk because of the falling prices of grain, cattle and land, and what a tragedy it is that a way of life can be foreclosed on by the bank when the weather is uncooperative for too many years in a row. Baxter made us all laugh and he made us cry, too.

When I was working on my Ph.D. at the University of Kansas, we were required to demonstrate research competencies in quantitative, qualitative, and alternative methodology, as well as statistical analysis using the computer. The alternative research most people in English conducted was genre study, and I saw it as an opportunity to take a closer look at this genre I had been introduced to, cowboy poetry. I went to the original Cowboy Poetry Gathering in Elko, Nevada, put on by the Western Folklife Association for four days, and I interviewed several poets. I researched the history of the cattle drives from Texas to Kansas, which played a major role in the evolution of cowboy poetry, and I did extensive research on primary documents at the Archives of the Big Bend, at Sul Ross University, in Alpine, Texas, just outside of Big Bend National Park, where they have an amazing collection of personal letters, and various other papers from inhabitants of that area going back to the 1840s.

Back at the University of Kansas, I wrote a paper for an independent study with Dr. Amy Devitt, who was my sponsor for this project. Later, I published a modest, soft-cover teacher's guide with a local nonprofit education press, They Rhymed with Their Boots On: A Teacher's Guide to Cowboy Poetry. I have also presented and performed on this topic at venues like the International Society for Humor Studies Conference, the National Council of Teachers of English Northwest Regional Conference, and many local conferences in Kansas. I will be performing with a group of poets in a session on oral poetry performance at the 2006 National Council of Teachers of English in Nashville in November. I do not, however, write cowboy poetry because I did not grow up on a ranch nor am I a member of the real cowboy culture. I believe it's important that the art form not be polluted by "drugstore cowboys" and wannabes, and when I do perform, I make it clear that I am doing a literary reenactment featuring the work of famous poets from the past. I have also done educational presentations on the history of the cowboy boot, the history of the cattle drives and the evolution of the American icon-the cowboy.
I hear you are a sports fan. What sports do you follow and what got you interested in sports?
Growing up in Iowa, you can't help but be a sports fan because there is not much else to do. Football, wrestling and girls' basketball are especially popular there (and a little crazy), and most big events are sold out and broadcast live on television. On a sunny, Saturday afternoon, most folks can be found at a tailgate party, enjoying a giant Iowa tenderloin sandwich and a cold beverage before going in to the stadium to see the Hawks or the Cyclones (lose to Nebraska).

I coached football, wrestling and track for almost twenty years at the high school level, and wrestling for two more years at the college level. I still have very fond memories of those days and a few scars.
What sort of research are you currently engaged in? I know you are an editor for the Assembly on Literature for Adolescents (ALAN Review), what other sorts of publications are you involved with?
In addition to being co-editor of The ALAN Review, I create the Books for Adolescents section of the International Reading Association's Journal of Adolescent and Adult Literacy. I also help Dr. Alleen Nilsen and Dr. Ken Donelson with their annual Honor List for NCTE's English Journal, and I review books for Voice of Youth Advocates. I am on the executive board and have published with SIGNAL Journal, which is another IRA publication. My book, Books that Don't Bore 'Em: Young Adult Books that Speak to this Generation, will be available from Scholastic in February of 2007. I am most interested in the connections that young readers make with certain books, and as Drs. Nilsen and Donelson describe, how they "see themselves in their reading."
I noticed you have a large poster of Kramer (from Seinfeld) in your office. What is the story behind that?
I love the Kramer character. I don't know if I can really explain it, but he got me through graduate school. I think it may have been true for many other people at the University of Kansas, too, because in a doctoral night class warm-up activity one evening, we were placed in pairs and asked to pantomime a television or movie character. I looked around the room and saw almost every other pantomimist doing the same bit I was, that sort of spastic Kramer physical comedy that still cracks me up.
One last question, I heard a rumor about a magic show & something catching fire. What is that about?
Well, I have a costume and some training and used to perform fire magic at Madrigal dinners. I would eat fire from torches, swallow burning candles, make a few things disappear and breathe fire out in a big billowing cloud of flame. I also did regular magic shows for charity events and in my classes. A near disaster at a friend's daughter's birthday party (I nearly set an apartment door on fire-definitely scorched it.) convinced me to hang up my bag of magic tricks, but a friend who was putting on a Madrigal dinner in the Music Department at Drake University talked me into doing one more night. She had strolling minstrels, and beggars, and wanted her dinner to have everything the typical performance would have. I agreed.

I was pretty rusty. At the second table where I stopped to do my routine, I left too much alcohol on the torch as I pulled it away from the candle centerpiece and flaming drops fell on the table cloth, causing delightful, little blue and orange flaming puddles. The people at the table were delighted as I put them out with my hat, while exclaiming, "ZOUNDS!!" All part of the act (NOT!). The applause and tips were impressive.

After performing at several more tables without incident, I once again left too much alcohol on the torch, but as I lit it from the centerpiece candle this time, the dried flowers of the centerpiece burst into flames from falling drips of burning alcohol. "My apologies, lords and ladies," I said, and lifting the centerpiece off the table and turning to the side, I blew out the flames. Again, I was rewarded with loud applause. My heart was pounding.

I have not performed at a Madrigal dinner since that night, fifteen years ago.
If you would like to see Jim reciting some Cowboy Poetry, please come to the Department of English Homecoming event "An Evening of Wit and Folly" on Friday, October 20 at 6:30 pm at the University Club.
-Bruce Matsunaga