Who can speak, cough or breathe


She opens for

to find

hunger

hobbled


domesticated

bulls in fields

separated



by low stone walls


loping around -- two hind legs roped, toward the drinking water



She opens for her own voice



in her throat the doctor's hand



sews up the missed stitch

blood rushes over lips


but screams only rise

when his arm is out





CHOKING:



Anything stuck in the throat blocking the air passage



can stop breathing and cause unconsciousness and death



within four to six minutes




She opens

for

He who knows


her mouth better than she

bores a hole:



small mirror

sees, pares down her dark


precise metal instruments extend.

Nails pierce


plastic

she tries and she smiles

mouth full of fingers



drool

they ignore

lay back



hush of air sucking up saliva

slanted light,


inhaling his morning shave, her after-school Fritos


She opens for a dream locked in his throat: how far in he can carve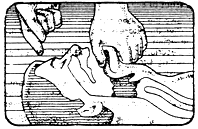 1.

Do not interfere with a choking victim who can speak,


cough or breathe. However if the choking continues


without lessening call for emergency medical help.




to remember

when the shadow sadness casts

again

--

it was


because

She said, "detail"

and he, not


not able:

apple crescents petal-like on a white plate,



not of the spot on his neck missed shaving every day,



origami pelicans afloat on seas of


capitalized events


and

this,

even though

the lids of their bodies closed



more closely

than any other love socket ever


was a tear between two in the same room

wanting


the cutout of limbs, shape on shape

to line up




2.

If

the

victim

cannot

speak,

cough

or

breathe,


immediately have someone call for medical help while


you take the following action.




Wake herself up.

Listen. This noise of chewing

she knows

is anger


to hold him on her; to be with him by burden

a pack animal



sky-writing

of what they say

yellow

exhaust against



the

bottom of the stomach a fog falling out



rolling. Gravityless. Fever and falling.



Finally dragged up before drowning.

Always just in

time.



The bridge dissolves at rush hour. Crossing, gulping,



guess or else: another story for another night; how many



beans in the jar?




where something (if she cannot)


a small brittle tune comes

that she stands on



This is where

she tastes the missed stitch,



Tonsilectomy

Necessity

and goes with her grandmother


home again:

pour from the long-necked pitcher



what's savage in the house

helps



the tune

what she's guessed



they agree on now

-- strawberries bulge, meat throbs


butter

cheery in a flowered dish;

we crash icebox seduction



to get closer --



within four to six minutes red flesh



on the counter, white paper ravenous



for juice

what she swallows she can pour



Our limbs heavy with the season, ripe, ready


to

be

picked.

To

cultivate and be a plant


at the

same

time, separated




Some say that Poseidon was neither eaten nor disgorged,



but that Rhea gave Cronus a foal to eat in his stead,



and hid him among the horseherds. And the Cretans, who



are liars, relate that Zeus is born every year in the



same cave with flashing fire and a stream of blood;



and that every year he dies and is buried.



Thirst,

teeth

the call for help,

vast

plain

of


linoleum, interference.


Paper napkins that could be folded in many shapes on many laps.


Hum of a small tune on her lips

while she cooks.


Breath of the throat,

sex like any other,

bread rising,


burn of any hunger

afloat

---
read the author's Working Notes
go to this issue's table of contents
---