---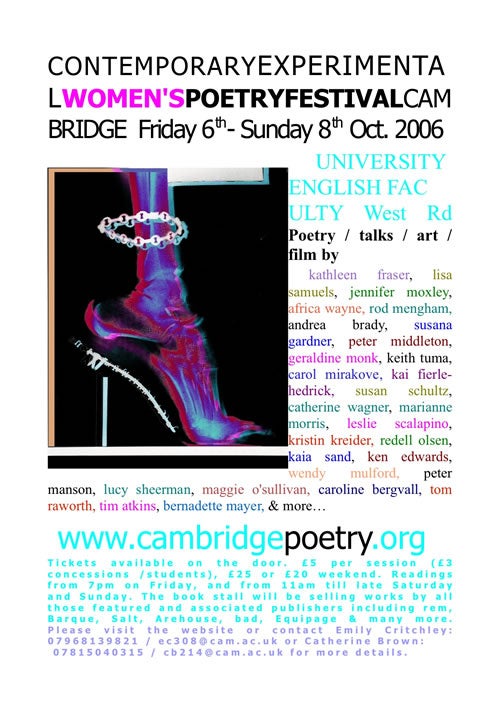 Download the PDF of this flyer
---
c h i a s m u s p r e s s

&

c h i a s m a p r o d u c t i o n s

www.chiasmusmedia.net/product.html


False Membrane: Fiction and Film Intertextuality

The membrane between fiction and film is a false one—mostly driven by the market and consumer culture—when in actuality, fiction makers and filmmakers each desing and distort narrative, create and collide imagery, seduce and tangle with audience through words or images. Focusing on the inherent textuality of both mediums, and admitting that both language and the moving image ARE mediums, chiasma productions in coordination with chiasmus press has launched and online film series featuring work by Karl Lind, Andy Mingo, Lidia Yuknavitch and Mia De Bono at:
http://www.chiasmusmedia.net/product.html
To continue our mission of correcting culture, chiasmus press and chiasma productions will release Northwest Edge iii: The End of Reality, a fiction anthology and DVD compilation, featuring some of the Northwest's best writers and filmmakers—forthcoming Spring 2006.
---
ALPHANUMERIC PAINTINGS by AUGUST HIGHLAND
"Sacred Burial Grounds"
Opening Reception: Friday May 12, 2006, 6-8pm
On view May 12 through June 24
Admission: Free
Like ancient civilization slumbering beneath cities of glass and street, classical poetries are buried deep in August Highland's visual texts on large canvases, which explore the modern experience of language.
August Highland is an experimental writer and visual artist based in San Diego. He is the founding editor and publisher of The Mag (www.muse-apprentice-guild.com), an online international literary review of innovative writing. Since developing "Alphanumeric Painting" in 2002, he has shown in over 25 shows with upcoming shows in Tokyo, Prague, Los Angeles, Arizona and Kansas City. Highland has also been requested to speak about his original techniques at several Universities, including Harvard. His work is in many private and public collections. He is fast becoming one of the newest phenomenons of the contemporary art scene.
Works by August Highland can be viewed online at: www.august-highland.com.
---
Call for Submissions - Chiasmus Press and Chiasma Productions
alright folks, we're not even going to ask nicely. this is a straightforward stickup. give us all your fiction, video, and/or short films. Chiasmus Press and Chiasma Productions announce Northwest Edge the Third: The End of Reality, a fiction anthology/compilation DVD which challenges regular form, content, socio-political movement, pop-culture burp, gender-bending leg spread, gray matter folds, mathematical orgasm, physics excess, patriotic hoo-hah, tele-visioning, tele-vangeling...you get the fucking picture. we will be producing a book which carries with it a dvd in an effort to realize the false membrane between fiction, the page, technology, image production, the moving image, and, well, the real.
Limited to writers/videographers/filmmakers living in Washington, Oregon, Idaho and the Northwesty part of our new favorite entity, CANADA.
deadline: november 1
format:
fiction--12 page maximum, double spaced, hybrids encouraged.
video/film– 15 minutes maximum, NTSC VHS, DVD, or mini DV
send electronically: contact@chiasmusmedia.net
send snail mail: 9970 bull run road, corbett, oregon 97019
dreaded entry fee: 5 bux (what you get for you bux: we buy ourselves beer, we admit, but we buy the beer so
that we can sit and read/ view EVERY SINGLE THING you send us carefully. you'll know that we gave you your shot. you are paying us for our time and labor and care). if you get in, you get your ass published, you get two contributor's copies, and participation in a wild release/screening party.
Electronic payment via paypal at:
http://www.chiasmusmedia.net
Snailmail payment: make checks payable to "Chiasmus"
Regime change is a matter of the state of the arts.
PRAISE FOR NORTHWEST EDGE:Deviant Fictions and
NORTHWEST EDGE: Fictions of Mass Destruction:
"As a reader, you are invited to appreciate literary deviance–challenges to normative genre, syntax, chronology, typography, etc...–as well as thematic deviances..."

–The Stranger

"Some writing...demands fierce, total mental engagement of the kind that makes tables overturn in Paris cafes and compels revolutionaries to topple cabals. Or maybe just inspires you to turn off your TV for a while...Northwest Edge provides this kind of intense reading."

–The Seattle Times

"The real bomb that Northwest Edge drops is including writers out of the mainstream whose work is much less likely to appear in Northwest Standards like GLIMMER TRAIN or THE SEATTLE REVIEW. It will especially appeal to writers interested in the boundaries of new fiction."

–American Book Review

"Stories that hold questions about race, class, gender, sexuality, and violence open as a hand. Bravo. Refreshingly wicked."

--Small Press News
---

Call for Papers
Signs Special Issue—
War and Terror: Raced-Gendered Logics and Effects
Signs: Journal of Women in Culture and Society invites submissions for a special issue titled "War and Terror: Raced-Gendered Logics and Effects," slated for publication in Summer 2007.
"In war time, only men matter," claimed Mary Sargent Florence and C.K. Ogden, two British antiwar suffragists during World War I1. Writing in Jus Suffragii, the newsletter of the International Woman Suffrage Association, they noted that hostility to feminism was a deliberate, sustained, and central project of nations involved in war-making. More recent studies of women and war, as well as feminist studies of war suggest the intensification of deep-seated cultural, racial, and gender stereotypes during war time. Peace is commonly associated with "feminine virtues" and war with regimes of masculinity. Rape in war seems to reinscibe violent subjection as a "normal" facet of racial, ethnic, sexual, and gender relations. The logic of "feminization" appears to structure practices of terror deployed to induce helplessness, dependence, fear, and compliance. As "the enemy" is feminized, the "warrior-hero" mythos reestablishes linkages between citizenship and military service, as well as leadership and presumed male superiority in managing national security, remasculinizing the domestic politics of warring nations.
Although proponents of democratization optimistically predict the elimination of war, the specter of war continues to haunt the global community. Depending on the definition of war, there are between sixty-five and two thousand sustained armed conflicts on-going in the twenty-first century. The once inviolable boundaries of the nationstate have become permeable to terrorism, transnational policing, and international peacekeeping forces, as state and anti-state terror refigure space, hierarchies, and freedoms. Taking on the mantle of the national security state, some liberal democracies have joined their authoritarian counterparts in violating the rule of law.
How do contemporary armed conflicts and terrorist engagements challenge received views about the dynamics of race, gender, ethnicity, nationality, and sexuality in violent conflicts? Are feminism and feminist scholarship becoming casualties of growing militarism? Do feminist analyses of war and terror offer unique insights into these phenomena?
For this special issue, we invite submissions that address the complex dynamics of race, ethnicity, gender, and sexuality in war, war-making, and in the uses of terror against and by states in the prosecution of civil wars, ethnic conflicts, nationalist and imperialist military interventions. We welcome innovative analyses of women's involvement in war and terror (as combatants, military and political decision-makers, interrogators of military captives, providers of logistical support, medical personnel, sex workers, hostages, political prisoners, UN peacekeepers and peacebuilders, human rights workers, NGO activists, and activists in resistance to occupying forces); the impact of war on women (as direct casualties, as mothers, as war refugees, as victims of sexual violence by militants, combatants, and domestic partners, women's experiences of loss in relation to families, communities, nations); factors that contribute to women's support for and resistance against specific wars and terrorist campaigns; particular racial and gendered processes and effects associated with specific kinds of war (civil, ethnic, nationalist, imperialist); the gendered and racialized logics and rhetorics of war; the production and reproduction of gender, race, and sexuality in and through war and terror; unintended racial and gendered consequences of war and of terrorism; cultural representations and cultural productions of and about race, ethnicity, gender, and sexuality in war and in terror, historical approaches to these complex questions. Analyses that encompass transnational and comparative perspectives are particularly welcome.
Please send submissions to Signs between March 1 and July 1, 2006. Guidelines for submission are available at http://www.journals.uchicago.edu/Signs/instruct.html.
[1] Mary Sargent Florence and C.K. Ogden, "Women's Prerogative," Jus Suffragi 9/4 (1915):218-219. Cited in Karen Offen, European Feminisms (Stanford University Press, 2000), p. 252. Back to top of update
---
The Argotist Online is devoted to poetry and poetics. It publishes non-mainstream poetry, and features essays and interviews sympathetic to it. This is done not in a polemical spirit but merely as an apologia for such poetry.
By non-mainstream, I mean poetry that is aware of the plasticity of language and which places connotation and ambiguity over denotation and precision of meaning. This sort of poetry invites interpretation and allows for plurality of meaning as opposed to hermeneutic closure.
It has interviews with Charles Bernstein, Marjorie Perloff (underway), Ron Silliman (underway), Michael Rothenberg (underway), Anne Blonstein (underway), Todd Swift, Rupert Loydell; and poems by Sheila E Murphy, Annabelle Clippinger, Robert Hampson, Anne Blonstein, Hank Lazer, and rob mclennan among others. There are articles on Peter Redgrove, William Bronk, Jeremy Reed and Bob Dylan.
The site is at:
---
Ron Silliman on How2, 16th May 2005
Extract: "Perhaps the single best example of the ways in which the web has emerged as a more powerful publishing solution for progressive arts than traditional print forms is How2, the onsite zine that has evolved from the relatively simple newsletter HOW(ever) originally founded by Kathleen Fraser, Bev Dahlen & Frances Jaffer 22 years ago. Whereas the original publication never grew large enough to warrant perfect binding, the current online zine has evolved into a rich gathering of diverse materials & resources from all over the world. If How2 couldn't be captured in perfect binding today, that's because some of its content literally requires the web as a platform." ...
From Ron Silliman's Blog: http://ronsilliman.blogspot.com
The post on How2 can be found in the May archive of the blog (go to May archive)
---
HOW2: LEGITIMATE SPACE
A Review of How2, by Tom Hibbard
Extract: "As far as we know it, humanity dwells in an enormous space. The ends of the universe are beyond the reach of time as it would be measured by the longevity of our civilization. It is in this space that the web journal How2, a bi-annual of "modernist and contemporary innovative writing practices by women," has etched its beginnings and direction, perhaps similarly to the way Euro-American pioneer women first viewed the space of this continent's western plains." ...
View the full article at http://www.wordforword.info/vol5/reviews.htm.
---
Announcing yesandnu.com http://www.yesandnu.com
Just like the SiXTieS Yes and Nu want you to PaRTiciPaTe.
What can you do? Well first read The Unknown Origins which will tell you everything and nothing you need to know about Yes and Nu. Then send us something. What? Well maybe some titles for new episodes (sometimes all you need is a title); or write one of the stories; or illustrate one; or make some sound effects; or write a Yes and Nu song; or send Yes and Nu a quandary (Yes and Nu's not so common sense); or audition to be their Missing Father; or maybe you know where the Lost Motherland is? See, there are lots of things YoU can do.
email your participations to participate@yesandnu.com or send them by post to the UK headquarters:
Participate with Yes and Nu
7 Colleton Row
Exeter EX2 4AT
England
---
Gilbert and Grape
Lone Ranging Romance (2005-2008)
GilbertandGrape and their lone ranger, a 20 kilo stuffed moose head, propose to travel the coasts of England and Norway in a Volvo Amazon to search out and collect stories from people with an interest in nostalgia, document vague memories, exchange taped music and watch sunsets at the end of the day. Lone Ranging Romance will end when GilbertandGrape return the lone ranger to the sunset in Nordkapp where the midnight sun never sets, exploring clichés and cultural heritage and iconography in the context of our times. (elg I solnedgang)
" In Lone Ranging Romance we endeavour to question an idea of nostalgia, clinging to our memory of an idea of a culture that is not experienced as ours but a nostalgic reminiscence from before we were born."
EVERY SECOND THURSDAY OF THE MONTH WE WILL BE SENDING A LIVE REPORTAGE TO THIS BLOGG. REPORTS WILL CONTAIN DETAILS OF OUR PREPERATIONS AND WORK WITH LONE RANGING ROMANCE.
http://gilbertandgrape.blogspot.com/
http://www.gilbertandgrape.co.uk/projects.html
---
Belladonna* is a feminist/innovative reading and publication series that promotes the work of women writers who are adventurous, experimental, politically involved, multi-form, multicultural, multi-gendered, unpredictable, dangerous with language (to the death machinery). In its five year history, Belladonna* has featured such writers as Leslie Scalapino, Alice Notley, Erica Hunt, Fanny Howe, Mei-mei Berssenbrugge, Cecilia Vicuña, Lisa Jarnot, Camille Roy, Nicole Brossard, Abigail Child, Norma Cole, Lynne Tillman and Carla Harryman among many other experimental and hybrid women writers. Beyond being a platform for women writers, the curators promote work that is experimental in form, connects with other art forms, and is socially/politically active in content. Alongside the readings, Belladonna* supports its artists by publishing commemorative pamphlets of their work on the night of the event. Please contact us (Erica Kaufman, Rachel Levitsky et al) at belladonnaseries@yahoo.com to receive a catalog and be placed on our list.
*deadly nightshade, a cardiac and respiratory stimulant, having purplish-red flowers and black berries
Belladonna* readings happen monthly between September and June.
---
GUILLERMO DEISLER´S NET ART HOMAGE
Clemente Padín & Hartmut Andryczuk would like to invite you to send contributions for the netart project "FOR UNIVERSE". We consider Guillermo Deisler as one of the first netartists ever; he worked on this art field even before the Internet became a mainstream means of communication.
Guillermo Deisler started different visual poetry projects in Latin America. In the 70's he went into exile in Europe and published UNI/vers, a magazine which came to be highly regarded in experimental poetry and art circles. Deisler died in 1995.
UNI/vers stood itself in a completely new art space, one which had its own specific language and images.
As a netart project, "FOR UNIVERSE" will only be linked to on-line media and the world wide web. At first, it will be published on www.hybriden-verlag.de. On a second step, it could eventually be found on different servers or homepages. You can of course create your own spaces; nevertheless, all the information will be available at the hybriden site for a start.
We intend to spread the free, open-source artist network worldwide, of which we consider Guillermo a pioneer, considering his use of the 90´s contemporary communication means. Build your own universe.
To contribute would mean to send us any type of digital documents related to the spirit of open-communication art (and to Guillermo as well). It could be an image, an mpeg file, an animation, an mp3 file or QuickTime movie. It could also be a written or spoken text or a scanned document. Please make sure the image files don´t exceed 500 kb. each, or 10 mb. for audio (preferably mp3) and film files.
We´d rather you used the following formats: sound files (mp3, AAC or aiff), image files (jpeg or tiff), movies (avi, mov, mpeg), text files (rtf, pdf). We are not really Windows fans (as it´s not an open-source system), and neither do we trust Word documents.
Please send us an e-mail to:
Clemente Padín
Hartmut Andryczuk
---
HOMENAJE A GUILLERMO DEISLER - ARTE DIGITAL
Clemente Padín y Hartmut Andryczuk le invitan a colaborar en el proyecto de netart "FOR UNIVERSE". Recordamos a Guillermo Deisler como uno de los primeros netartistas, antes de que la internet se convirtiera en espacio principal de comunicación.
Guillermo Deisler fue el fundador e iniciador de diferentes proyectos de poesía virtual en América Latina. En los años 70 se exilió en Europa y finalmente publicó la revista UNI/vers, muy conocida en la escena de la poesía y el arte experimentales. Deisler murió en 1995.
Creemos que UNI/vers estuvo inserta en un espacio completamente nuevo, específico en su manejo del lenguaje y las imágenes.
El proyecto de netart "FOR UNIVERSE" estará reservado a los medios virtuales y publicado en la red de redes. Primeramente, en la página www.hybriden-verlag.de. En una segunda etapa podrá ser presentado a través de diferentes servidores o portales. Pueden ustedes crear sus propios universos, pero en un principio la documentación estará disponible en la página de hybriden.
Nuestra filosofía será la de difundir las redes de comunicación artísticas, abiertas y de software libre, y consideramos a Guillermo uno de los pioneros en este tipo de difusión, mediante las redes contemporáneas en los años 90. Crea tu propio universo.
Contribuir significa enviarnos cualquier tipo de documento digital relacionado al espíritu del arte de la comunicación abierta (y también a Guillermo). Puede ser una imagen, un archivo mpeg, una animación, un archivo mp3 o una película en QuickTime. También pueden ser textos escritos o archivos de voz, documentos escaneados... Pero se debe ser cuidadoso con el tamaño de los archivos, que no pueden exceder los 500 kb en el caso de las imágenes, o 10 MB en el de los archivos de audio (preferentemente mp3) y las películas o animaciones.
Preferimos los siguientes formatos: para audio (mp3, AAC o aiff), para imágenes (jpeg o tiff), para animaciones (avi, mov, mpeg), para textos (rtf, PDF). No somos fanáticos del sistema Windows (no es software libre) ni tenemos confianza en los documentos Word.
Para contactarse por correo electrónico, en principio estarán disponibles las siguientes direcciones:
Clemente Padín
Hartmut Andryczuk
---
CHAP BOOKS - Call for submissions
Image from forthcoming Chap Book Newsstand by Eva Weinmayr, to be published in summer 2005.
http://www.bookworks.org.uk/asp/home3.asp
Chap Books: short treatises, tracts, chapters, artists' publications aimed mainly at artists publishing for the first time/artists early on in their careers.
Book Works is interested in the books being discursive platforms for the interface of ideas involving different issues; in artists that question their role in society; and in initiating debate and exchange of ideas and information. We are looking for work that will suit the book format, and retain an element of research, experimentation and spontaneity.
Book Works has published the first two books in this series: Airdrop by Jennifer Gabrys and Ring Mechanism by Neil Chapman, and two other commissions are currently underway with Andrew Dodds and Eva Weinmayr.
These new commissions will be selected by Book Works staff and our guest editor, Sara Wajid, by a process of open submission.
We will welcome applications from potential co-publishers, for example galleries, artists groups etc for single titles.
To apply please send a stamped addressed envelope to Book Works, alternatively please email Jane@bookworks.org.uk
Please note we will not accept completed application by email.
Book Works
19 Holywell Row
---
The Text Festival challenges
the boundaries between art and poetry,
examining the response of text artists and poets
to the substantial ambiguity of language.
A nine-month programme of events held in Bury,
Lancashire throughout 2005, featuring exhibitions,
public art commissions, publications and performances
by internationally recognised practitioners and
some of the newest talents in the field.
---
Centre for Cultural Poetics, University of Southampton
Re-visualising Writing: Page, Canvas, Screen
One Day Conference: June 10th 2005
This conference will address the relationship between writing and visual culture. It is particularly interested in exploring how technology continues to shape our understanding of the visual, spatial, experimental, and iconic properties of writing.
Questions to be addressed can include:
How have the visual properties of books, printing, painting, and computing influenced the development of writing practice and its theory?
How have technological advances encouraged art forms to combine word and image in new ways?
What opportunities for re-examining the visual properties of writing does new technology offer?
What new forms of social practice (reading, community formation, textual dissemination) does an attention to the visual suggest?
Forms to be addressed can include:
Electronic and digital culture (eg: Digital Poetics, Hypertext, Programmable Media, Blogs, E-poetry)
Textual Experimentation (eg: Visual and Concrete Poetry, Modernism and Postmodernism, Procedural or Aleatory Poetics)
Emerging or established 'hybrid' genres (eg: the artist's book, the performed poem, the illustrated page)
Collaboration (eg: between visual artists, writers, interactive media specialists)
If you would like to offer a paper please contact either Nicky Marsh (nm8@soton.ac.uk) or Stephen Morton (s.c.morton@soton.ac.uk). Further details about the conference will be available shortly, and details will be posted on our website at www.soton.ac.uk/~bepc/forum.
Peter Middleton
Department of English
University of Southampton
Tel:023-8059-3517
Email: P.Middleton@soton.ac.uk
---
are pleased to announce the launch of 'reception'/ 'recepcion' #1, a new journal of experimental translation. 'reception' will not only explore contemporary traditions of poetry and performance writing in other languages, but also aims to extend the very notion of what translation itself constitutes. The translations in 'reception' investigate shifts and re-mediations between languages, but also creative transformations of form, media and physical space: in short, they constitute performative works that seek to re-invent every aspect of the poem rather than limit themselves to a purely linguistic transference. The first issue, featuring visual poetry from Chile and 'linguistically innovative' poetry from the UK, includes work by: Andrés Anwandter, Martín Bakero, Sean Bonney, Anamaría Briede, Gregorio Fontén, Harry Gilonis, Martín Gubbìns, Doug Jones, Aodhán McCardle, Stephen Mooney and Alberto Nónimo, with an introductory essay by Felipe Cussen. For more information and subscription please contact: piershugill@HOTMAIL.COMLUC
---
echolocation - CALL FOR SUBMISSIONS
Please consider submitting something to echolocation -- note that we accept critical submissions as well as creative. We also have a brand new e-submission capacity (aka an email address) so those of you not in Canada, or dubious about the postal service, can submit electronically.
Please forward this call to all and any interested/ing parties,
Sophie
Poetry Editor, echolocation
echolocation welcomes submissions of poetry, fiction, and creative non-fiction from new and established writers.
Poetry: maximum 5 poems
Prose: maximum 5000 words
Submissions received before Feburary 15, 2005 will be considered for the Spring 2005 issue. Submissions received after this date will be considered for future issues. All submissions are read within four months of receipt.
Please send your work in duplicate; a cover letter with your contact information, the titles of your work, and a brief publishing history; and a SASE to:
echolocation
7 King's College Circle
Department of English
University of Toronto
Toronto, ON
M5S 3K1
Or, to submit electronically, please send your work and a cover letter to echolocation@sympatico.ca.
Queries may be directed to the managing editor, Ella Soper-Jones, at taj@sympatico.ca.
echolocation is a journal of contemporary writing published by graduate students at the Department of English at the University of Toronto.
---
echolocation - CALL FOR SUBMISSIONS
echolocation seeks interviews with writers, review essays on recent and upcoming literary works, and critical essays on any aspect of contemporary writing. Submissions received before February 15 will be considered for the Spring 2005 issue. Submissions received after this date will be considered for future issues. A maximum length of 5000 words is suggested for all submissions. All submissions are read within four months of receipt.
Proposals and queries may be directed to the managing editor, Ella Soper-Jones, at taj@sympatico.ca. Please send completed manuscripts to:
echolocation
7 King's College Circle
Department of English
University of Toronto
Toronto, ON
M5S 3K1
Or, to submit electronically, please send your work and a cover letter to echolocation@sympatico.ca.
Submissions must adhere to MLA style.
echolocation is a journal of contemporary writing published by graduate students at the Department of English at the University of Toronto.
---
Learning to Love You More is both a web site and series of non-web presentations comprised of work made by the general public in response to assignments given by artists Miranda July and Harrell Fletcher and various guests. Yuri Ono designs and manages the web site.
Now that you are here you will want to accept an assignment, complete it by following the simple but specific instructions, send in the required report (photograph, CD, video, etc), and see evidence of your work posted on-line. Like a recipe, meditation practice, or familiar song, the prescriptive nature of these assignments liberates you from creativity and allows you focus on what you are feeling and experiencing.
Since Learning To Love You More is also an ever-changing series of exhibitions, screenings and radio broadcasts presented all over the world, your documentation is also your submission for possible inclusion in one of these presentations.
Every day we check to see if any new reports have arrived, we spend hours drifting through the site, reading your life stories, watching your videos, listening and looking. It is one of our favorite things to do, and we know that thousands of other people feel the same way.
http://www.learningtoloveyoumore.com/
---
---