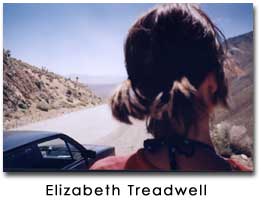 Elizabeth Treadwell
Working Note
I'm getting back into writing fiction after journeying mainly in poetry for the last five years, and while doing so I've been having a theory that, loosely, poetry uses narrative in the service of language and that prose uses language in the service of narrative. Of course that said, "Paramour" is partly composed to resound the sound of and to give definition to its title word. It's part of a bunch of short fictions I'm calling Trolleyway, at least right now, which is a title I've had in my head for about ten years, not being sure why, except that maybe it has something to do with the sound of my last name and the fact that I am calling these pieces "djunies" to myself, attempting to float and pin sentences as complex as Ms. Barnes did, and also something to do with having ten years ago lived near wild unincorporated areas of Los Angeles, which makes the word Trolleyway go through one's head in my experience. Anyway the parts to Trolleyway are finally coming loose. In "Paramour," also, is the influence of dreams, glossy mags, anthropology, and fairy tales.
---
Paramour
"not a blocky, see-through tragedy,
such history"
Into which rivers were you thrown?
Shy-toothed monsters are we all, kissing ravenously, petulantly, up against the wall.Pressed in the doorjamb against him — smashed in the atrium my hands on his ass — I would've sworn rather than stand still all time flowed through our precise bodies — that is, if physicality hadn't been plenty. Auden & I made the papers, my spit on his dick, with which I was quite taken. And the ancient boat of heaven inside my crotch felt newly decked in fireworks and sheets of silk, to be honest. Auden — Marie read the headline, silver spiders bigger than babes — in reference to some comments we'd made about our future, one supposes.
But the celestial feelings and clothes of it, have I captured the cinderella showdown in leather pants and cleavage, the gucci frenzy I must have also been in?
Have I garnered the sort of glitterrock style?
My sisters met me in the banquet room as Auden slipped through to the loft. The five of us with long hair and thin noses, as if drawn with the same fine nib. My niece Delilah as well, having been born when my sister Sharon was at an age only a fraction less tender than the one at which she, Delilah, currently found herself, next asked to see the dress — a heavy affair made to both flatter and appear light once composed upon the body, it also had a strap round the neck of heavy silly jewels. Silver and pink. This was to be my ceremony.
One of my sisters, Matilda, having a young baby, had the dark cropped hair and large, droopy tits that we each would in turn: makeup forsaken, she looked like a character out of the bible or all those paintings which refer to same.
"Nursery nursery — do you rhyme?" sang Delilah, skipping about the room in her boredom like a somewhat younger girl, her long hair topped with a bow and curled on its ends. The five of us, plus Tilda's baby, happy enough on pink leather banquettes in the modernist vein. In windows made up of extremely large panes, the tall white shag carpet like a dead bauble in the center of the shiny floor.
You should have seen the ballroom, aglow with mini-trees of silver, gold, and diamond, a platinum disc at its helm — where Auden and I planned to stand for vowing — all these rooms I am describing were placed so high above that city.
Our mother having recently recuperated from a long illness of which our father had passed himself away — we may have been in an awkward state at this dreamlike instance of impromptu shower — but that's neither here nor there, truly, according to the concerns of my present narration.
You should have seen the ballroom.
I expect the briefest outline of Auden's family might indeed suffice. Auden, Larkin, and their sister Caspian, whom I rarely met (though there were plenty of family photographs) — you'll notice she wasn't present at aforesaid shower, the curtains drawn heavily about that lonely festive room. Their parents had adopted all three in the same calendar year, one child each from Europe, Africa, and Asia. They had the kind and type of wealth, one of my sisters and I can't remember which, perhaps Esme, the eldest, remarked, that allowed them to enjoy the purity of an object. I was to be barely introduced, despite the rather fine nose previously mentioned, which sat upon my face and in their favorite son's crotch quite often. His mother may've called it behind my back, unflatteringly, the work of a (merely) astute surgeon — how, then, to explain the perfect match with that of each sister of mine? (Or how then not to.) She certainly never shook their hands, though his father was a bit kinder. In our lands most firstborns were out of wedlock and this caused not even the faintest stir nor glimmer of detraction from the pride in which each mother and offspring were then greeted. Ours was a slow-moving family. Tilda's heavy bosom fell out of its blouse whenever the child mumbled, just as Sharon's had done with Delilah more than a decade before.
You should have seen the ballroom, aglow with mini-trees plated one by one in silver, gold, or encrusted with diamonds and even some emerald and ruby, sapphire, amber, and the lot. The walls were swathed in curtains of black and of red velvet, the windows mountainous. A platinum disc stood where an altar or DJ might otherwise have, and we planned to walk there, Auden and I, for further vowing. All these rooms I am describing scraped the silky bottom of the blasted sky.
But just as I felt invisible to censure, in the thick gauze of the dress with the baubles about my throat — sharkskin gray on the outside, pink in; matte jersey silk — the companion shoe fell crashing — the drunken envelope arrived, filled to bursting with Paris and her excellent consorts. What had passed between us, Auden and I? His dear face grimacing, he famously replied, but I misheard simply everything at that time — reader, the words looked at me from another page while I kept looking at them from the same one.
In the linen department, ensconced in some plant. By the grace of god and through her own piety.
The knives of love in my dirty fat fake fur — distracted dawdled on.
Shy-toothed monsters are we all, kissing ravenously, petulantly, up against the wall.
That's how it felt in the doorframe.
But out of sorts, down at the mall, the skater boys and shoplifting girls mingle — what happenstance miracles send them fleeing, to some other situation, where world and time conjoin, and the mix allowed at puberty is one that honors extensive ordinary vision. There was another route, the anthropologists suggested. Of which I have no evidence.
---
Bio: Elizabeth Treadwell is the author of Populace (Avec 1999) and Eleanor Ramsey: the Queen of Cups (SFSU 1997), as well as several chapbooks, including two small volumes of her long poem, Eve Doe. A new collection of her poetry, Chantry, will be published by Chax Press. She recently wrote the lyrics for a song, "JoLynn," which Molly Symns has set to music and performs on the CD anthology Song Poems; another song, "Yolanda," written in collaboration with her husband, Paul Jackson, appears at stiffrichards.com. Treadwell is the director of Small Press Traffic in San Francisco, and has edited Outlet magazine since 1998.
---