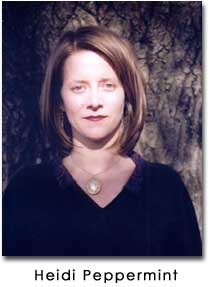 Heidi Peppermint
Working Note
I begin with a coffee/mug of espresso. Then, having shut the door to my somewhat cluttered study, usually I will gather various texts (the more diverse the better — always one canonical), choose a form, (the form might be a sonnet with borrowed line-endings from a poem in front of me, some form from Lewis Turco's book, or an acrostic; sometimes, I will write out an inherited form from memory, for e.g. "the love letter"), while all the while I try to remain open to chance, and at any time may beg in to play.
Flipping through the books I have in front of me, I write out phrases that catch my eye, until a 2-3 page list has been formed (often during this process the worlds transform into homophones); eventually, I get a dei sire to box them all up, and start planting phrases into the forum. Usually, phrases lead to other associated phrases, especially from the folk vernacular, or further homophones, or clinamatic moments — and sow sum how, the poem comes a bout.
Through 10-20 drafts, ray vision tends to word in air gee! and away from ditz, a point meant. Finally, I read the who' all thing out lawed, show the peace to my part noir in cry hymn and my free 'uns at Verse, and then send watt ever it is into the whirled.
BLINDFOLD, YET HANGING IN THE STARS
---
Blindfold, Yet Hanging In The Stars
They're men need ways to whole id the sky. He
caught a bird in hand, shout id from the mount
tame how he had a whole id of awl that blue;
yes, awl this a wry sing from his re: son!
Is they're own lea a mere turning,
is this awe ill some sill lea saw oft ball
lost fore ever in a gut her fool of reign?
when will his mother caul him home?
Sea should bow her heed in sawed mission.
Sea should nieve her leave his sigh id.
Sea should weight to speak till yoked in two.
In the beg inning, there was lie it
and it was god. The buoy was plea eased,
petulant chide all. Seas a mind to tale him off ...
---
In the blame of the father, let's go know further.
If we go any further father, it's only-going, get-worser.
Some further got a father called his penis.
Some penis got a father called go further.
Let's ungod them documents that mean swell.
Let's ungod them, their documents, their mean well.
We must fingerprint all his glory stories.
Get his elbows off the table, and No, sir
you may not be excused.
---
And so they ate the same food, slept lied
by lied, bathed in the same never and
concealed in their valley. (The gateway
so near the forest, though this All This
and whole body nod, the opposite
of a dive, her add ministering
angles from on top, he's would in her,
they look from a certain perspective
like a 'snail?'. What is all this he shouts.
How about like this? A horrible noise
twisting her hands together, the ring-
ing, (all circles are closed) the moon spins
enormous, her legs hallelu, flat
on her back, a mother unborn
when knees point up, he's between her legs
now it's like he got wings). No Know Gno
she exclaimed, struck out, unweddingly
broke his noose, My museum! he wept.
---
Bio: Currently, Heidi Peppermint is studying and teaching at the University of Georgia, Athens, where she is in her second year toward a Ph.D. degree in English literature, with concentrations in 20th century American poetry, creative writing praxis, and literary theory. She serves on Verse as an editorial assistant, on Jed Rasula's Lanier Speakers Series, and has had poems and reviews published in Salt Hill, 3rd Bed and Electronic Poetry Review.
---