Geraldine McKenzie
Working Note
Though I hate equally the notions of intuition, inspiration, and imagination, know each to be fraudulent ad copy for self-aggrandizement, I myself work intensely (and best) by principles only partially known, at work by a method at once constructed and resistant to formulation. —Hank Lazer, H's journal (3 of 10)
Most of the time, I don't know quite what I'm doing but want to see what can be done with language, and trust to instinct and the fecundity of possibilities of the English language to carry me through. Iím not interested in a specific method or form but an exploration of same; whether it is old or new is less important than what might be done with it. Having said that, I must qualify it with a resistance to the lyric and the crafted 'poem as object', both of which testify to the existence of a single voice/ordering ego, an assumption Iím unable to share; although there is certainly a place for both impulses within a broader context of inclusion and process.
Meaning is clearly an essential aspect of language and I've no desire to relinquish it, anymore than I'm interested in poetry that is anything less than polysemic. To paraphrase Milan Kundera when he wrote that he didn't want to write a novel that could be turned into a film — I don't want to write poetry that can be turned into prose.
---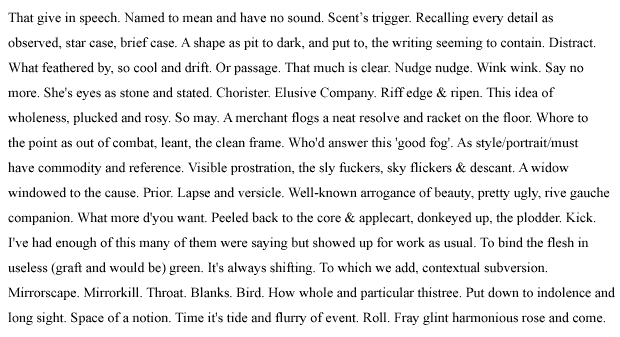 ---
>>>
...a good day to die
honour gutted
the busy streets the quiet
streets
only
connect
>>>
each man kills the thing he loves
beautiful bear Oscar who
drank the Americans under the table and gracefully declined
to enter the 20th Century
between bars
the space
Oscar writes
The Soul of Man Under Socialism
and a ballad
>>>
we bear the stripes
lashed all
the livid years
the dark kitchens, the sheds
the park with its winter stiffs
a minor scuffle by the gates
what are our lives for
the next three passersby will be variously
itching burdened sated
>>>
Louis spoke calmly to the crowds till drums
walked to the spot and laid
himself there
owing to the unusual
thickness of his
neck the blade
stuck
accounts relate a single scream
we're all familiar
with this version of equality
>>>
fed fat on
naked joy
then levied such
a fall
dumb as any nurtured calf
tried and sentenced in absentia
he couldn't look at me
yet had taken pleasure in the work the preparation
of the body
>>>
how life feeds us
its cruellest juices
carnivorous after song
and a jester straddling hall with a word
put on your cherry ribbons
Krum at least will applaud
turning in his seat
his mouth a poppy smear
I shake my shaggy limbs
bare my sorrowful teeth
O throw me an orange
anyone
---
clink
stone collections
the smoky wood in blue recoils
smudge
ice
like ice
fish pulse the throat
crack
for stone read grey black white
for stone read hard smooth cold
for stone read yielding to pressure
permanent splinter
severing
cross reeds the creek
knobble crust
witness the irretrievable
as with a sharp intake she produced
quivered in the crook
arc like god
---
hard slog
o Ferdia I
thought that we should live forever
so like and loved
would heavy
wave
something about mountains
rills the pool
hands knees
grave raw
my sapiens
beautiful monster
want air in its wild riff and blaze
unspring
the exigent
consulting details as
mound arch sprawl
some bourne of still uncovered
as in these hands
what's spirit's gone
begin their sober intercourse with worms
to you Cuchulainn
broad stream and drunk to bed
shift time
what glimmered in the whiskey watches
might other be
---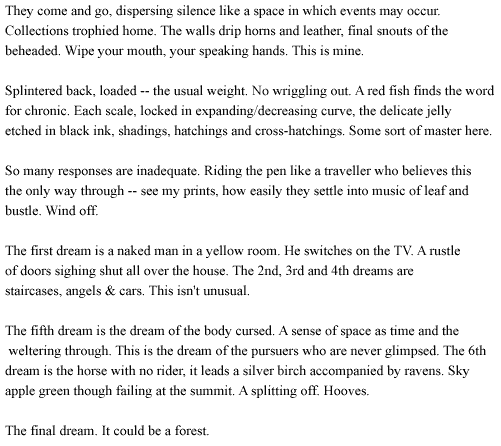 ---
statement
prevarication
hedge
the limpid lie
doggerel
world view or vehicle
out the window
noisy settlement of birds
jabber matter
beaks explicit purpose
a word has no intention to deceive
cut loose
private nonsense or openings
at leisure rack
the hungry moment mouth
everything seems so obvious
a buttery come down
lay by
let go
your
invitation to desire
trusting logic only
so far
too far
a bridge and barcarolle
lazy cat lick
light
up
put by and listen
I'm beside myself she said with a laugh
a slow stitching to the point and hollow
anxiety justified by subsequent events
gratuitous whimsy
meant meant
wall grid and griddle
spit
come up against
found flower in the smoke's display
you get used to this
and with respect to the use of round numbers
prime or product
stone altars
disposition
line*star
articulate
rose
chimeras of control in the breath
plunge or fondled to a splurge
even your clean
disgust rankles
statement
statement
prevarication
this is not the
world
statement
statement
extenuation
it's too long since I had a fuck
separation from the act or moment when
it's precisely those qualities of habitation
one desires
just as troublesome
(in common
tree)
when I fucked
or was
subject/object
grammar of grapple
wha'ís consciousness that it may
shed the watcher
presence signals failure
yet this
pithy hereness
flesh/flesh/time/space
when it's working
reduction/expansion
perhaps I should reconsider my object
(shuns) dance the poles and puns
essential difference
nor gender bound this flexing
vectors multiply
specific
words with their weight
a thudding to the thighs and nuzzle there
coddled other
where's dripping trees, the dark
the muddy
middlemaze
lefthanded sugar
block
what works
this is something I could use
and, with reference to the unsuitability of certain forms in a dry season
language as intrusion
extrusion
real
sediment
a blind
come on
red clay
mottle and daub
featherscratchdance
the sticky way trembling by the river
we're all strange
and even to myself retreat
come close salt bugger will we
it's better blank
fill my mouth with it
the hardest words
stick there
question
question
time and spirit waste
these cuts
question
statement
invocation
come to drink
the green one read
statement
statement
equivocation
it was an old country
and I fell into the grip
statement
statement
interpolation
nothing is clear yet at that moment
when I hold it in my hands
---
poem be a river
so long locked me
to a window
turning
these blossom, jasmine
ever bear
fit and
lovely
inner
spring
stripping by the bed he moves with that slightly hurried nonchalance of one disclaiming his body//different//so much more//resentful at times//behind the scenes the usual mutterings of discontent//the mind provides comparison//weathered stone its fused specifics and the seamy life under
where every prospect feeds the lie
that's beauty
bizarre and fecund Greeks
found light
umbilical
a cramp of fathers
a nape of wishes
a crony of disasters
I keep my bad dreams to myself
and so do they
coming in truckloads
a monstrance of trains
a quandary of religions
a deepfriedchicken of visually striking items on the evening news
plug plug

(buying back the baby)
she moves like —
sun spill be
smear the subtle
hills and hoist
old world new world
marketable
difference
a dilemma of histories
you might
well
pass on this one
hiding
spaces
between the game and the parody and the odd
sound which, in retrospect, might
instantly declare itself, but here
moves in and out of consciousness, denying
in oblique
moments
the evident
thud
(I can barely contain myself)
again
a clutch of bodies
a waft of souls
a glimmer of the undecided who
still set their feet in earnest glamour
to a loitering path
this way in
wry cuts
the carpenter's blade
her pleasure
when I found myself in that situation, that is, when I realised the situation I was in but without knowing how far it extended and could each word and gesture peel back to an undisclosed and furtive self or partner in events, and realised thus that this was not unlike life itself, or language, subjects which had already engaged my interest without penetrating in such a markedly painful manner, the undoing —
belief's a dialogue
(beat it)
a quorum of diseases
a pendulum of epochs
germane and proper
Romans all
building
the nice proportions
of control
end here
home's emissions
above the temple fire and stench
groaning at the board
outside's the wind
roisterer
night's immaculate pearl
and the trees
not holding
drab the english immigrant
said, faced out by gums
these are to be lived with
and it's always blue
when bleeding
stitch the rich
travesty of life
mean mile
slow guile descending
deceptively
fast food
a fetish of cities
a declaration of lights
a whim of devices
and here
white vase
delphiniums
bookshelf
stand for no more
my blue bed
drunk deep and mumble
looking back, itís a mess
if I pause to address you itís knowing
we're partners in this fiction
what colour thenís the rose
apple-scented or thick
as southern summers
angophora spreading
pink 'n orange
flesh
it seems
about to roll
sweets turn
all truths are agricultural
end in earth
half-steps toward
infinity
sojourner, traveller, itinerant, wayfarer, pilgrim, palmer, walker, trekker, tourist, spectator, tripper, holiday-maker, visitor, pioneer, pathfinder, explorer, wanderer, migrant, nomad, gypsy, rover, ranger, rambler, straggler, stroller, strolling player, wandering minstrel, rolling stone, drifter, vagrant, vagabond, tramp, swagman, sundowner, hobo, bum, landloper, loafer, beachcomber, refugee, displaced person, runaway, fugitive, escapee, waif, stray, street-arab n. poor man
(I'll get back to this)
Orpheus as
the Thracian oaks
resume their elephant dance
sometimes I'd think it could be anybody
one envies the clean line
its detachment
and where the broken vase depends
incessant vine
and rapids
in Constantinople the usual
paradoxes winding entrails
round the circuit
a silence that is many silences
grumbling under the walls
authentic parent
in the grunt and wallop
pleasure rides
a grave horse
and, turning on my heel
make as if
to pass on
Some of the following poems have appeared previously in journals and other publications, including Shearsman (UK) and the poetryetc (e-site) Featured Poets series.
---
Bio: Geraldine McKenzie was born in 1954. She lives in the Blue Mountains with her children and works as a teacher. Her poetry has been published in numerous literary journals and in the anthologies Calyx: 30 Contemporary Australian Poets (eds. Michael Brennan and Peter Minter, Paper Bark Press 2000) and New Music: Contemporary Poetry (ed. John Leonard, Five Islands Press 2001). Geraldine's first collection, Duty, will be published by Paper Bark Press/Craftsman House in 2001.
---