Arizona Mining and Labor History
The following is a list of manuscripts in the Arizona and Chicano Research collections that deal with mining and labor history.
Manuscripts in the Arizona Collection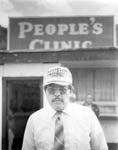 MP SPC 317.8: O'Leary Collection
Bailey, Philip A. Papers (8 ft.) The bulk of the material covers Bailey's research and writing on lost mines in Arizona and California from 1906-1948. The culmination of his efforts was the publication of an anthology, Golden Mirages, published in 1940.
Brooks, William E. Papers. (1 ft.) Personal correspondence from Brooks to his mother (1903-1907) reflects the socio-economic, political and cultural atmosphere of Arizona mining towns such as Clifton, Metcalf, Globe, and Solomonville. Includes legislative material (1915-1917) relating to taxation and mining.
Chalmers, Louis H. Papers. (2.5 ft.) Correspondence with railway and mining companies such as the Atchison, Topeka and Santa Fe Railway Company and the Cobre Grande Copper Co., 1894-1908.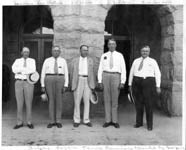 CP SPC 99-2: Warren Collections
Hunt, George W. P. Papers. (22 ft.) Contains correspondence, diaries, scrapbooks, 1855-1935. The bulk of the material concerns Hunt's political activities as Governor and his personal life. Of particular interest is the correspondence of 1916 which concerns Mother Jones's visit to Arizona and her support for Hunt; letters in which Hunt refutes newspaper editorials concerning his sympathy for the IWW; letters which describe the Clifton-Morenci Strike, 1915-1916; and a complete transcript of the testimony of witnesses on the Globe Strike of 1917, contained in the President's Mediation Commission Testimony.
McCluskey, Henry S. Papers. (5.5 ft) Personal correspondence, speeches, court cases, 1908-1963. McCluskey served as organizer and member (1915-1921) of the International Union of Mine, Mill, and Smelter Workers; as president (1922-23) of the Arizona State Federation of Labor; and as Secretary (1923-26) to Governor George W. P. Hunt. McCluskey was actively involved in labor organization and unionization efforts, and in labor strikes.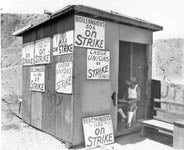 MP SPC 314-4: Mauk Collection
Moore, Genevieve Papers(10.5 ft.) Personal correspondence, research files compiled by Ms. Moore in her capacity as editor of Pay Dirt magazine and The Mining Journal, 1945-1970. Contains extensive information on aspects of federal regulation relating to mining operations including labor, mine safety, and environmental protection.
Provost, John C. Papers (1.75 ft.) Personal correspondence, financial records, reports regarding the results of mining operations, and describes the organization of the labor union. Includes the proceedings of the Arizona State Federation of Labor organization convention and greetings from Eugene V. Debs.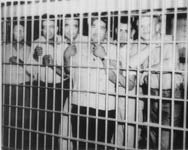 MP SPC 5-4: Jencks Collection
Ridgway, Ryder Papers (6.75 ft.) Personal correspondence, manuscripts, research files, family papers relating to Graham County, 1799-1980. Of interest is the series, "Mining Records," which includes materials relating to the Phelps Dodge Corporation; the Terreroca Mining Co. of Steepler, NM; the Alabama Mine; the Carlisle Mine; and the Duncan Mining & Milling Company (1883-1940).
Tenbrinck, Eduard Jan A. Papers (7.5 ft.) Correspondence, legal briefs, minutes, reports (1903-1966) which document the operations and corporate consolidations of copper mining companies such as Kennecott Copper Corp., Consolidated Coppermines Corp., Giroux Consolidated Corp., the Butte & Ely Copper Co., and the Boston & Ely Copper Co.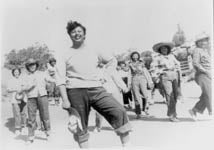 MP SPC 186:5-51: Jencks Collection
Van Dyke, Cleve W. Papers (16.1 ft.) Contains correspondence, diaries, voluminous financial records which identify land uses and users in the township of Miami, Arizona, 1913-1960. Of particular interest is the series, "Van Dyke Copper Co.," which contains company ledgers for 1917 and 1923 and its cash disbursements journal for 1931-1957. Van Dyke, his wife, Ida A. Van Dyke, and his brother, L. D. Van Dyke, were the major shareholders in each of a network of local corporations which owned the town of Miami, Arizona, published its newspaper, and operated farms and mines there in the early twentieth century.
Manuscripts in the Chicano Research Collection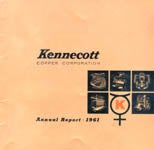 CE EPH JZA -81: Kennecott Ephemera
Jencks, Clinton Papers (1 ft.) Jencks was hired in 1947 by the International Union of Mine, Mill & Smelter Workers Local 557 in Denver to go to Bayard, NM to work with the Amalgamated Bayard District Union of Mine, Mill & Smelter Workers Local 890, a predominately Mexican-American union. In 1950, Jencks helped Local 890 stage a 15-month strike against Empire Zinc, and was elected its president in 1951. The Jencks Papers contain union memorandums, newsletters, newspaper articles, and printed materials regarding his labor organizing activities with the IUMMSW, 1950-1957. The collection also includes information regarding the Empire Zinc Strike in Hanover, NM; and the so-called "Jencks Case," (1954) when an undercover FBI informant accused Jencks of being a member of the Communist Party. Also of interest are the correspondence and newsletters of union locals in Ray-Sonora, and Morenci, Arizona, 1951 and 1955. Some of the newsletters are bilingual, written in English and in Spanish.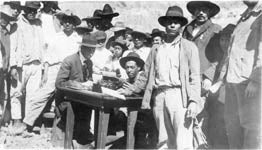 CP MCC 21: McCluskey Collection
Mauk, Andrea G. Papers (2.5 ft.) Consists of printed matter, sketches, scrapbooks that reflect incidents regarding the Phelps Dodge Copper Strike in Clifton-Morenci, 1983-84. Also included are newsletters printed by the Steelworkers Union, Local 616; miscellaneous publications supporting the striking miners, and literature from the United Steelworkers of America.
Miller, Alice Papers (.5 ft.) Comprises legal documents, printed matter, personal correspondence extending from 1983-1988, concerning the civil case of United Steelworkers versus the Phelps Dodge Corporation during the copper strike in Clifton-Morenci. The papers contain legal documents which detail the events surrounding the trial, leading from the proposal of the suit filed against PD for the use of undue force in breaking up a rally by striking workers, and following an altercation in Miller's Liquor Store in Clifton, Arizona, in 1984; to the judge's decision on the case.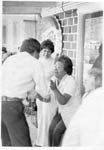 MP SPC 317.9: O'Leary Collection
O'Leary, Anna Marie and Jorge O'Leary Papers (.50 ft.) Consists of personal correspondence, printed matter relating to the Phelps Dodge copper strike of 1983-1986 in Clifton-Morenci, Arizona. Of interest is the "People's Clinic" series, which consists of correspondence written to Dr. Jorge O'Leary and his wife, Anna, supporting their efforts to bring attention to the plight of the striking copper miners and their families during the PD strike. The role of women in this strike is noted through the activities of Anna O'Leary, who served as the president of the Morenci Miners Women's Auxiliary, and as a member of the Clifton City Council.