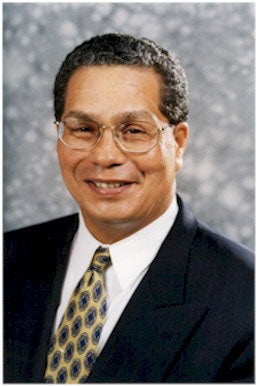 Dr. Waldemar "Bill" Rojas
Former Superintendent
New York, San Francisco, Dallas





---
Background

Dr. Waldemar "Bill" Rojas was named General Superintendent by a unanimous vote from the Dallas Public Schools Board of Education trustees on May 15, 1999. Rojas previously held the post of superintendent of the San Francisco Unified School District in California from 1992 to 1999.

Dr. Rojas began his public school career as a teacher in the New York City public school system in 1968. He served more than two decades in various capacities, including Assistant Principal, Principal, Executive Director of Special Education, Superintendent Citywide Programs, District Executive Administrator, and Executive Assistant to the Chancellor.

Dr. Rojas received his Doctorate in Education from Teachers College, Columbia University, in New York. He holds a Masterís of Arts degree in Educational Administration from New York University and a Bachelorís degree in Education from Concordia University in River Forest, Illinois. Other advanced studies include Graduate School, Organization and Leadership, University of San Francisco, and Graduate School, Special Education, Manhattan College, New York. He also holds honorary doctorates from Concordia University, River Forest Illinois (1998) and Concordia University, Bronxville, New York (1996).

Among his accomplishments, Dr. Rojas was named California Superintendent of the Year by the Association of California School Administrators in 1998 and received the Presidentís Medal at the University of San Francisco, also in 1998. In 1997, the NAACP Legal Defense Fund awarded Rojas its Distinguished Leader Award.

In addition, Dr. Rojas has served in a leadership capacity in several organizations, including as Chairperson of the Council of Great City Schools, and he is a member of the Presidentís Advisory Commission on Educational Excellence for Hispanic Americans. He also serves as a member of the professional advisory board of the National Center for Learning Disabilities.