3D UNIT VI
MODULES
To understand and experiment with concepts of "repetition," "modular," and "part to whole," relationships in the construction of three-dimensional form.
Modular units are generally understood to be identical, standardized, and/or interchangeable components. Modules allow for flexible arrangements, portability, and ease of manufacturing. Modules can be assembled into units of varying size, complexity, or function. While modules are found in art, design, and engineering we also find them in their most profound forms in Nature. Consider, for example, the structure of molecules with their consitituent atomic parts; or the cellular structure of a plant.
Much of what we encounter in contemporary culture is manufactured. Further, many of the products we use, the spaces we inhabit, and even the food we eat is formed to fit into larger patterns to correspond to various structures or machines. While buildings are constructed from identical pre-cast concrete units; coffee cups stack together to make potentially endless columns of Styrofoam; the frozen waffles you buy are formed to fit the internal dimensions of your toaster. Some of this design is useful and beneficial. Other aspects are insidiously invasive and inhumane. Despite our pretense of believing that we invented modularity, Mother Nature beat us to it.
One of the essential concepts in understanding how modules work together is the idea of "part to whole" relationships--that is, the integrity of the whole is reflected in the design of the individual unit...and vice versa. When we look at a structure such as Moshe Safdie's "Habitat '67" built for the Expo in Montreal in 1967, we see the repeated individual elements echoed across its structure and coalescing into a unified whole.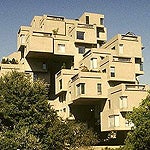 Such a unified whole or gestalt (from the German for figure, form, structure) points to the importance of the overall configuration and unifying pattern of relationships that occur in much great art and architecture. A work with good gestalt is "more than the sum of its parts."
Carl Andre, Le Corbusier, Wharton Esherick, Dan Flavin, Frederich Froebel, Buckminster Fuller, Erwin Hauer, Sol Lewitt, Louise Nevelson, Victor Papanek, Moshe Safdie, Charles Simonds, Kenneth Snelson, Tony Smith, Taj Mahal (Islamic Architecture), Tamago no tsuto (Japanese egg package), Massimo and Lella Vignelli, Jackie Winsor
--Papanek, V.(1972), Design for the real world, Thames&Hudson.
A.

Identity

1.

2.

B.

Protest and Persuasion

1.

2.

C.

Science and Technology

1.

D.

Collaboration

1.

E.

Other Voices

F.

Art for Hire

1.

G.

Fantasy

1.

H.

The Natural World

1.

I.

Spirit Worlds

1.

J.

Mining for Ideas

1.