3D UNIT IV
MASS
To understand and develop both traditional and non-traditional approaches to the concept of mass as applied to three-dimensional form.
The idea of mass alludes to the three dimensional volume of an object--with particular reference to its weight and sense of gravity (whether real or simulated). Technically speaking, mass is a measure of a given object's resistance to acceleration. In other words, the more mass something has, the greater its inertia and the more it wants to retain its current state--whether at rest or traveling at a given velocity.
We understand mass, weight, and gravity intuitively through the body. When we hold our arms outstretched we can feel the pull of gravity; after a time, our "arms feel like lead."
Some forms celebrate the effects of gravity through the use of material and scale. The weight and mass of the Pyramids at Giza for example are impressive for their great sense of solidity and timelessness. Comprised of massive blocks of limestone, many weighing several tons each, the effect is one of profound weight and inertia. Of course, this is the point--they were designed to be impenetrable and eternal tombs for the ancient Egyptian pharoahs.

Other approaches to sculptural form seem to deny the effects of gravity and dwell "in the moment." Auguste Rodin, the great French figurative sculptor, created a sculpture, Iris, Messenger of the Gods, in which the mass of the body is poised over a single point of contact with the base. Through his keen sense of balance and ability to control mass, Rodin made this figure seem to levitate.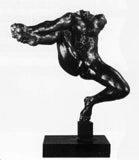 Iris, Messenger of the Gods, 1890
Bronze, 37 1/2 x 34 1/4 x 15 3/4 in, Los Angeles County Museum of Art
Scott Burton, Ursula Von Rydingsvard, Aristide Maillol, Venus of Willendorf, Gianlorenzo Bernini, Coatlicue, Claes Oldenburg, Henry Moore, Eduardo Chillida, Elyn Zimmerman, Bruce Beasley, Eva Hesse, Easter Island statues, Beverly Pepper, Jacque Lipchitz, Rock Garden at Ryoan-Ji Temple, Arnaldo Pomodoro, Michelangelo, Barbara Hepworth, The Great Pyramids at Giza, Gudea Worshiping, Constantin Brancusi, Alberto Giacometti, Jean-Baptiste Carpeaux, Michael Heizer, Marisol, Gaston Lachaise, Arata Isozaki, John Chamberlain, Edgar Degas, Auguste Rodin, Jackie Winsor, Hitching Post of the Sun (The Intihuatana Stone at Machu Pichu), George Segal, Isamu Noguchi
--Zelanski, Paul and Fisher, Mary, Shaping Space (see "Gravity," pp. 33 - 38; "Form," Chapter 4)
A.

Identity

1.

2.

B.

Protest and Persuasion

1.

2.

C.

Science and Technology

1.

D.

Collaboration

1.

E.

Other Voices

F.

Art for Hire

1.

G.

Fantasy

1.

H.

The Natural World

1.

I.

Spirit Worlds

1.

J.

Mining for Ideas