Artist Portfolio: James Turrell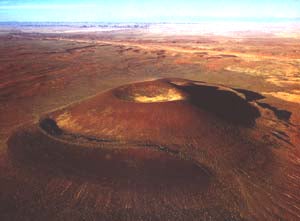 James Turrell, Roden Crater, 1977-present
Roden Crater is a natural cinder volcano situated on the southwestern edge of the Painted Desert in northern Arizona. Since 1972, with grants from Dia Art Foundation, the Guggenheim Foundation, and the National Endowment for the Arts, James Turrell has been planning to transform the crater into a large-scale artwork, that relates, through the medium of light, to the universe of the surrounding sky, land, and culture. Turrell's project is now under construction under the direction of Dia Art Foundation and the Skystone Foundation with support from the Lannan Foundation and is scheduled for public access in the year 2005 or later.
My works don't illustrate scientific principle, but I want them to express a certain consciousness, a certain knowing. My spaces must be sensitive to events outside themselves. They must bring external events into themselves. I think of my works as being important in terms of what they have to do with us and our relationship to the universe, but not necessarily in scientific terms. I'm concerned with what my spaces direct their seeing to, and hence what they direct our seeing to. At the same time, I'm interested in the expression of time. Because, even though you may have expressions of our particular historical moment in, say, the art of Andy Warhol, there are also expressions that go through time, beyond time, and have a sense of themselves that transcends any specific period. That's the part of art I'm interested in. This said, however, I do want to be involved with the here and now. I want my art to function in contemporary terms...
--James Turrell
http://caad.arch.ethz.ch/teaching/nds/2000/dbfiles/lib.phtml?profile=126
---
biography
1943 Born in Los Angeles, California.
1965 studies psychology, mathematics, art history, BA Psychology, Pomona College
1965-66 fine arts, Art Graduate Studies, University of California, Irvine
1973 MA Art, Claremont Graduate School
Lives and works in Flagstaff, Arizona
---