Artist Portfolio: Eadweard Muybridge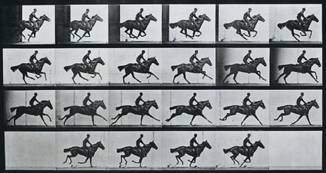 Eadweard Muybridge was born on 9 April 1830 in Kingston, England. Muybridge was a young man when he left Kingston for America and by 1856 he was established as a bookseller and a publisher's agent in San Francisco, trading under the name EJ Muygridge.
Muybridge's name today is associated primarily with the photography of movement. He first became involved in this field in 1872 when Leland Stanford, former Governor of California, asked him to photograph his famous horse, Occident. There was much controversy in horse racing circles at the time as to whether a trotting horse ever had all four feet off the ground at any one point in time. The first attempts to photograph Occident took place at Sacramento. The results though "little better than silhouettes" were sufficient to show that at certain stages a trotting horse did have all four feet off the ground. A more elaborate investigation, financed by Stanford, took place at Palo Alto during the period 1878-1879. Cameras were placed in a line in a long shed and in front of each was a special shutter triggered electro-magnetically by the horse or the wheels of a sulky as it made contact with wires stretched across the track. The method was succesful in achieving the first photographs of sequences of movement and the results were published in Muybridge's Attitudes of Animals in Motion (1881).
http://www.kingston.ac.uk/Muybridge/muytext4.htm

---