Artist Portfolio: Jean-Michel Basquiat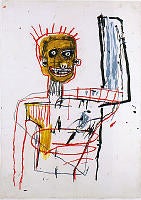 Jean-Michel Basquiat
Untitled, 1982
oilstick on paper
42 3/4 x 30 3/8 inches
Collection of the Modern Art Museum of Fort Worth,
Museum Purchase, 1995.26.P.Dr.
---
Eli Broad Family Foundation:
http://broadartfdn.org/c04.Basquiat.html
Modern Art Museum of Fort Worth, Texas:
http://www.mamfw.org/f_html/basquiat.html
Mark Harden's Artchive:
http://www.artchive.com/artchive/ftptoc/basquiat_ext.html
St. Mary's of Maryland Art History 101 Course (Art on the Margins) :
http://www.smcm.edu/academics/aldiv/art/webcourses/arth100/smallworld/Margin/afam.html
---
Biographical notes:"Basquiat's career was incubated by the short-lived graffiti movement, which started on the streets and subway cars in the early 1970s, peaked, fell out of view, began all over again in the 1980s, peaked again, and finally receded, leaving Basquiat and the amusingly facile Keith Haring as its only memorable exponents. Unlike Haring, however, Basquiat never tagged the subways. The son of middle-class Brooklyn parents, he had a precocious success with his paintings from the start. The key was not that they were "primitive," but that they were so arty. Stylistically, they were pastiches of older artists he admired: Cy Twombly, Jean Dubuffet."
--from American Visions by Robert Hughes
---