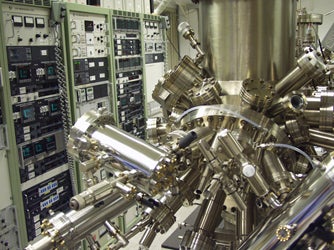 The Center for Photonics Innovation gathers a large group of faculty members from various disciplines to foster new ideas and to carry out collaborative research with enhanced inspiration. It integrates a broad spectrum of research topics ranging from fundamental study of photon-matter interactions to practical optical sensors for medical and biological applications. The center coherently merges education and research by embedding one in the other. The center is committed to not only high standard scholarship development but also the promotion of its technology commercialization. The very recent awards of two prestigious multi-million-dollar MURI (Multidisciplinary University Research Initiative) programs, both of which are led by the center faculty members, have marked a noticeable milestone for the center.
A team of CNP members has won a $500,000 Strategic Research Group Development Award.
Prof. Cun-Zheng Ning was awarded $800,000 over 4 years by DARPA for developing nanoscale lasers.
Cun-Zheng Ning was awarded a $50,000 Science Foundation of Arizona "Strategic Planning" grant.
Dragica Vasileska and her collaborator Denis Mamaluy have received a $180K NSF Award to model Quantum Dot Photodetectors.
Fernando Ponce has been awarded $300K by a DARPA program on semiconductor green lasers.
CPI and its members in the news: http://www.azcentral.com/business/articles/1007biz-foundation1007.html