.endnotes
---
New books from our editors:
The Egyptian Poems, by Beverly Dahlen with an afterword by Robert Duncan, is available in a fine letterpress edition from Hipparchia Press, 2845 Buena Vista Way, Berkeley CA 94708 at $20.00 a copy. Please add $1.50 for postage and handling.
Something (even human voices) in the foreground, a lake, poems/prose by Kathleen Fraser, will be published this month by Kelsey St. Press, and can be ordered directly from them:
PO Box 9325, Berkeley CA 94709. $6.25 per copy, plus $1 to cover postage. Also available from Bookpeople, Small Press Distribution and Inland Book Company.
---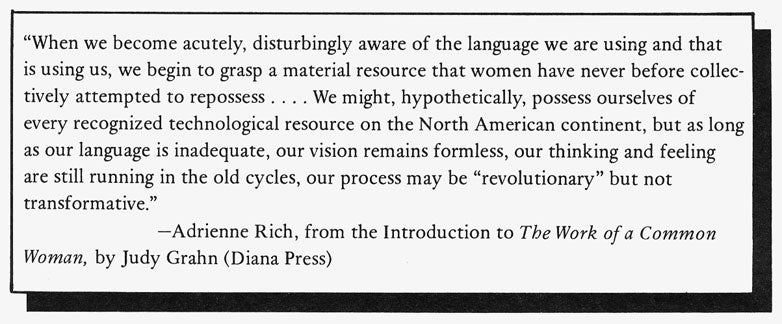 ---

---

HOW(ever) is available in a first series of four issues, for $5. Subscription checks should go to:
HOW(ever), c/o Jaffer, 871 Corbett, San Francisco, CA 94131. All editorial correspondence can be sent to: Fraser, 554 Jersey St., San Francisco, CA 94114. Original poetry manuscripts will be considered at the beginning of the second series.
The HOW(ever) logo was designed by Dodie Bellamy.
an INTERSECTION-sponsored project
---
go to this issue's table of contents
---