In Place of the Page
by Brigid Mc Leer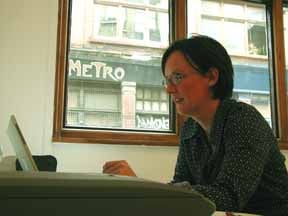 In Place of the Page is a cross-disciplinary project exploring the relationship between our real experiences of place and the ways in which place is imagined, constructed and proposed through virtual modes such as writing, architectural drawing and digital space.
The project is ongoing in different phases, the first of which was an email correspondence between the artist (Brigid Mc Leer) and 10 invited participants, addressing questions of place, writing and internet space (March - November 2000).
These emails were then 'translated' by the artist into graphic/visual texts ('textplans').
View textplans
The textplans are now being reinterpreted by an architectural designer (Katie Lloyd Thomas) as if they were actual architectural plans - and through this process we are designing a building.
View architectural plans
Two recent gallery showings (at Phoenix Gallery, Brighton and Droichead Arts Centre, Ireland) of In Place of the Page, have circulated around the outline design for a bridge that Katie has discovered in the project and that forms a central part of our building design.
Working live in the space throughout the exhibitions, Mc Leer invited viewers to respond to a series of questions about bridges by writing in specially made notebooks. Their responses, along with other research that Mc Leer did, then formed the basis of a series of annotations on large blackboards of the bridge designs.
Participate in In Place of the Page
---
Brigid Mc Leer is an Irish artist based in London. Her work – solo and collaborative - sets up exchanges between visual arts, writing, architecture, performance and critical theory. Her collaborative project 'In Place of the Page' (with architect Katie Lloyd Thomas and others) was recently shown as live-studio exhibitions at Phoenix Gallery, Brighton, Droichead Arts Centre, Ireland and Standpoint Gallery London. Her image-text work, 'Starwatch' is currently on show as part of '51:31N/00:05W' curated by Richard Makin, at bookartbookshop, London. In March '05 she will be presenting her work as part of the talks series 'Transmission: Speaking & Listening' curated by Sharon Kivland at Site Gallery Sheffield which will be included in a forthcoming publication of the series.
---
---