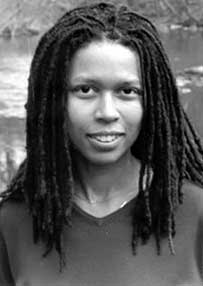 Evie Shockley
Working Note
Two of these poems ("you can say that again, billie" and "Miles's Muse") were written during the experience of intense listening to the songs they reference. The first one names Billie Holiday as the singer (and she is often credited with writing the lyrics), but in fact it is Cassandra Wilson's rendition that I hear as the backdrop to the poem, which also references my favorite Faulkner novel, Absalom! Absalom! I wrote the poem about Miles Davis and Cicely Tyson as a way of redeeming my endless enjoyment of his work, by interrogating its relationship to my anger over his treatment of the actor I so admire. The third, "poem for when his arms open so wide you fall through," began as a prose poem, but that form seemed far too coherent to represent the kind of disconnect that is the subject of the work. I played with the lines until I arrived at a form that could be read in a variety of ways/directions, none of which is the "right" way. The "meditation" is the poem I had always stopped myself from writing, because it felt too scary. I wanted the flow (and unflow) of words across the page to translate something about the pace of the thoughts of the poet, as she sits in Eden pondering the Fall. But please don't let any of this stop you, reader, from deciding for yourself what these poems are about.
The poem "you can say that again, billie" also appears in nocturnes re(view) of the literary arts.

YOU CAN SAY THAT AGAIN, BILLIE
POEM FOR WHEN HIS ARM OPEN SO WIDE YOU FALL THROUGH
MEDITATION: HAVING EVERYTHING TO LIVE FOR, THE POET WORRIES
---
you can say that again, billie
---


---
meditation: having everything to live for, the poet worries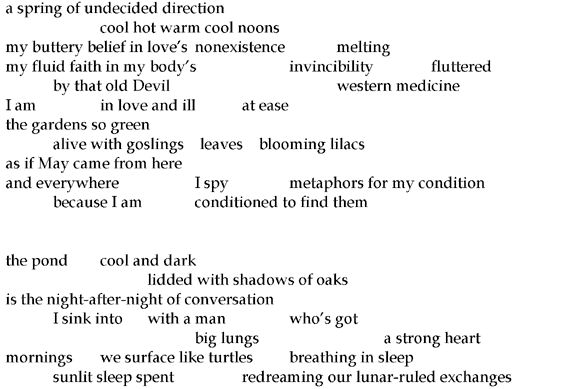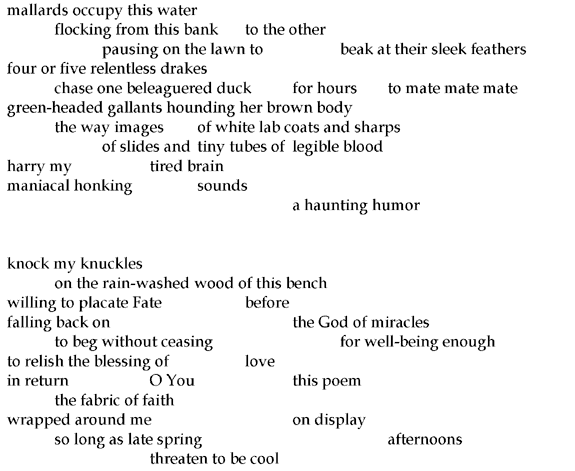 ---
— for Cicely Tyson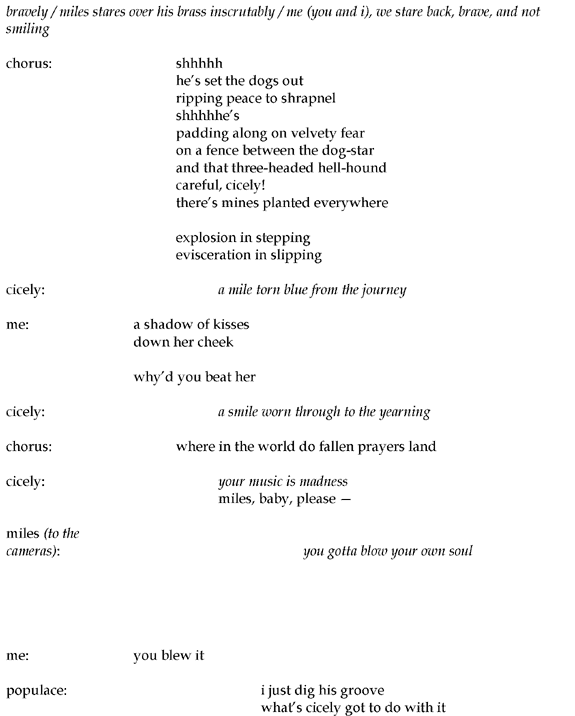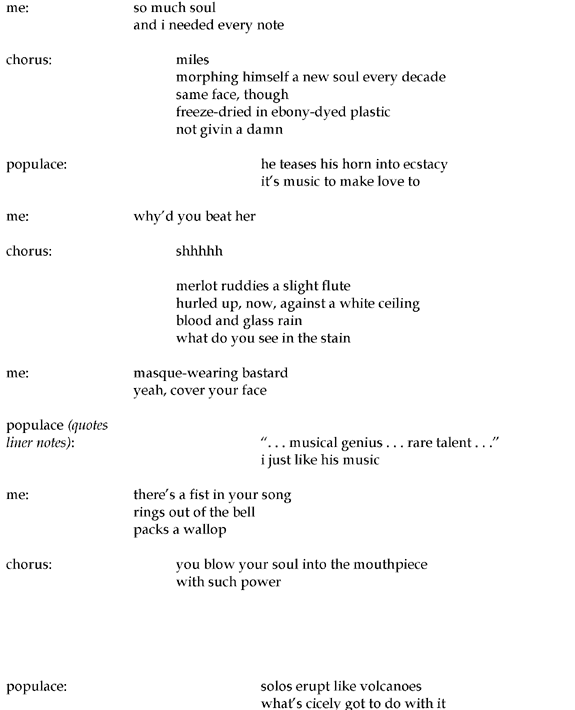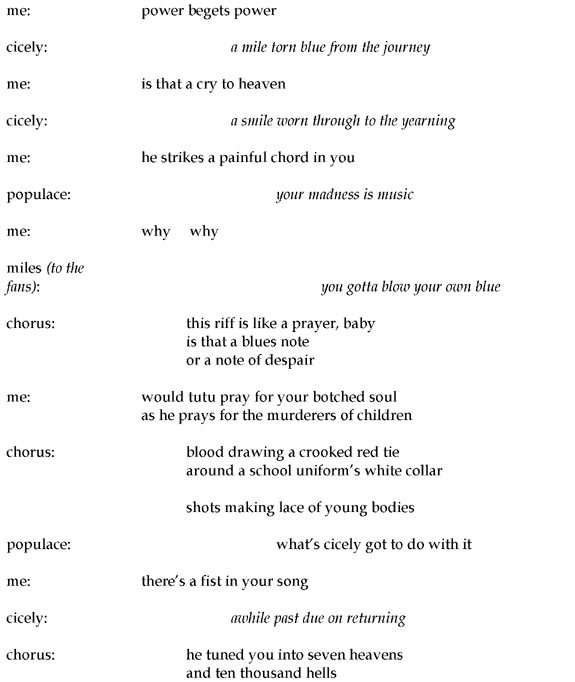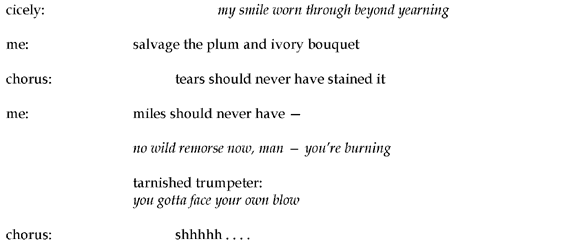 ---
Bio: Evie Shockley is a poet and fiction writer, originally from Nashville, Tennessee. Her chapbook, The Gorgon Goddess, was published by Carolina Wren Press in 2001. Her poetry appears or is forthcoming in various journals and anthologies, including Beloit Poetry Journal, Blink, Brilliant Corners, The Café Review, Callaloo, Crab Orchard Review, Obsidian III, Role Call: A Generational Anthology of Social and Political Black Literature and Art (2002, Third World Press), and New Sister Voices: Poetry by American Women of African Descent (forthcoming, SIU Press). She is a fellow of Cave Canem (1997-99) and a member of the Carolina African American Writers Collective and the on-line writers' collective MonkeyBread. Evie teaches African American and British Victorian literature at Wake Forest University in North Carolina.
---