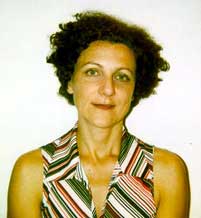 Brigitte Byrd
Working Note
In 1990, as I drove through the South where I was going to live, I was decontextualized. Here I was, a Parisian driving an old Chrysler Imperial LeBaron, stopping to take Polaroid's of "Baits and Tires" shops, Kudzu, cotton flowers and dead trees rooted in bayous. The Southern accent took me by surprise and forced me to question this America and my knowledge of the English language to become an active participant in its production. And in the production of my life. Why had I expected a permanent meaning?
Inevitably, my writing is about the function of language in the constitution of the nature of reality and the nature of the individual and most certainly, my own nature, which is to be decontextualized. Thus I embrace Ostranenie — making strange, playing with the degree to which signs are contextualized by use, defamiliarizing through exploration of the lexicon and decontextualization of familiar words as well as unfamiliar, foreign words — to reach and question the substantiality of language and the nature of meaning. I am also obsessed with finding le mot juste in English and reflecting the schizophrenia of our time through sound and a sense of speed.
"Angel and Puppet" stems from shopping for groceries with my daughter around Valentine's and reading Rilke's Duino Elegies. Each time we saw a new Valentine's item, we said "watch out, your sweetheart," which led to a series of repetitions such as "wait until we get home," or "wait, don't open it in the car," and eventually to this poem in which I interjected words from the "Fourth Elegy." "Errancy," "Calisthenics," and "Poetics" are abecedarians, which is a form I have worked with quite faithfully for a couple of years. I like the rigidity of this form because it forces me to work within it, yet it liberates me from all expected rationality as I have to start each line with a successive letter of the alphabet. When writing abecedarians, I often focus on two or three threads that I weave through the poem. In "Errancy," for instance, the threads are my trip to Europe after living in the States for eleven years, the effect of globalization, and sexuality. I always write a poem while playing music, and quickly the music ends up being a particular CD that I play over and over thus lyrics from the CD end up in the poem as did "c'est le côté obscure de la force" in "Errancy" (from JE DANCE LE MIA by IAM). Also, while writing, a line from Beckett, Fargue, Stein, Breton, etc. pops up and wants to stay, so I check the source and add it to the poem. Sometimes, I add another restriction to the form as in "Calisthenics" where I decided to repeat most of the words twice in the poem.
"Eternity Scorned" is my 9/11 poem as I lived it in the South. Overnight, signs popped up all over town, and the juxtaposition of a business's name with the patriotic message from that business resulted in things like, LUCY'S WINGS BLESS AMERICA or WE STAND UNITED FRIED CHICKEN. I played with the idea and looked in the local paper for patriotic adds. Later on, I attended Elizabeth Grosz's inspiring lecture on the force of sexual difference and decided to mix excerpts from her lecture with these effusions of patriotism. As for "Histrionics," I tried to give a dramatic representation of the world around me at the time, again from waiting in line with my daughter at the grocery store, finding our car in the parking lot, picking up the mail, reading magazines, stopping at the university, and remembering an old acquaintance who was a lawyer. . .
---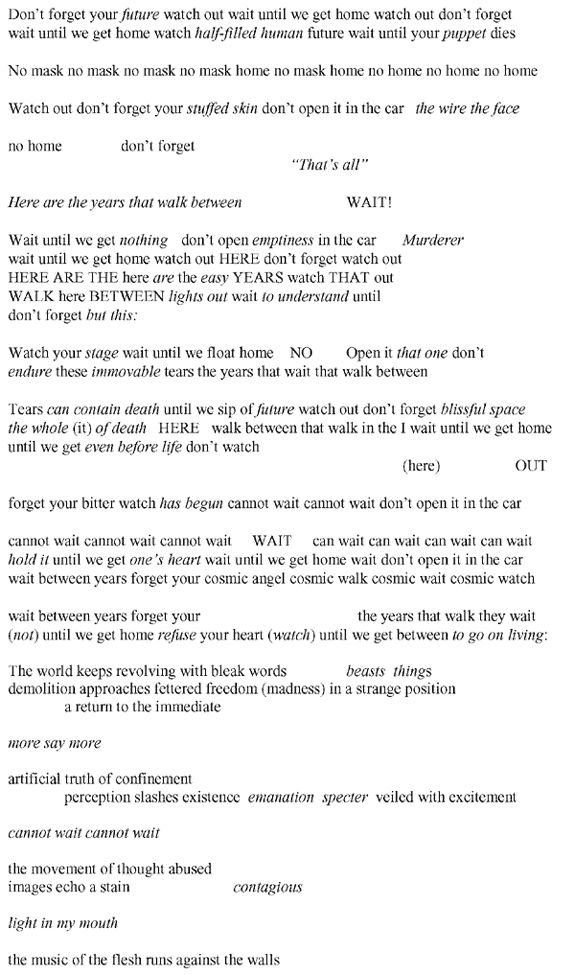 ---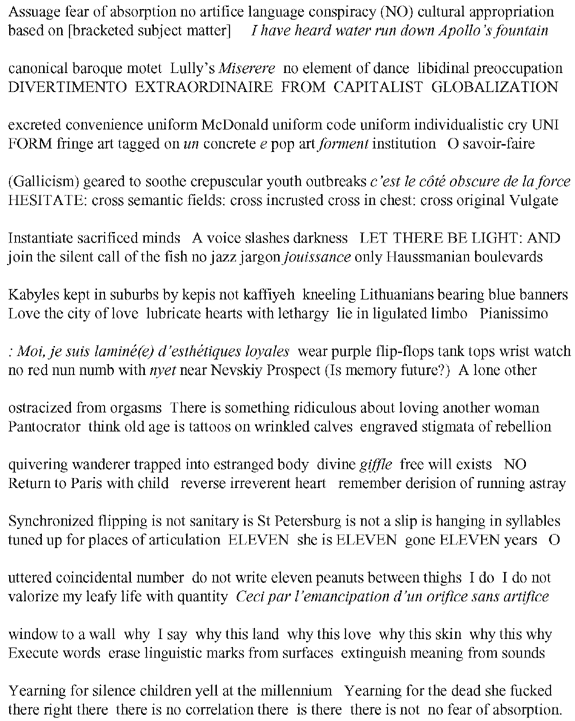 ---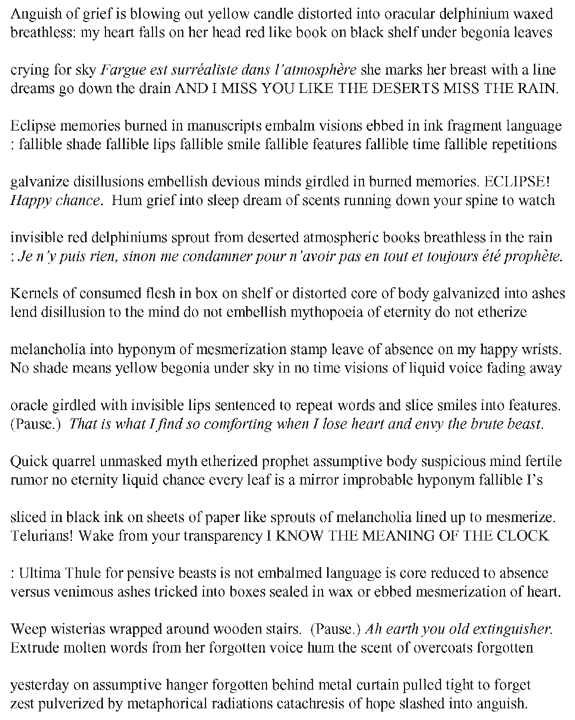 ---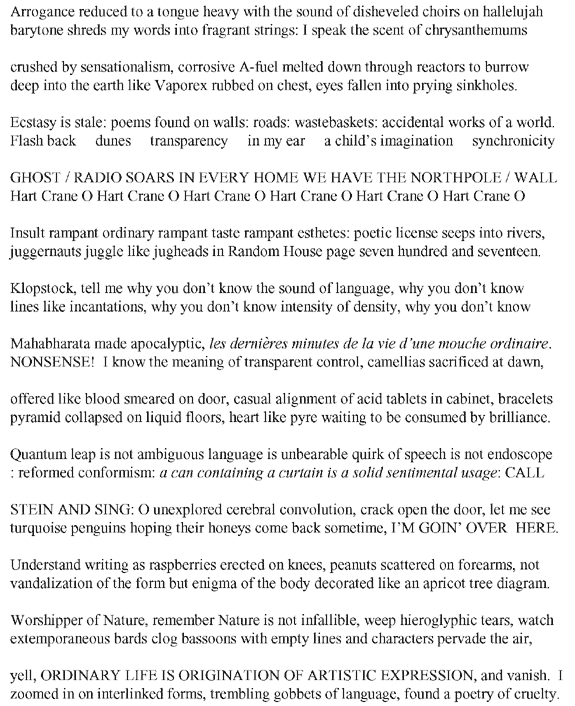 ---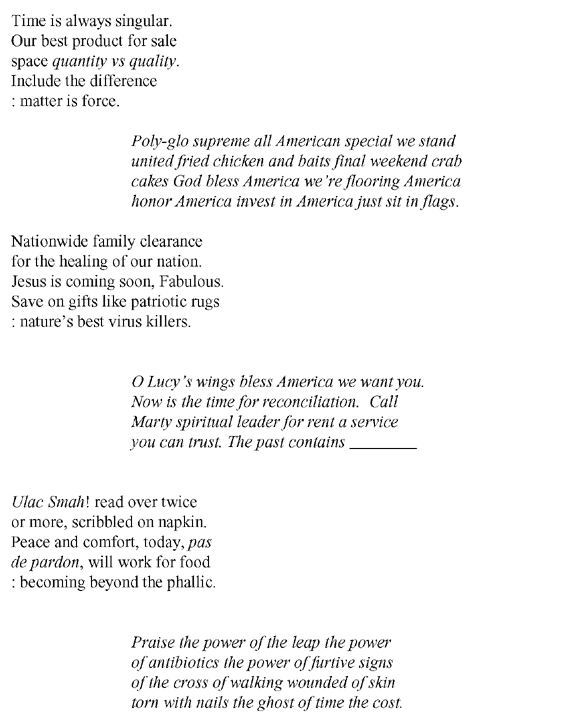 ---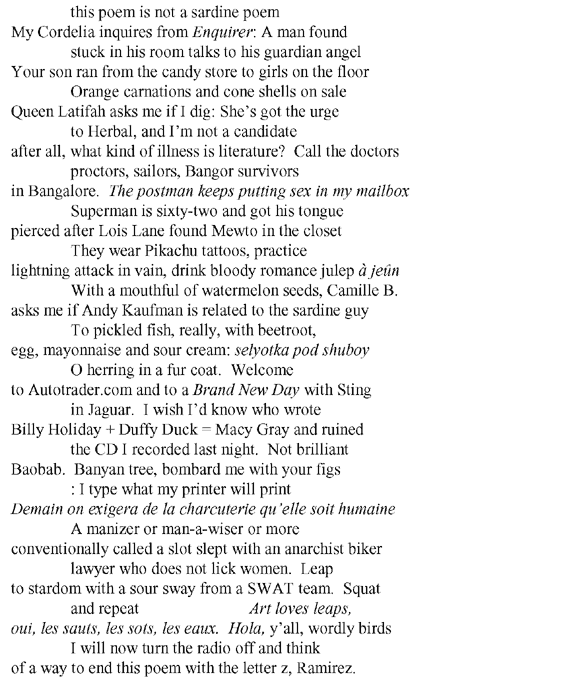 ---
Bio: Brigitte Byrd is a native Parisian living in Tallahassee, Florida. She is a doctoral candidate in English (creative writing) at Florida State University with concentrations in poetry as a genre and theory, most specifically performance theory. She is the publisher's assistant for Fiction Collective Two and an intermittent associate editor of The Journal of Beckett Studies. Her poetry currently appears in New American Writing and is forthcoming in So to Speak: A Feminist Journal of Language and Art.. She is the first-prize poetry winner of the St. Petersburg, Russia, Summer Literary Seminar 2000. Her work was also included in Like Thunder: Poets Respond to Violence in America and American Diaspora: Poetry of Displacement (University of Iowa Press).
---