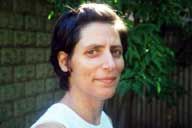 Lola Ridge's Firehead
(New York: Payson & Clarke, 1929)
by Julia Lisella
Judging from the available critical literature on Lola Ridge, Firehead is probably one of Ridge's least discussed works (my guess, though, as I've learned with much writing from this period, is that as soon as I write this, five or six separate studies will appear!). Even in extensive discussions of Ridge's work, such as Nancy Berke's Women Poets on the Left, there are often only one or two paragraphs devoted to the text. Firehead is Ridge's second-to-last verse collection; Nancy Berke and William Drake both report that Ridge wrote this long poem during a six-week stay at Yaddo in the summer of 1929 (Berke 40, Drake 199), in response to the 1927 execution of anarchists Nicola Sacco and Bartolomeo Vanzetti. The speed with which this poem was written places it in a tradition of other quickly written long poems of the period, such as Margaret Walker's "For My People," first published in Poetry in 1937, suggesting that poets felt a sense of emergency and purpose toward their work of responding to social and political injustice.  Suffice it to say, however, that Firehead is a particularly difficult text to talk about for a variety of reasons. Critics looking for Ridge's most "political" work will look to earlier books, such as The Ghetto and Other Poems; and readers more interested in Ridge's evolving mysticism will look to her last book, Dance of Fire. To a large extent, Firehead serves as thematic, linguistic, and contextual bridges for Ridge between these two impulses.  In this more-than-200-page poem, Ridge experiments with a variety of lyric techniques.  She further investigates her feelings about mass social movements, her own commitment to anarchism, and her growing interest in communism as a social movement through her exploration of Christ's seduction of individual apostles and of "the multitude" to carry out His work of "brotherhood." And although this is the story of a male hero, Ridge's vision in this poem is decidedly feminist.

While Firehead is a retelling of Christ's crucifixion and essentially a response to "perhaps the twentieth century's worst miscarriage of justice" (Berke 53), the execution of Sacco and Vanzetti, not all critics agree on the extent to which we must read Firehead as either a politicized or a spiritual and emotional response. Nancy Berke claims Firehead "refigures Christ as our most famous victim of institutionalized murder" and that "Ridge is not concerned with Christ's body as it is embraced and contemplated in Christian ritual. She is interested in refiguring the martyred body through its symbolic subjectivity as another politicized body in pain" (40).  I don't believe it's as easy to distinguish between the politicized and the ritualized body in this poem. Rather, I think Ridge wants to do both, to ritualize the politicized body or bodies of the many players in this story and to suffuse each body with its political, often feminized, often heroic value. William Drake describes Firehead in much more spiritual terms as signifying "the divine spirit in humanity, burning fiercely, destructive to complacency or to the entrenched powers that resist it. The creative spirit, in bringing into the world something new and valuable, was itself not innocent of violence" (199). Indeed, Ridge undercuts almost every biblical story with the "true" story of each of the characters' jealousies and obsessions, which are forms of inner violence — she depicts Mary Magdalene's long-standing jealousy of the much-loved disciple, John; Judas's jealousy of Mary Magdalene for the pureness of her love for Jesus; even Mary's (Christ's mother's) jealousy of Jesus's followers and his passion for those followers. Ridge's feminist convictions are revealed in her many inversions of stories she tells as well. But she does not completely secularize the event of Christ's crucifixion. For example, Ridge's treatment of the Holy Spirit, which remains for me one of the strangest and most difficult of Christian concepts to grasp, is visceral. The Holy Spirit becomes as idiosyncratic a character in this story as Judas or John. Ridge favors one famous biblical tale of the Holy Spirit's power, its infiltration of the body of Peter, the apostle responsible for institutionalizing Christianity, over the story more often chosen by women writers, the insemination of Mary:

Peter beheld the paradigm
Of light that on his palm did sit
Arise, a glowing bird, and wheel
Three times about his head and then
Make itself small and enter him


By unused way and secret lane
It made its way up to his head
And whirled amid the pillared frame


. . .


Around about the shining thing,
The riddle of the light it loved . . .
And he had all but solved . . . and grooved
A path of fire within his brain.
                                    (158-159)

As the quote above begins to show, Firehead is also important to consider in terms of the hybrid nature of lyric in modernist political poetry of the period. Ridge intersperses a variety of soft and strong end rhymes with long, free verse lines, and short rhyming couplets, throughout the poem. On the Modern American Poetry website coordinated by Cary Nelson, Donna Allego describes Firehead as a "prose poem." The temptation to describe it as prose has much to do with the poem's strong narrative thread. But the poem is also filled with almost Shakespearean dramatic monologues with all of the archaic language that goes with this form, and cinematic flashbacks and theatrical hallucinations and asides that reveal the interiority of each of the characters involved in this story. The difficulty to name or to define Ridge's range of prosodic techniques may also have to do with our own contemporary inability and discomfort with modernist political writing of the 1920s and 1930s that bridged so many genres and systems of intellectual classification. Joseph Harrington notes in Poetry and the Public that a "strange combination" of work that was modern and derivative "was not unusual in the 1910 and 1920s as it would seem for later generations" (128). Even in Ridge's time critics ranged in their response to her inconsistent poetics and her "antiquated diction" (as Horace Gregory and Marya Zaturenska characterized Ridge's use of language in their entry on Ridge's work in A History of American Poetry 1900-1940).

In addition to Ridge's odd lyricism that bounces between rhyming couplets, dramatic monologues, and almost free, but cadenced Whitmanian verse (most clearly seen in the "Peter" section of the poem), I am drawn in my own most current reading of this poem to Ridge's gendered and highly sexualized and sensualized anthropomorphic descriptions of nature and religious phenomenon, her use of high and often misplaced diction at unexpected moments, and her tirelessly extended metaphors. The poem is of great interest in terms of the history of women's radical poetry of the period, as well, for its allegiance to what was in 1929 already fast becoming an anachronistic poetess-like lyric style in the service of clearly un-lady-like material. Here is an example of a highly wrought Romantic diction in service of a bloody story:

He may have heard a woman wail
Who kneeled far off — upon a mound
In the bright sunshine — like a bird
With white wings folded. If He heard
Or longed to wrap his wounds around
In her blue cooling shadow, she
Had never known by any sign —
                                    (17-18)

As the stanza progresses, the imagery moves from the woman's "blue cooling shadow" to the "blue obesity" of the waning day, from birds to flies:

And when day sank, at menopause,
In blue obesity, to lean
Low upon the curving spine
Of  the horizon . . .


. . .

When light palls and the heart loses
Pride of propelling to such things
As gnaw, unheard, save in imaginings
On under sides of leaves
Or propagate beneath the stones
Or crawl out, wingless, from the slime
Of water holes . . . and nature oozes
At all her pores as with a pus
And torpid flies are venomous —
                                    (ellipses, as always, LR's)
  (18)

                                  

As Andreas Huyssen reminds us in After the Great Divide, the masses were often figured as female in modernist literature, and the repulsion of these masses was enacted by many modernist artists as repulsion of the female body. Here, Ridge's feminized language investigates that anxiety of Christ's association with the masses; images and words like "menopause" and "curving spine" as well as "ooze" and "pus" resonate around this depiction of Christ suffering on the cross; thus Ridge inverts this modernist anxiety and associates Christ's heroic body with the feminine body, whether that body is victimized and degraded, or triumphant.

Ridge's language ranges from wildly extravagant grammatical usages of words such as "The day was arteried with fire" (emphasis mine) (17) to graphic moments such as the nature oozing a pus we see in the quote above, emphasized by its position and rhyme with "venomous," as well as the heightened vocabulary one might find in other high modernist poems of the era. There are cynosures (53) and diapasons (43), bantlings (155) and threnes (156).

Whether or not a contemporary reader fights against the tide of this language or revels in it, the individual stories remain compelling. Almost all the characters describe their seduction by Jesus. And Jesus's charisma is always associated with his anarchist spirit. John says:

. . . and thy full
Lip curved on me in tender scorn; thine eyes
Pierced all my poor defences till I stood
Abased before their intolerant love.


Ah, this is why they hate thee. . . only blood
Can cool the searing fire of that glance
That tears apart the calyx without seam
And without blemish, starrily revealing —
Under the lustrous dust in the guarded
Darkness beyond the radiant pallor —
The destitude of the mean room.
                                                (71)

We can only know Jesus through other characters, but Ridge reveals him to be a feminist and a liberator whose philosophies always call into question the status quo:

                        Jew. . . He was a man dangerous to governments, a despiser
         of rules, making a mockery of ordinance. . .
                                                                        (203)

Myrenne, the mother of Thaddeus, an early convert to Christianity, will say of Jesus, "he hath raped my son out of my womb!" just as she grudgingly accepts Christ's radical views: "He did speak / Of woman as a man might of his own friends!" (165) and he "proclaimed all men were brothers" (169). Many characters share this grudging passion for Christ in Ridge's version of the story. Even Mary, his mother, talks about Christ's relationship to the crowd, the mass, the multitude as of more importance to him, more vitality, than whatever he could feel in intimate relationships: "Only a multitude could fan his eyes / To that deep blaze of tenderness" (134). It's interesting to note that the story of Jesus's life is told almost exclusively by Mary; she is the only character to whom Ridge extends this kind of narrative authority. In the final part of Mary's section, which has been mainly in free verse, the lines break down, or perhaps break out into, a nursery rhyme rhythm, as Mary reasserts her maternal rights over Jesus's now dead body, "swaddle him downily     hide him from sight / wash his pale hands in the milk of the light / hush his wild tongue    on the strings of the sky / sounding its stammering fifth      let him lie" (146). So that rather than formal verse tightening its hold on this section, the verse is used to radicalize the Christian paternal vision by returning power to the maternal figure.

One of the final characters Ridge portrays is the artist figure, Tiro, an "image maker of Sicily / Who was slave of Saius, captain of Pilate's guard" on his own now because Saius has become "meat for the dogs". Tiro stands in for Ridge and her fellow artists who attempted to respond to the extended shock of Sacco and Vanzetti's execution:

. . . my grandfather
Made songs about Athenion. . . Athenion rode forth with
            his herdsmen.
Brothers, ye have been patient, ye sitting still for a long while,
            not turning your heads to right nor left,
I am happy ye shall carry off my words in your hearts . . . I
            was afraid
I had waited too long . . . numbers on infinite numbers . . .
Out of the chasms . . . out of the hymning clay . . .
(all ellipses LR's)
                                                                        (207)

Perhaps Ridge wondered if she were too late with her image, her song. And if she could trust "the people" to respond to it. This poem is important, finally, because it expresses so well Ridge's variety of feelings toward and confidence in mass movements. In Firehead, Ridge alternatively describes people pejoratively as a "crowd" or "mob" who condemned Jesus to death, or more benevolently as "the people" or "a multitude"—"The infinite murmur of the multitudes / That run out of their doors from a stone's eaves" (59) seduced and convinced by Jesus's philosophy. The section called "Peter" establishes the connection between the "hero" and the masses. And Peter questions whether he can maintain the relationship:

Hundreds of thousands upon thousands swarming
In the cavities of those hills that are so steep and straight
They all but meet above me . . . brothers, have I provoked you,
Backs turned quietly working, that ye will not look upon me
On whom ye shall build his church that shall also be my
            church—is it that the harlot
Entereth the holy house? But I say unto you, the harlot
Is the last word made woman, not even He shall put away. . .
There were many such did follow him up the steep hill. . . (all ellipses LR's)
                                                (156-157)

Later in the story, in the section called "The Bondman" in which the craftsman Tiro is introduced, the masses are described :

Little black figures that were like beetles but less nimble and
            seemed to attach one to the other
Until the slow-moving line stretched about the crosses like a
            snake.
He saw the undulations of the jointed body that seemed pulling at h
            his own
And felt its dim and angry vibrations, saw the multiple
Head, of which he was a forlorn and unassembled eye,
Sway, torpidly iridescent, and made signs upon his skinny
fingers,
Urging to some gaudy action, that which was enraged and
quivering
And yet that did not strike. Now he turned from this coiled
            inertia of the crowd
                                                (199-200)

Nancy Berke quotes a portion of a letter Ridge wrote to her husband in 1923 that pertains well to the convictions Ridge explores in Firehead: "I'm not a pacifist and am an individualist and I know individuals will always rule, no matter what the society . . . even in a democracy. . . . Just now I think the communists are more fit to rule than any other group, but I tremble to think o f the result once the greater part of the world has become communist" (quoted in Berke at 53). As an anarchist, Ridge had great confidence in individual free will to guide governments and politics. But she must also have wavered in her confidence that once gathered, well-meaning individuals would make the right decisions. It was clear by 1927 that mass movements could quickly spurn mob violence, and conversely, that individuals could feel themselves inert and powerless in the face of injustice. Firehead, then, serves as a link between political and mystical writing for Ridge. It enables Ridge to work out some of her feelings about anarchism and communism by way of her representations of Jesus toward the "masses." It also reveals Ridge's commitment toward an ever-complex gendered and class vision of human liberation.

Works Cited:

Allego, Donna. "Lola Ridge: Biography." Modern American Poetry. http://www.enlish.uiuc.edu/maps/poets/m_r/ridge/bio.htm

Berke, Nancy. Women Poets on the Left: Lola Ridge, Genevieve Taggard, Margaret Walker. Gainesville: UP of Florida, 2001.

Drake, William.  The First Wave: Women Poets in America 1915-1945. New York & London: Collier Macmillan, 1987.

Gregory, Horace and Marya Zaturenska. A History of American Poetry 1900-1940. Excerpt rpt in "Criticism on Ridge" Modern American Poetry. http://www.english.uiuc.edu/maps/poets/m_r/ridge/criticism.htm

Harrington, Joseph. Poetry and the Public: The Social Form of Modern U.S. Poetics. Middletown, CT: Wesleyan UP, 2002.

Huyssen, Andreas. After the Great Divide: Modernism, Mass Culture, Postmodernism. Bloomington & Indianapolis: Indiana UP, 1986.

---

Bio: Julia Lisella is a lecturer in History and Literature at Harvard University, specializing in modernism, women's literature and the 1930s. Her essay on the poet Rosa Zagnoni Marinoni is forthcoming this spring in the anthology The Lost World of Italian American Radicalism (Praeger Press). She has also written extensively on Genevieve Taggard, Muriel Rukeyser, Margaret Walker, Lucille Clifton, and Maxine Hong Kingston. She is a poetry editor for the online journal The Mystic River Review. Currently she is at work on a book based on her dissertation that explores maternity, the lyric, and women's political radicalism from the 1930s to the present.  Her poems have appeared in such journals as Crab Orchard Review, Pleiades, and Paterson Literary Review.
---