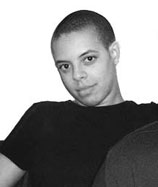 Working Note: I have been thinking about the challenges black women autobiographers face when it comes to disclosure. I am particularly interested in the way their narratives are often heavily structured by silences or denials. I am inspired by the ways in which two artists, Faith Ringgold and Audre Lorde, seem to respond to these challenges by adding to their life stories rather than subtracting from them. Ringgold, for example, paints not just her life story, but also the life of an artist of her mother's generation who has the power to move through the world in ways denied to her mother because of racism and sexism. Lorde tells not just the sides of her story about which many people would be silent, but also the many times and ways she has been asked to be silent.
In my recent work, I'm interrogating propriety and my own investments in ladyhood and other bourgeois behavior. I am exploring ways of documenting my life through what I like to call 'open speech', which is a direct, effusive, complete way of telling that I find contradictory to my normal speech. I am trying to get at a way of telling which says: "This is what I want to say" and: "I do not want to say this" at the same time. With "keeping up appearances, a hypertextimonial" I am investigating the power of using forms which often signify lack of power by using them in concert with one another. I have bombarded the viewer with disappearing hypertext as a way to work back into the smallness I might model in my day-to-day life.

Enter: keeping up appearances, a hypertextimonial
*
BIO: Mendi Lewis Obadike writes for audio, the web, the stage, and the page. Many of her works explore raced and gendered notions of savvy and propriety. Her new media projects have been exhibited at the Studio Museum in Harlem, the Whitney Museum of American Art, the Yale Cabaret, Spelman College Museum of Art, and the Rhizome Artbase. Mendi's recent writing has been published or is forthcoming in Nocturne(s), Obsidian, Fence, Indiana Review, Blood and Bone: An Anthology of Black Southern Writing, and Sound Unbound: Writings on Contemporary Multi-Media and Music Culture. Her online projects can be accessed at http://www.blacknetart.com. A native of California, Mendi grew up in Tennessee and lives in Connecticut, where she is finishing her dissertation on theories of sound and the representation of black character(s).