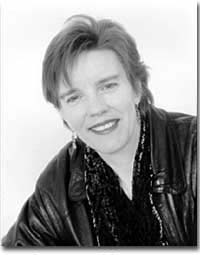 Life Studies of a Different Ilk
Hinge: A BOAS Anthology, ed. Lauren Schiffman, Crack Press,
2002)
Jeanne Heuving
For whom does one write?
For the eight women writers publishing their work in Hinge, collectively known as BOAS (Bitches of All Seasons), they write for each other. BOAS (formerly GOS, Girls of Summer, and WOW, Women of Winter) came into existence as an association of like-minded writers in San Francisco. They met to eat "good food," to "chat" and to discuss "writing and the writer's place in the world."
In the working notes that follow the writers' selections of works, several comment on BOAS. Erin Wilson remarks, "I don't think of BOAS, I think of eight separate women. What I push for, reach for, desire, I find in us." Laura Shiffman draws attention to the rare possibilities of saying "cock and pussy in a room full of seven politely listening women." She comments, "I wouldn't have finished ["Mirror Mirror: The Cock Poems"] without [. . .] the go-ahead to write lots of dirty words on the page and the strength to be vulnerable in the work."
At the beginning of the century, Virginia Woolf had cause to remark on the revolutionary moment in a novel in which she read, "Chloe liked Olivia." For Woolf this remark heralded the moment when literary works could focus on (and therefore construct and value) relations between women. Previously, as Woolf understood it, women only existed in novels in their relations to men. BOAS brings this possibility to the literary coterie or to the avant garde collective, or to what Robert Creeley refers to as his "company." While history has given us a few famous women's literary coteries, Sappho's lesbians and Paris of the Left Bank, still the possibilities inherent in women's literary explorations being done in the company of like-minded women is more revolutionary than one might think.
Norma Cole notes the book "presents a radically new set of relations between the work of individuals and the work of the collective. Don't miss it!" [book jacket]. Indeed, in a world where literary market places define endeavors (whether through MFA writing programs or publishing venues) BOAS provided a rare commodity — a place where the writers' work could find resonance and build on itself. While such places are important for all writers, they are particularly important for women writers who must struggle to find and sustain the fertile liminality of their own arrogance and vulnerability.
The book is exciting as a collective endeavor yielding a set of mutually informed poetics and social observations as well as a selection of individual works. Like other twentieth century innovative work, it mines the place between writing and everyday life, but unlike earlier work, such as say, William Carlos Williams' Spring and All or Lyn Hejinian's My Life, there is less a need to mark out a territory, to do battle with literary protocol. As Myung Mi Kim remarks in her introduction, "This book is not a document. Rather it documents with ardor, with responsibility, the confluence of writing and everyday life."
Kim's commentary is a telling introduction to this work, calling into the foreground the way that these writers do "document" their lives, with the difference that "ardor" can make. Living as we do in a time inundated with powerful (and exciting) new information technologies, it is precisely their challenge that "creative writers," for lack of a better term, must address. These writers meet this challenge by making their own lives their place of investigation (having unprecdented access to these sites) and by bringing their existences into new relief through subtle verbal exploration. Stefani Barber writes of "resisting the narrative that asserts" and Elise Ficarra tells of learning from BOAS, "don't knock too heavily on the door and hammer it shut — let it swing on its hinges [. . . ]." Jean Lieske presses Frank O'Hara's "personism" into an enacted processual relation: "I want to write you a letter. I mean, I'll understand you're there // when I reach you in writing."
I was particularly taken with the crossover between prose and poetry throughout the volume, yielding a writing that can be simultaneously svelte, austere, and rich. As Nicole Stefanko remarks about her piece "Manta Ray":
At first, I thought of them as "skimming stories" that would allow me to test the flatness or elasticity of prose — how much or how little could live in the surface of the language, how much could be thrown down on the page without judgment or explanation. Getting as close to what I dreamt or day dreamt with as possible. Pretending that I could type as fast as I could think — and what would happen then, what would I see. Then I began to notice a lyrical intensity creeping in.
Take for instance, this section in Stefanko's "Manta Ray":
entanglements GORGEOUSNESS
brittle
glittering
silt
ADRIFT
deep unexamined waters
floated cubic ft. to cubic ft.

Or Jean Lieske in Finn:

tredding was the trilling sound taken from
the hole like thrilling you found yourself
a fox / teeth story, bits of fur — remnant
re-embrace — you sloughed off in pleasure
Or Tsering Wangmo Dhompa in "Irreovcobaly so — a poem beginning with k":
The four valves have their own labor. When shunting occurs in the wrong direction, there is an alarm. A leaking valve develops its own conditions. Sibilant.
Do read Hinge. As Sarah Rosenthal remarks in an opening epigraph to Hinge, "i think of a door swinging on hinges [. . .] i think of the passages between each other in the group, and out to readers, and opening up possibilities for readers to (? what's beyond this) . . . what comes to mind for others?"
---
Bio: Jeanne Heuving has published widely on twentieth century poetry and poetics, including the book Omissions Are Not Accidents:  Gender in the Art of Marianne Moore.  Her cross genre writing, Gaudy Night, appears in HOW2 4.  She is on the faculty of the University of Washington, Bothell, and on the graduate faculty of the University of Washington.  She is a recipient of NEH and Fulbright research grants, and the H.D. Fellowship in American and English literature at Yale next year. 
Hinge is available at Crack Press, P.O Box 8223, Emeryville CA or at Small Press Distribution <http://www.spdbooks.org/>.
This review first appeared in Bird Dog 2, a Seattle-based journal published by Sarah Mangold.
---