Working Note : This website examines issues about time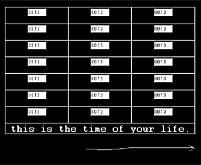 and its effect on our lives. The site provokes the question whether the time the user spends in their lives is "too stressful,""too emotional," or just "too busy." It also exposes answers to web-based questions that the user answers. This is compared to answers by the artist and the other visitors to the website. Finally, the user is given an "official" printout that documents and realizes the "wisdom" of the site. This journey creates a community and ironic look at what is the Time of Your Life.
Bio: Juliet Martin has a BA in Visual Arts from Brown University and a MFA in Computer Art from the School of Visual Arts. She is a digital artist, programmer, and writer. She has received recognition for her work from a variety of venues including the Cooper Hewitt National Design Gallery, SIGGRAPH, ISEA, and The New York Times. As well as New York City, she has been critically acclaimed by art venues in Korea, Brazil, Germany, Australia, and Canada. She presently works as a professional artist and as a professor at Pace University in New York.