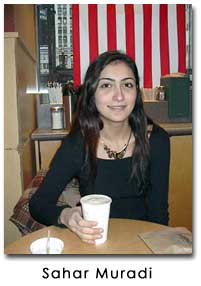 Sahar Muradi
Working Note
These pieces are taken from my manuscript, "A Bat is a Leather Butterfly, or the Wonder of Being Several," a series of memoirs about growing up between Afghan and American cultures.  In Dari, the compound "leather butterfly" signifies "bat," and here it alludes to my own compound identity as an Afghan-American woman.
---
Everyday Bob walks into the café and asks my father, hey, Ali, how's that
elbow?
My father stands behind the register, his elbow propped up on the counter,
his head in his hand, and looks out the window.
Bob laughs, don't work that elbow too hard now!
He loves the water, where there is a lake, a canal even, he stands for
hours, silent, lost in it.
It is lunchtime and my mother is making sandwiches, a dozen a minute, and
chatting with customers over her shoulder and whispering in Farsi to my
father: who ordered what, extra bacon, on a sub roll, large or small salad,
and my father, not hearing, making wrong calculations, the window at his
side, my father will disappear.
Sometimes it is the water, and sometimes it is the freezer, the trunk of the
car, the television, a closet, but it is worse with a bowl of pomegranate, a
plate of watermelon, a dish of dates, when he does not simply go back, he
compares.
Bob says, but, Ali, it's just a parking lot.
In Flagstaff, Arizona (on a family trip), on the side of the road outside a
fish restaurant, where the river cut through the rocks and we knelt among
them and ate chabli kabobs, he said, this is Paghman.
During dinner, between spoonfuls of qorma challow, he tells us about the
white snaking pattern in the mountains of Mazar-i-Sharif said to be the
spirit of Hazrat Ali, about Zohake Mahran, "King of Two Snakes," and his
pair of reptiles which he wore like scarves around his neck and fed human
brains to every day, and about the Koh-i-Nor diamond, the size of a human
head, looted from India, inherited by king after king, and, when the British
arrived, hidden for years within a wall in Jalalabad.
Bob asks, between you and me, who works harder you think, your wife or your
elbow?
In his first phonecalls to us at college, he asked us to look up old atlases
in the libraries, to send him copies of the ancient maps of Persia and
Baluchistan, of countries that no longer exist.
My mother will say, instead of memorizing all those dates and places and
stories, why don't you learn the prices?
Every night he goes online, elbow on the desk, hand at his lips, glasses
dripping down his nose, and reads the latest news.
You will wear down the skin, Bob teases.
---
Shabnam is on the floor of our room, blooming brown globes out of her little
black lycra top, and counting.  Twenty-five, twenty-six, twenty-seven in
hot, heavy breaths, arms crossed behind her head and legs pedaling an
imaginary bicycle.  She is riding out of our room in Louie's house, past the
too-narrow door on our nighttime whispers, past the kitchen of her sweet
grief, past the bathroom where madar is convinced the tampon absorbed her
daughter's purity, past the telephone of boyfriends who silence to a suicide
when padar answers, she is sweating fifty, fifty-one, fifty-two past the TV
that is her only permissible hobby, the TV that tells her she must pedal
faster, the TV that fires a rash of red shame across her body when a man and
woman moan and madar's teething glare cuts her and says, now is a good time
to make conversation, to change the channel, to get a drink of water from
the kitchen, she is panting seventy-two, seventy-three, seventy-four past
the soft blue sofa where her legs sometimes forget their decency, past the
coffee table where she dutifully sets padar's chai every night after dinner,
past the glass door toward the lake where we swim in long t-shirts after
padar pointed out all the glass doors on the lake, she is pedaling
eighty-five, eighty-six, eighty-seven past Olsen Middle School and the girls
who didn't inherit two unwieldy worlds beneath their shirts or the skin of
animals on their arms, past Hollywood International Airport, where our
grandfather, arriving with his month-long suitcase from another son's house
and a face full of sickness and complaint and judgment, said to her, in the
name of God are you big!, pushing ninety-seven, ninety-eight, ninety-nine
past the city limits, past the state line, past the landscape of America
that stretches as long as a curse, one hundred—when the door rips open and
padar's face cracks like a plate over Shabnam's body, over her skin, and two
worlds rising up, and the red shards of his mouth scream, put a shirt on!
---
Bio: Sahar Muradi was born in Kabul, Afghanistan, in 1979, and grew up in New York City and Florida.  She is a recent graduate of Hampshire College in Amherst, MA. She is currently at work on her manuscript, "A Bat is a Leather Butterfly, or the Wonder of Being Several."
---