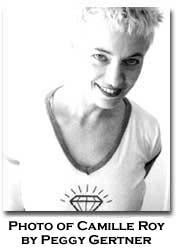 Camille Roy
Working Note
(from original "Cheap Speech" working notes, going in and out of character, while writing the play)
--I'm a set of notes.
--Not a normal personality. All my characters are fictitious, all my stories are true.
--Sliced deep. In the hotel of my known liar.
--Everyday you tell me a totally different story.
--And it was true too.
Speaking exaggerates certain pleasures of the mouth. The ones I hide from trouble. Overabundant, "poetic" meaning, coupled with a replacement?"pleasure" for "sense". That's my universe of discourse.
But what about all your personalities popping out. The comedy pulses, even though it?s basically sad. Fear frogs jump and croak in a land of fear frogs, and so on.
[[ All during my childhood the dog Oscar barked in our yard. He wouldn't stop. Odd that he was warning us. The summer I turned 14, he lay down under the lemon tree and died. ]]
Who am I? I drive a bus. I'm in sales, I sell shoes. I mean, I'm a cowboy. Then I became a delirious teacher. I come out of hiding when there's a space.
The priest stuff is crap. I want to take that out. But what to replace it with?
streaming shouting insurance. I'm in sales. I sell shoes to the masses. I teach drama. I drive a bus. I walk the line. I'm a shepard. I mean a cowboy. Delirious teacher! I come out of hiding when there's a space.
Wanda
Here I am this grizzled old dyke and I've never had a lesbo fusion relationship. I've been squired by one butch after another. I want my twin, my secret twin, the one scraped out of my ear when I was 2. Was that you?
grrl
All my characters are fictitious, but my stories are true.
Wanda
Be my lonesome dove.
Bogdan
She's filled with dead souls. And they're slippery, the dead. They don't answer back directly, but they know how to make their presence felt. Think of them next time you slip into the back room, looking for whatever it is you're looking for. So you huddle against the wall there. You slide down. Next thing you know you're crying and immobilized at the same moment. Catatonic grief.
Wanda
Little broken thing. She's so artificial, I love that.
---
Cheap Speech
Synopsis
A comic version of love and nausea. Sydney, an abstract-novelist-dyke is living on Wanda?s sex work earnings. Wanda has a bad case of stripper?s disgust. They quarrel and hurtle apart, through urban undergrowth, each bolted to a separate flaw in the social texture. There's a multiple personality somewhere, a baby, and a theater?plus a Romanian refugee who has been boiled in history. In this urban jungle, anyone you meet can flash a sentence and reel across the stage, and the sadist is melancholy, the effect of too much sex, power, torture, and poetry.
Characters
Wanda stripper, sex worker, femme, female
Sydney (Sid) experimental writer, butch, female
Bogdan Vladu Romanian immigrant/refugee, late twenties, male
grrl multiple personality, various ages and sexes
Set
Garden bench. The scenes switch back and forth from 'park' to 'office'. We used white rectangular pedestals; on one side of the bench there was office stuff arranged on the pedestals, on the other were arranged several flower pots with plastic flowers stuck in their dirt. The office included a typewriter on a typing table, which was swung out in front of the bench for the office scenes. Scene switches were indicated by lighting changes, which highlighted one set of pedestals or the other. The 'park' half of the stage could also be indicated by a few crepe paper flowers scattered around, big as heads. Every now & then someone would give one of the flowers a good kick.
Prop note: Throughout the play, Sid carries around a fat notebook with pages falling out. This is her "novel".
[Sid enters, followed by Wanda, who is carrying a hat box. They sit down on a park bench.]
Wanda
I want to be admired thru layers of leaves, with sun in between, like a sparkled frost. Just bark, water, grass, then someone beautiful, like me. [takes out and puts on her hat, which has a veil. She'll wear this hat for the rest of this scene] So?what do you think?
Sydney
It' yellow.
Wanda
Yes, it is.
Sydney
Yellow.
[a moment of glum silence]
Wanda
It was yellow when I bought it but you didn't say anything.
Sydney
(mumbling) ...Cause but no cure.
Wanda
Oh.
Sydney
... Wanda. I'm wandering, thought-wise. All dart & trace, the bat is in my mouth, flapping, and I can't stop talking about myself. [sighs]
Wanda
What?
Sydney
Flat is a story, sharp is a distinction between objects and light.
Wanda
It's your novel again, isn't it.
Sydney
"Dunno and don't you forget it." That's my favorite Americanism today. When I'm like this, my ribs crack like string beans.
Wanda
[fretful] Yesterday you told me it would be just a list of noises.
Sydney
What?
Wanda
Your novel.
Sydney
That's not enough. Today, I want it to be so big, it'll have it's own ... climate.
[holds up her novel]
Wanda
You need another sense then. Why not add smell. It could be a list of noises and smells.
Sydney
Okay.
Wanda
Try on your hat.
Sydney
Okay. [takes her hat out of its box; it's a sort of black pirate hat; she puts it on.) You sure you like this?
Wanda
O yes. It's fine, you're mine.
[they look at one another]
Sydney
Yellow IS your color. Svelte as a furry little beaver, but so exact.
Wanda
Thank you... [romantically] Particularly today, feel me. My sentimental face.
Sydney
[slips her fingertips under Wanda's veil]
Wanda & Sydney
[in unison] Wedded and weeded.
Wanda
You want me more than you want a quiet evening.
Sydney
I've written almost a thousand pages of a continuous present. My novel. For you, love. [shoves "novel" at Wanda]
Wanda
[doesn't take it] And I don't get it.
Sydney
I know. That bugs me.
Wanda
So many pages. As if any little hurry had subsistence.
Sydney
Hey! [pulls a loose page from "novel", jumps up on the bench & reads it]
My aesthetic is a unit
not of logic, but of quantity.
My aesthetic's an interval
during which there's a difficulty.
Any sentence might be a person.
And when it happens, they [indicate audience] look up!
Bring me sugar. Bring me milk. But I
can't say, [leering] Milk me, Sugar... Or can I?
Wanda
[trying to understand] You can't have...grammar without...servitude?
Sydney
My aesthetic, exactly.
Wanda
Amazing. It doesn?t stop coming does it. Or at least, it's not over til its over til the fat lady sings...
[Wanda jumps up on the bench with Sid]
Yogi Berra said that. He was Italian so he knew about the opera!
[pause]
That was okay.
Sydney
You think?
Wanda
[sits back down] Yeah.
Sydney
You liked the poem bit?
Wanda
Yeah, I told you.
Sydney
I dunno... [still standing on the bench] What I want is, no audience, just evidence. Private matters.
Wanda
You change your mind every five minutes.
Sydney
You are only my toy-to-be-adored. In my room, when there's no one around, I rub words on your mouth [runs her finger across Wanda's lips]. It's the friction that I like. [leers] Just you & me, baby. That's my aesthetic.
Wanda
I'm insatiable. You like that.
Sydney
Yeah! [Sid sits back down on the bench]
Wanda
[morose] So why do I get bored? It's not the insatiable part--that's alright. I guess. I guess it's alright. But it's not where I'm AT. [Wanda sits down on the bench takes out a compact & a lipstick, lifts up the veil on her yellow hat and puts on lipstick). I redden my lips. [applies lipstick] And I do it for a reason. [looks at audience] Say why. [knocks Sid's leg] Say why.
Sydney
[bored] Why.
Wanda
Because the dead ones are out there [gestures at audience] and I'm glamorous. I get to be. That's the way it is. [walks towards audience] And the money's so easy I can't stop. Easy money. It's a fat dream, soft enough to sleep on. I like to sleep once in awhile. But what I don't understand is, why are you dead. Sweetheart, watch this. [She begins to rock on her hips like a stripper and unbutton her sweater]
Sydney
Baby, don't do that. Please.
Wanda
Why?
Sydney
Everyone will know what you are.
Wanda
How are they gonna know? They'll just think I spent a lot of money on my underwear.
Sydney
C'mere.
[pats the seat next to her, Wanda ignores her, continues dancing.]
Don't worry about them. The dead, I mean. I'm not, and I'm doing the script. So why should you worry? Just sit here and play your part, which right now is to listen to me talk about ghosts.
Wanda
BUT WHAT IF EVERYONE IN THE AUDIENCE IS DEAD?
Sydney
Well I'm sure not everyone is dead.
Wanda
HOW DO YOU KNOW THAT?
Sydney
I'm guessing. Probabilities. I mean, they might be dying. That's different. Dying is a period of categorical ambiguity in which a person is still among the mundane living, but babbles of the past, a sign that he or she is also in the process of becoming one with the ancestral shades. [Sid puts on sunglasses]. But I wanted to tell you about ghosts...
Wanda
You always do this.
Sydney
What?
Wanda
When I get upset you say something you know I won't understand.
Sydney
I can't help it.
[gets up & approaches Wanda, who is still wiggling/dancing]
I'm a writer. My lines mount my horse. My words tread, trod. [stops, confused] ..So why is it I don't even know how to say what I want, or even say what I DO.
Wanda
Shut up.
Sydney
Then there's always some dumb jerk nearby who's every move is thrust out like an articulated thumb. Is that privilege? It confuses me.
Wanda
[to a reggae beat]
O, O, O. Shut up...O O Shut up..
Sydney
[over Wanda's sing-song shut-ups]
On the other hand, the things I really know I'm right about I feel no need to mention. So everything I end up saying is only half heart.
Wanda
Shut shut up. [winds her arms around her own waist, rocking her hips] SHUT up shut-up-shut uppp, SHUT up, shut-up-shut-uppp.
Sydney
I can't talk to you.
Wanda
[snaps] Go fasten a nerd to a yurt.
Sydney
I can't talk to you unless I pretend you're a writer. Then we'll speak, one writer to another, like Sky to Headline!
Wanda
O Shut Up.
[Sid does]
[grrl rises up, from behind the plastic roses on pedestals.]
grrl
A large yellow tulip came up in my lunch box. I mean sand box. Not bad, huh?
Wanda
[still swaying] A tulip for lunch. Tasty!
Sydney
[politely, to grrl] You're the gardener, I take it?
grrl
Don't put ideals into my head! But then again, maybe I am the gardener... and I'll be having a baby, too. A son, I guess. [to the others] Should I do it? Have my baby?
Sydney
Why-
grrl
I'll call him Luv. My son. Look at the roses. They're growing so fast they seem to be shedding. [tenderly] No buds yet--but we're watching!
Wanda
If you're going to have a baby you'll need a stroller. And diaper service. Cribs and bibs and stuff. And time--so much time it's horrible.
grrl
You're a mother too!
Wanda
You'll have to stuff your head with the kid. Room for nothing else in it. I had to clean out my brains with cotton wool after I shipped my son off to Minnesota. I threw the baby junk out into the street. I decided it was time for him to spend some time with his father...
grrl
That's cold.
Wanda
I didn't ask for him. He came.
grrl
Do you ever call or write?
Sydney
She never does. That's our Wanda.
grrl
[moves out from behind pedestals, approaching Wanda & Sid]
Well I'm not like that. I'm older. And my motherliness is increasing, now that I'm older. I have tits and hips; before I had skin & bones, and the little milk sacs of my skinny years. Now I want a baby to take my breast, a Water Baby in trunks, glittering like a light in the water...and I'll be poolside, wading in someone's big eyes, warm as soup.
Wanda
You must be pregnant.
grrl
Is that alright? I'm an introvert.
Wanda
That's alright.
Sydney
[puts her hand on grrl's stomach and leans down as if to examine it] Growth is secretive but exquisite.
Wanda
[to grrl] What a pair we'd make. You're a pal of a grrl. And I know what its like to be with child. I can tell you about the chemistry and genetics?and remember, there's no telling nothing without Ultra Sound. Clearly we're wasting time. You need a doctor's examination and I need a new feeling. What do you say?
grrl
Okay!
Sydney
[to herself] I hate children.
[Wanda grabs grrl by the arm, and they start to leave, Sid follows]
Wanda
[to Sid] You stay here.
Sydney
Really?
Wanda
Yeah. I changed my mind. Once I thought we'd wed--my money and your thoughts--or else I'd burst in the darkness of the theater. But now...
Sydney
Now?
Wanda
I'm here and you're there and I'm exactly free of you. Now and forever, with a chomp.
Sydney
You can't leave me?you're my wretched tabloid and I'm your reader!
Wanda
It's true, I have as many stories as I have hairs. But now I've got to grow my own new life.
[grrl and Wanda exit together.]
[Sid sits on the bench, dejected. This is her duet with silence.]
Sydney
If I thought I was here, I'd get up.
(silence)
Sydney
If I thought this was my duet, I'd break the story that she likes best.
(silence)
Sydney
Softer in parts makes a start. Tassel my breath. [she blows on her hands, sits up]
(silence)
Sydney
[Sid lies down on the ground, where she'll stay for the rest of the scene. She is still wearing her hat, and the sunglasses.]
Nothing is as clear as the immediate past!
(miserable silence)
Sydney
[tone of explanation] Wanda said - Come into my house, come in So I did. And then I fucked her blessed Virgin every night, and she was good. Afterwards, Wanda'd curl up by me, all dispersed and sweet. I liked being the angel of her warehouse. The window was bigger than the bed, and next to a forestation. Fire trucks, window, bed. Sirens. The highlights came and went.
(silence)
Sydney
Of course, Wanda's not her real name.
(silence)
Sydney
Her real name is even stupider.
(silence)
Sydney
But, my name is Sid. I could be interesting but I'm not in the mood. What a waste. [throws herself on the ground and begins to pound it with her fists] I'm LEFT. TOSSED. I'm OUT. [stops pounding]. I don't belong to anyone's house anymore. I won't be playing with Wanda's pet rats anymore. I may as well stay here and find a bush to call my own. My own bush home. There must be a one for me somewhere around here. Weedy but fragrant, maybe a Scottish Broom. I like straw. I've slept in stables and vacant lots. Hah. I've been around, lots more than Wanda thinks I have. And in a few weeks, flea-bitten and skinny, I'll wait by her door. And maybe she'll...
(silence)
Sydney
Maybe she won't.
(silence)
Sydney
[beginning to crawl] People crawl through the grass when they're looking for a contact. Because a lens lost is revealed by a boil of light. Contact, that's the wish you want.
Bogdan
[entering] Bogdan is here. I am Bogdan.
Sid
[crawling on all fours] Wanda taught that attention paid, wanders off... I'm not listening!
Bogdan
Why not listen to me. A few exhausted sentences?were all I managed to carry to this country...Or is this show just...a slag heap of your words in my mouth!
Sydney
I'll try another sense. How about smell. [smells the ground] Dirt in the park smells like--snail trails and piss. And hey, a spider fondles my head, then glides earthward from my .. ear lobe. [sits up, brushes her ear lobe] It's not a good life. But my goal is the heavenly O... I mean Wanda.
Bogdan
Look at the mess you make. Dragging a television foot and you don't even notice it. Whereas I am not from here. I have no idea what to do with ideograms, such as appliances.
Sydney
Don't try to distract me. My girl Wanda left me flat. Now I'm crushed as a jerk.
Bogdan
Poor lingerie baby.
Sydney
It's not a good life.
Bogdan
Then start the next life.
Sydney
NO.
Bogdan
It's just your heart forcing anarchy through the tube of your throat...an expression from Romanian folklore.
Sydney
You, Bogdan Person -
Bogdan
Bogdan Vladu, from Romania.
Sydney
I have real worries which you are distracting me from just now.
Bogdan
[following her] If you only had a life?I wouldn't be here. I'm Content?s Dream.
Sydney
You're Contents' Dream.
Bogdan
Yes.
Sydney
That's an idea, right?
Bogdan
No. See, my country, Romania, is always a highway to someplace else. The Romans came first, followed by the Goths, Huns, Avars, Bulgars, Magyars, Mongols...Then these empires: Byzantine, Ottoman, Russian. Invasion erasing invasion...this is my Contents. You, on the other hand, are stuffed with orderly history?but only want what you've lost.
Sydney
Huh. So Wanda, gone, burns up my algebra...
Bogdan
Do you really think you're going to find Wanda, down there with weeds and bugs?
Sydney
It's something to do.
Bogdan
You are theatrical--which doesn't get far today.
Sydney
You shouldn't talk so much. Because I don't know you.
Bogdan
I'm Bogdan Vladu.
Sydney
I know THAT.
Bogdan
But you don't. Because you think I'm a creep, buzzing and bugging in your grief house. But creep means to shift position, and I am firm. Here, in my selfish structure. [smacks his chest]
Sydney
Bogdan, I lost my love boat. Now my nights will be as big as my past.
Bogdan
[striding back and forth]
I know. Now listen. My grandfather was a Fascist. After the war he left my father and grandmother in Constanta, and went up to the mountains to organize with other Fascists. They staged guerrilla actions up until 1959. Eventually the movement collapsed, though lots of those guys are still up there, telling stories. So one day, after the Revolution, my grandfather drove to Germany. Everything he saw was beautiful, orderly, prosperous. "That," my grandfather told me, "That was what we were trying to do."
[pause]
Sydney
You have a story.
Bogdan
What do you think of it?
Sydney
I don't know why I'm talking. Listening is steadier. Go ahead & flap your lips, as much as you want. Make a speech!
Bogdan
While you crawl around in dirt, among spiders and marigolds.
Sydney
Okay.
Bogdan
How boring you are!
Sydney
[hurt] How can you say that? Especially to someone in my condition.
Bogdan
That Wanda...She's the blond asteroid who fell to earth, in one mean streak. Crash, thud, burn. What a girl.
Sydney
You know her?
Bogdan
A bit. Professionally, I mean.
Sydney
What do you mean, "professionally"?
Bogdan
[silent]
Sydney
Let me guess, you respect her work.
Bogdan
She's a fine stripper.
Sydney
O god. What can you do--when your girlfriend likes to dance and has a walk like a 30s orchestra?an organza rump?and a little coating of fat that slides over her bones like a layer of vagueness. I called it her angel cellulite, tender under her black lace. She likes rosy colors and yellow colors and fake pearls.
She rattled my drum. BANG POUND BANG POUND, went my huge empty heart.
Bogdan
What's the problem?
[jumps on the bench and declaims the following]
You have elections, freedom of capital movement, private property. NOW BECOME NORMAL. Everyone knows Communism was a mistake. Fascism also was abnormal. Since you can't live your life over, you just have to kill it. Empty your past.
Sydney
O Bogdan. Grief glows like the worm in my apple.
Bogdan
It is obviously difficult to learn what is beautiful and to have one's mentality changed. But that is what Romanians are doing. We are being educated, aided by state and science and the free market.
[pause]
Sydney
Do you believe that crap?
Bogdan
Hey, I left the country. But first I told my sister, "My problem is that I have no money. The only people who have money now, after the revolution, are ex-Communists. They exchanged power for money?the new ruling class. So we are ruled by a class of capitalist communists!"
Sydney
And what did she say?
Bogdan
"In the new Romania, there will be no sin, only crime."
Sydney
I like that.
Bogdan
That's because?it's so American. I left the shadow thugs of Romania for wide open American crimes. My freedom mind has the pure criminality of a democrat!
Why why why are you leaving us, my sister cried. It's simple. When spring hurried through the lunatic forest, I left the country of need [comes down off bench and approaches audience] for the state of desire.
Now I stand outside the stripping theatre and bark, "LIVE all-girl Wiggling SEX ACTS. Fluffy tits! Thigh cream! Knock-knock! Show starts in 10 minutes!" I make eye contact. Dig into the eyes of a stranger. Dipping, sucking. Like a spoon into strange soup. This grating intimacy is capitalism. It's not greed. I'm not particular about how I live.
Sydney
Hummmh.
Bogdan
[casually] Saturdays I work the early shift with Wanda, and after, I buy her a whiskey sour while the M.C. Patty tinkles the piano with her long orange fingernails. Talons of love...
[pause]
Sydney
I never saw you over there.
Bogdan
You never went over there.
Sydney
Well, I'm not the jealous type. Wanda used to complain that I wasn't jealous ENOUGH. Better not to push it.
Bogdan
[delicately] I understand that because these women sell their bodies dosen't necessarily mean they are no good.
Sydney
[sharply] Wanda doesn't do dicks. She dances for tips.
[pause. Bogdan rolls his eyes or otherwise indicates not only that Sid is fooling herself, but that he himself may have had an "experience" with Wanda]
[Sydney sighs] But you're not down on prostitution.
Bogdan
I'm not.
Sydney
What can you do. I got to know Wanda when I was working at the video game parlor. She used to come around after her shift at the theater. She looked great.
Bogdan
[in an Eastern European accent]. A natural born stone fox in all her glory...
Sydney
Wow. I couldn't believe she wanted to see me.
Bogdan
She was your cherry.
Sydney
She was my 1997 smash. She put a wafer into my mouth, and gave me her checkbook. So I ate her money, and was glad.
Bogdan
Now she's cut the knot.
Sydney
Now she's zigged. She's buzzed.
Bogdan
Bye bye Wanda.
[light down]
---
BIO: Camille Roy is a writer and performer of fiction, poetry, and plays. Her most recent book is a work of fiction entitled SWARM, published by San Francisco?s Black Star Series in 1998 with support from the San Francisco Arts Commission. Other books include The Rosy Medallions (Kelsey St Press, 1995) and Cold Heaven (plays, O Books, 1993). She is a founding editor of the online journal Narrativity (http://www.sfsu.edu/~newlit/narrativity) and her work is available online at http://www.grin.net/~minka. Her email address is minka@grin.net.
---