Chicanos Por La Causa (CPLC) was organized in Phoenix in 1968 by Chicano and Chicana community activists who saw the need for developing a non-profit organization to obtain economic, political, educational, and health care resources in order to create positive changes in their communities. Since 1968, CPLC has provided community services, housing and educational facilities, job training, health care programs and financial assistance throughout Arizona to families, the elderly, the poor, and children from diverse backgrounds and communities. On July 7, 1999, President Bill Clinton visited the headquarters of CPLC in south Phoenix and participated in a round table discussion focusing on small business developments. President Clinton announced plans to form a small business investment company that will be the first of its kind. Chicanos Por La Causa (CPLC) will play a major role in this new venture.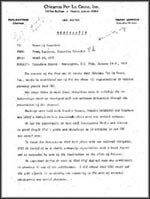 Executive Directors memorandum on a trip to secure funds for Chicanos Por La Causa written to the Board of Directors/
Memorandum de los Directores Ejecutivos en un viaje para asegurar fondos para los Chicanos Por La Causa escrito por la Junta de Directores
MSS 130
Rosemarie and Joe Eddie López Papers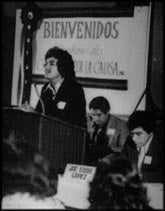 Daniel Ortega speaking at
a Chicanos Por La Causa meeting/
Daniel Ortega hablando a
los Chicanos Por la Causa
1970s
MP SPC 289:151
Where The Worlds Meet Collection
Chicanos por la Causa fue organizado en Phoenix en 1968 por los activistas de la comunidad Chicano/Chicana, quienes vieron la necesidad de desarrollar una organización no lucrativa para obtener recursos económicos, políticos, educacionales, y cuidados de salud, para poder crear cambios positivos en sus comunidades. Desde 1968, CPLC ha proveído servicios para la comunidad, facilidades de vivienda y educación, entranamiento para empleo, programas de cuidado de salud, y asistencia financiera a través de Arizona para familias, los ancianos, los pobres, y niños de diversos antecedentes y comunidades. El 7 de julio de 1999, el Presidente Bill Clinton visitó la cede de CPLC en el sur de Phoenix y participó en una mesa redonda de discusión que enfocaba el desarrollo de pequeños negocios. El presidente Clinton anunció planes para formar una pequeña compañía de inversión de negocios, la cual sería la primera compañía de esta clase. Los Chicanos por la Causa (CPLC) jugarán un papel mayor en esta nueva empresa.