Clifton Morenci Strike
At the turn of the 20th century labor organizations proliferated, attempting to protect the rights of the working class. The Western Federation of Miners (WFM,) a radically oriented labor union for the unskilled laborer, was founded in 1893. This group played a leading role in founding the more radical group, the Industrial Workers of the World (IWW), in Chicago in 1905. Mexican and Mexican Americans joined both groups where they learned organizing skills.

In 1903, Mexican and Mexican American miners staged one of the earliest copper strikes that failed due to a lack of support by Euro-American miners and major floods that occurred in Clifton.

It wasn't until 1915, when the WFM and IWW called for a walkout in Clifton, Morenci and Metcalf, that some demands were met. Five thousand miners, 70% Chicanos, demanded pay equity, elimination of corruption and improved working conditions. The workers settled their strike with increased wages and a sliding pay scale tied to copper prices. The strike was successful in part to mediation by Governor George W. P. Hunt and to the Mexican and Mexican Americans who staged a 19 week shutdown that caused hardships for the laborers and their families. Part of the concessions were that the workers must abandon the WFM. Unions were still not recognized.

Mexican American veterans, members of the International Union of Mine, Mill and Smelter Workers (IUMMSW) returned for work in the Clifton-Morenci area after service in World War II. The miners organized a 103 day old strike in March of 1946 against the Phelps Dodge Corporation. Among their demands was equality in pay and treatment along with other workers. They succeeded in gaining equal pay, equal benefits and equal job opportunities, making this dangerous work more tolerable.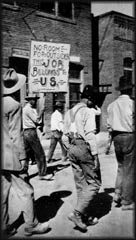 Morenci-Clifton strike /
Huelga en Morenci-Clifton
1916
CP MCC-78
Henry S. McCluskey Collection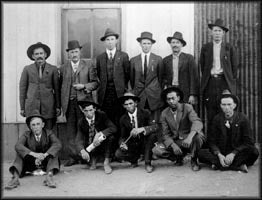 Officials of the Morenci District Miners Union including Henry S.
McCluskey, third, top row, Canuto Vargas, Pascual Vargas y Soto,
second, third and fourth bottom row/ Funcionarios de la unión de
mineros del Distrito de Morenci incluyendo Henry S. McCluskey,
tercero, fila do arriba, Canuto Vargas y Soto, segundo, tercero y cuarto,
en la fila de abajo
ca. 1915
CP MCC-82
Henry S. McCluskey Collection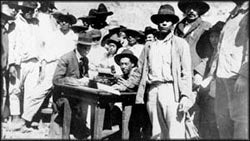 H.S. McCluskey taking applications for membership
in the Western Federation of Miners/
H.S. McCluskey tomando solicitudes para hacerse miembro
de la Federación de Mineros del Oeste
Morenci, 1916
CP MCC-21
Henry S. McCluskey Collection


Letter to H.S. McCluskey from Pascual M. Vargas/
Carta a H.S. McCluskey de Pascual M. Vargas
Henry S. McCluskey Collection
Box 3, Folder (Morenci Miners)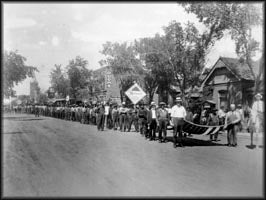 Demonstrators when the Western Federation
of Miners was being organized /
Minifestantes cuando la Federación
de Mineros del Oesta estaba organizándose
Morenci, ca. 1916
CP MCC-24
Henry S. McCluskey Collection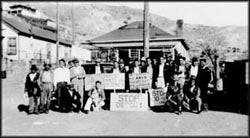 Morenci Miners Union, Local 616
on strike/en huelga
1946
Hector Galán: Los Mineros Photographs
MP SPC 186.14.23
David Velásquez Collection
Huelgas de Clifton Morenci
A la vuelta del Siglo 20 las organizaciones de labor se multiplicaron, tratando de proteger los derechos de la clase trabajadora. La Federación del Oeste de Mineros (Western Federation of Miners - WFM), una unión de labor orientada radicalmente para los trabajadores sin cualidades técnicas, fue fundada en 1893. Este grupo jugó un papel de liderazgo al fundar un grupo más radical, los Trabajadores Industriales del Mundo (Industrial Workers of the World - IWW), en Chicago en 1905. Los Mexicanos y Mexicano Americanos juntaron ambos grupos, donde ellos aprendieron técnicas para organizar.

En 1903, los mineros Mexicanos y Mexicano Americanos organizaron una de las primeras huelgas de cobre, que falló debido a la falta de apoyo de los mineros Euro-Americanos y por grandes inundaciones que ocurrieron en Clifton.

No fue sino hasta 1915, cuando ambos grupos, el WFM y el WWW, declararon huelga en Clifton, Morenci, y Metcalf, que algunas de las demandas fueron cumplidas. Cinco mil mineros, 70% Chicanos, demandaron igualdad de pago, eliminación de la corrupción, y mejoramiento de las condiciones de trabajo. Los trabajadores resolvieron la huelga con aumento de salarios y una escala de pago graduable de acuerdo a los precios del cobre. La huelga fue un éxito debido en parte a la mediación del Gobernador George W. P. Hunt y a los Mexicanos y Mexicano Americanos, quienes organizaron un cierre de 19 semanas que causó dificultades para los trabajadores y sus familias. Parte de las concesiones fueron que los trabajadores debían abandonar la WFM. Las uniones de labor todavía no eran reconocidas.

Los veteranos de guerra Mexicano Americanos, miembros de la Unión Internacional de Minas, Trabajadores de Mill y Smelter (International Union of Mine, Mill and Smelter Workers - IUMMSW), regresaron a trabajar en la área de Clifton Morenci después de servir en la Segunda Guerra Mundial. Los mineros organizaron una huelga de 103 días en Marzo de 1946 contra la Corporación Phelps Dodge. Entre sus demandas incluía la igualdad de pago y trato junto con los otros trabajadores. Ellos tuvieron éxito al lograr igualdad de pago, igualdad de beneficios, e igualdad de oportunidades de trabajo, haciendo este trabajo peligroso más tolerable.