Landmarks ~
Marcadores de Linderos

Home Page

Ranching/Ganadería

Mining/Minería

Agriculture/Agricultura

Organizations/Organizaciones

Family & Community/La Familia y La Comunidad

Occupations/Ocupaciones

Landmarks/Marcas de Linderos

Credits/Créditos

References/Referencias

Evaluation/Evaluación
| | | | | |
| --- | --- | --- | --- | --- |
| Landmarks are objects that distinguish a place, a boundary or events that recognize achievements or a period of time. By the mid 1860's Arizona's Mexican Americans settled in Phoenix and many lived in tents along the Salt River Canal. In Tempe they lived in adobe farm houses. In Miami, many lived in one room shacks and tents. These structures may no longer exist except in photographic documentation but they mark a time, a stage and a turning point in the history of Chicanos in Arizona. The contemporary and tangible remnants of the Mexican American culture are found in murals, on the sides of buildings war memorials, churches and grave markers. Among the most well known Mexican American landmarks in Arizona is the town of Guadalupe. Its cultural characteristics, modest homes, and traditions mimic those of Mexico; yet the community shares its borders with urban Phoenix and a university town, Tempe. Landmarks are the evidence of the presence of a society and its culture. | | | | Las marcas de linderos son objetos que distinguen un lugar, una frontera o eventos que reconocen los éxitos o un período del tiempo. A mediados de 1860 los Mexicano Americanos de Arizona se asentaron en Fénix y muchos vivieron en carpas a lo largo del canal del Río Salado; en Tempe vivieron en casas de hacienda hechas de adobe. En Miami, muchos vivieron en chozas de un solo cuarto y en carpas. Esta clase de construcción pueda que ya no exista sino en documentación fotográfica, pero marcan un tiempo, un escalón, y un punto que da la vuelta en la historia de los Chicanos en Arizona. Los vestigios contemporarios y tangibles de la cultura Mexicano American se encuentran en murales, a los lados de edificios, en los monumentos a los caídos, iglesias, y en las lápidas de las tumbas. Entre, las marcas de linderos mexicano americanas mas conocidas en Arizona, esta el pueblo de Guadalupe. Sus características culturales, hogares modestos, y tradiciones simulan aquellas de México; sin embargo, la comunidad comparte sus bordes con las secciones urbanas de Fénix y una ciudad universitaria, Tempe. Las marcas de linderos son la evidencia de la presencia de una sociedad y su cultura. |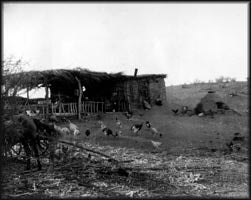 Mexican home with oven/
Casa de mexicanos con un horno
Tempe, ca. 1894
SPC 58-12
William Dinwiddie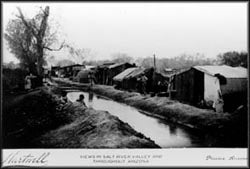 Mexican settlement along the Salt River Canal /
Establecimiento Mexicano a lo largo del canal del Río Salado
Phoenix, Arizona
N.D. MP SPC 289:36
Photographer: C. K. Hartwell
Where Worlds Meet Collection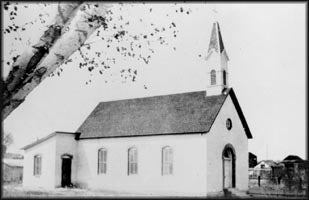 St. Anthony De Padua Catholic Church,
built by the Mexican community /
La Iglesia Católica de San Antonio de Pádua,
construída por la comunidad Mexicana
Wickenburg, Arizona
ca. 1902 MP SPC 173.29
Ocampo Family Photograph Collection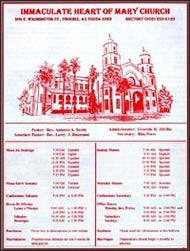 Bilingual Mass schedule for Immacutle Heart of Mary Church/
Horario de la Misa bilingue de la Iglesia del Inmaculado Corazón de María
EPH PN 253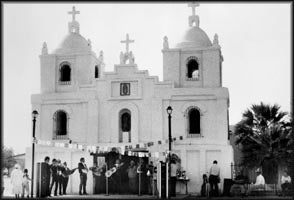 Our Lady of Guadalupe Church /
La Iglesia de Nuestra Señora de Guadalupe
Guadalupe, Arizona
1981
CP SPC 11-9
Southwest Photograph Collection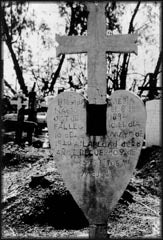 Guadalupe Town Cemetery /
El Cementario del pueblo de Guadalupe
Guadalupe, Arizona
1978
MP CM-10
Christine Marín Photograph Collection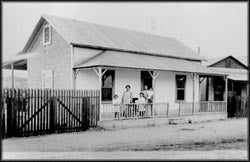 Residence of Frank Delgado and family /
La residencia de Frank Delgado y familia
Yuma, Arizona
1910s
MP SPC 173.817
Ocampo Family Photograph Collection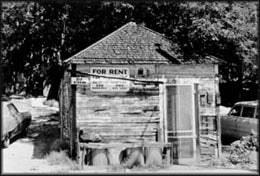 Miner's small house on Gibson Street /
Casita de minero en la calle Gibson
Miami, Arizona
1978
MP CM-30
Christine Marín Photograph Collection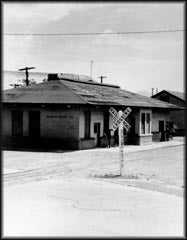 Southern Pacific Company Depot /
La Estación de Southern Pacific Company
Miami, Arizona
1978
MP CM-38
Christine Marín Photograph Collection
The art history of the Mexican and Mexican American people dates back to the pre-Columbian culture of Mesoamerica and the Olmecs, whose art style on stone monuments began to appear as early as 1150 B.C. Just as Olmec art promoted a political or a social consciousness, so does the mural and grafitti art of Mexican Americans, or Chicanos and Chicanas today. Their work is a reflection of a Spanish-Mexican-Indian heritage which expresses themes of struggle, human dignity, religion, or social justice. These artists have chosen public buildings, urban streets, conspicuous settings, and freeway signs to create unique forms of a cultural expression that has formed a relationship with the public. As a result, Chicano murals and graffiti are now a legitimate art form.

Mural at BarrioYouth Center /
Mural en el centro de Juventud del Barrio
Phoenix, Arizona
1981
MP CM 39.40
Christine Marín Photograph Collection



Graffiti
N.D.
MP SPC 287:187
Samuel Cardova Photograph Collection
La historia del arte de los Mexicanos y los Mexicano Americanos data desde la cultura pre-colombiana de Mesoamérica y de los Olmecs, cuyo estilo de arte en monumentos de piedra comenzó a aparecer a principios de 1150 A.C. Justamente así como el arte de los Olmec promovió una conciencia política o social, así también lo es el arte de los murales y del "grafitti" de los Mexicano Americanos, o Chicanos y Chicanos hoy en día. Su trabajo es una reflexión de una herencia Española-Mexicana-India, la cual expresa temas de lucha, dignidad humana, religión, o justicia social. Estos artistas han escogido edificios públicos, calles urbanas, alrededores visibles, y rótulos en las autopistas para crear formas únicas de una expresión cultural que ha formado una relación con el público. El resultado ha sido que ahora los murales y "graffiti" Chicanos son una legítima forma de arte.

Town of Guadalupe/Pueblo de Guadalupe
The town of Guadalupe was founded in 1904 by a group of Yaqui Indians escaping persecution in Mexico. The community of approximately 5,500 Yaqui American Indians and Mexican Americans maintain their cultural identity and ethnic traditions although the one square mile area borders metropolitan Phoenix and Tempe. Through preservation of their cultural and traditional heritage, the town has unique characteristics. From Our Lady of Guadalupe Church where religious ceremonies, such as the Day of the Dead, are held to colorful shops that line the main street, and a traditional shopping center, the El Tianguis mercado, the town itself has become a landmark in Arizona.




The Guadalupe workshops organized by Professor Frank Hoy, Walter Cronkite School of Journalism and Telecommunications, began in 1993 with "Portrait of My Community" along Avenida del Yaqui and continued with a series of on-campus and family workshops. Group photographs by: Naomi, David, Aaron, Esther and Peter Molina; Daniel and Nicole Armenta; and Art Roy, Jr. / Los talleres "Guadalupe" organizados por el Profesor Frank Hoy, de la Escuela de Periodismo y Telecomunicaciones Walter Cronkite, comenzaron en 1993 con "Retratos de mi Comunidad" a lo largo de la Avenida del Yaqui y continuaron con una serie de talleres de la escuela y de la familia . Fotografías de grupo tomadas por: Naomi, David, Aaron, Esther y Peter Molina, Daniel y Nicole Armenta, y Art Roy, Jr.
El pueblo de Guadalupe fue fundado en 1904 por un grupo de Indios Yaqui, quienes escapaban de la persecución en México. La comunidad de aproximadamente 5,500 Indio-Americanos Yaqui y Mexicano Americanos mantienen su identidad cultural y tradiciones étnicas, a pesar de que el área de una milla cuadrada limita con Fénix metropolitano y Tempe. A través de la preservación de su cultura y herencia tradicional, el pueblo tiene sus características únicas. Desde la Iglesia de Nuestra Señora de Guadalupe, donde se celebran ceremonias tales como el Dia de los Muertos, hasta las tiendas pintorescas alineadas en la calle principal, y un centro comercial tradicional, El Tianguis, el pueblo mismo se ha convertido en un marcador de linderos en Arizona.


Home Page

Ranching/Ganadería

Mining/Minería

Agriculture/Agricultura

Organizations/Organizaciones

Family & Community/La Familia y La Comunidad

Occupations/Ocupaciones

Landmarks/Marcas de Linderos

Credits/Créditos

References/Referencias

Evaluation/Evaluación