César Estrada Chávez was one of the great pioneers of civil and human rights. He was born in 1927 on a family farm near Yuma, Arizona to a poor Mexican American family that barely earned a living on marginal land. During the Great Depression, the Chávez family lost its land through a tax sale and was forced to join the migrant stream that flowed from harvest to harvest fields of commercial crops. Young César grew up in the shacks of farm labor camps, attended thirty different schools, and eventually reached the seventh grade.

After serving two years in the Navy towards the end of World War II, he met and married his wife Helen Fabela, in 1948. By 1958, Chávez began advocating for the development of a farm labor organization. With the help of Dolores Huerta and Gilbert Padilla, Chávez organized the United Farm Workers (UFW),which was organized in 1962 as the Farm Workers Association (FWA). By 1965, the organization had grown to include fifty chapters throughout the San Joaquin Valley, won its first successful strike and had changed its name to the National Farm Workers Association (NFWA).

Chávez merged the NFWA with the Agricultural Workers Organizing Committee (AWOC) to form with the AFL-CIO the United Farm Workers Organizing Committee (UFWOC) which initiated a general grape boycott and claimed a victory in 1969 when major table-grape growers signed three-year union contracts with UFWOC.

By 1967, Chávez attempted to unionize agricultural workers in efforts to call attention to the plight of farm workers through boycotts and labor strikes. United Farm Workers Organizing Committee (UFWOC) changed its name to the United Farm Workers (UFW) and as a labor union, affiliated with the AFL-CIO. During the mid-1970s, the UFW sent labor organizers throughout the United States to begin similar unionization efforts, and it was during this period that the Arizona Farm Workers (AFW) was established. However, Arizona's conservative leaders and their political maneuvers made it difficult for organizers to unionize farm workers, and they met with defeat in their attempts to do so.

For his humanitarian contributions and his work on behalf of farm workers, the down-trodden, the poor, and the families who toil the soil and suffer from the dangers of pesticides, Arizona State University awarded César Estrada Chávez an Honorary Doctor of Humane Letters degree in commencement ceremonies on May 8, 1992. On April 22, 1993, César Estrada Chávez died in his sleep in Yuma, Arizona, a few hours after finishing his second day of court testimony in a trial defending the United Farm Workers (UFW) union in a suit brought against it by Bruce Church, Inc., a vegetable produce company in Salinas, California. Throughout his life, however, César Chávez acknowledged his Arizona birthright and often recalled his family's struggles as workers in the fields.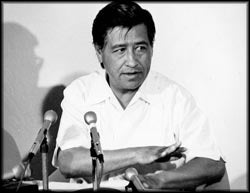 Cesar Estrada Chavez
N.D.
ACC# 98-1982
Martha Mitten Collection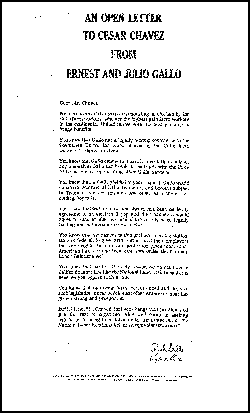 Open letter to Cesar Estrada Chavez/
Carta abierta para César Estrada Chávez
1970s
Acc# 98-1982
Marth Mitten Collection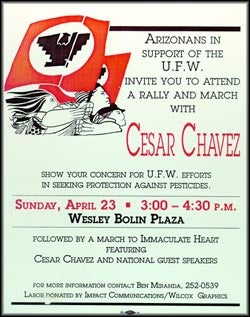 Poster: Meeting in Arizona.

Bumper Sticker/
1969
ACC#98-1982
Martha Mitten Collection
César Estrada Chávez fue uno de los grandes pioneros que lucharon por los derechos civiles y humanos. Nació de una familia pobre de procedencia Mexicana Americana en 1927 en una hacienda pobre de la familia cerca de Yuma, Arizona; una familia que escasamente se ganaba la vida en una tierra que casi no producía. Durante la gran depresión, la familia Chávez perdió su tierra debido a los pagos de impuestos y la familia se vio forzada a reunirse con la multitud de migratorios que fluían de cosecha en cosecha en los campos de cultivos comerciales. El joven César creció en chozas campesinas en haciendas de labor; asistió 30 escuelas diferentes y eventualmente llegó hasta el séptimo grado.

Después de servir dos años en la marina, hacia finales de la Segunda Guerra Mundial, él conoció y se casó con su esposa Helen Fabela en 1948. Alrededor de 1958, Chávez comenzó a defender el desarrollo de una organización de labradores. Con la ayuda de Dolores Huerta y Gilbert Padilla, Chávez organizó la Unión de Trabajadores de Hacienda/United Farm Workers (UFW), la cual fue organizada en 1962 como la Asociación de Trabajadores de Hacienda/Farm Workers Asociation (FWA). Alrededor de 1965, la organización había crecido hasta cincuenta cabildos a través del Valle San Joaquín y ganó exitosamente su primera huelga, cambiando su nombre a Asociación Nacional de Trabajadores de Hacienda (National Farm Workers Association - NFWA).

Chávez fusionó la NFWA con el Comité Organizador de Trabajadores Agrícolas (Agricultural Workers Organizing Committee - AWOC), que inició un boicoteo general de las uvas y declaró victoria en 1969 cuando un criador de tabla mayor de uvas firmó contratos de unión por tres años con UFWOC.

Alrededor de 1967, Chávez trató de unificar a los agricultores en un esfuerzo por llamar la atención por la situación difícil de los labradores a través de boicoteos y huelgas de labor. Comité Organizador de Labradores Unidos (United Farmworkers Organizing Commettee - WFWOC) cambió su nombre a Trabajadores de Hacienda Unidos (United Farm Workers - UFW) y por ser una unión de labor, se afilió con AFL-CIO. Durante mediados de 1970, la UFW envió organizadores de labor a través de los Estados Unidos para iniciar esfuerzos similares de unificación, y fue durante este período que se estableció Trabajadores de Hacienda de Arizona (Arizona Farm Workers - AFW). Sin embargo, los líderes conservadores y sus maniobras políticas hicieron difícil que los organizadores unificaran a los labradores y encontraron la derrota al tratar de hacerlo.

Por sus contribuciones humanitarias y su trabajo en beneficio de los agricultores, los oprimidos, los pobres, y las familias que trabajaron las tierras y sufrieron por los peligros de los pesticidas, la Universidad del Estado de Arizona otorgó a César Estrada Chávez el grado de Doctor Honorario de Cartas Humanitarias en las ceremonias de graduación el 8 de mayo de 1992. El 22 de abril de 1993, César Estrada Chávez murió mientras dormía en Yuma, Arizona, unas horas después de haber terminado su segundo día en un testimonio en la corte en un juicio en el que se defendía a la unión de los Trabajadores de Hacendados Unidos (UFW), un juicio seguido en contra de la unión por Bruce Chuch, Inc., una compañía de producción de vegetales en Salinas, California. A través de su vida, sin embargo, César Chávez, reconoció sus derechos de nacimiento en Arizona y muy a menudo recordó las luchas de su familia como trabajadores del campo.