[an error occurred while processing this directive]
ECURE 2002
PKI Records Management and Archive Issues

October 10, 2002
Phoenix, AZ

Charles Dollar
Dollar Consulting
1
Agenda
Introduction/Orientation
Digital Communication
What is PKI?
PKI Administrative Records Functions
PKI Operational Records v. PKI Electronic Recordkeeping Requirements
Recommendation
2
PKI Case Study: Overview
Not a PKI tutorial
Work for the National Archives and Records Administration
Opportunity for records managers/archivists
3
Digital communication
Closed and secure (national defense, VPN)
Open and secure (SSL)
Open and non-secure (PKI)
4
PKI a "hot technology"
E-Commerce
E-Governance
State of Illinois
5
What is PKI?
A PKI is an asymmetric cryptography security environment that supports the transmission, delivery, and receipt of digital communications over a non-secure communications channel.
6
What Does PKI Do?
Authenticates sender of digital communications
Protects integrity of digital communications
Key Pair
Trusted third party
7
How PKI Works in Digital Communications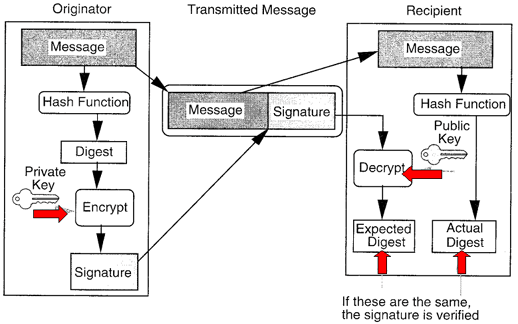 8
Hash Digest Values
337.60 KB
AaAEAACoAQAKAGjhX84+VC1d3)
NgDiPHvG+/R8hKCAUCACOvWKAT
FOYIz3XS5gAAgI1wrAKO1geAAA
AAAAAAAAAAAAAA=

337.60 KB
AaAEAACoAQAKAGy2YV8gORj
Feuf3yfnn7V)QMKBCgKywNfTD+
avB8UVEYKAAAoUB2gKo1gEAALg
AAAAAAAAAAAA=
9
Key PKI maangement concepts
PKI standard: X.509
Certificate Policy (CP): What
Certificate Practice Statement (CPS): How
PKI administrative records v. PKI transaction records
Little or no good practice guidance
10
Certificate Policy (CP) for Access Certificates for Electronic Services
General Provisions
Identification and Authentication
Operational Requirements
Physical, Procedural, and Personnel Security Controls
Technical Security Controls
Certificate and CRL Profiles
Policy Administration
11
CP Operational Requirements
Certificate Issuance & Acceptance
Certificate Suspension & Revocation
Computer Security Audit Procedures
Records "Archival"
Compromise & Disaster Recovery
12
Certificate Practice Statement (CPS)
To Be Discussed Later
Under PKI Operational and
Electronic Recordkeeping
Requirements
13
PKI Records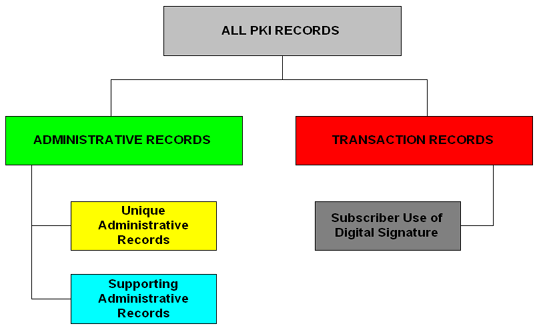 14
PKI Administrative Records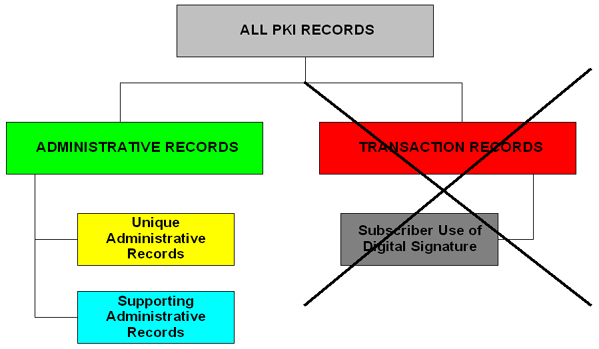 15
PKI Administrative Records Guidance Constraints
PKI records are not unique
PKI operational system v. PKI recordkeeping system
Some PKI records are paper-based
16
PKI functions
Plan/define PKI
Establish, startup, install
Operate
Audit/monitor
Reorganize/dismantle
17
PKI Functions, Activities, and EXAMPLE Records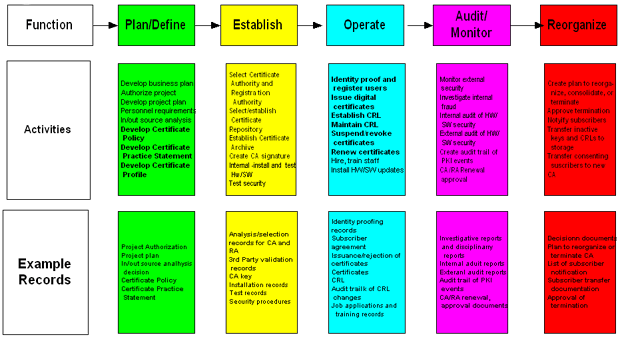 18
Example Operate Functions and Related Records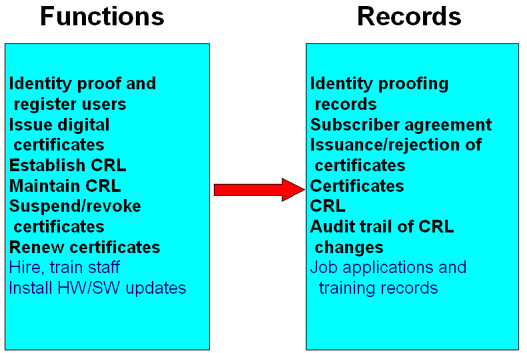 19
PKI Requirements Overview
PKI Operational and Recordkeeing Requirements
| | | |
| --- | --- | --- |
| | Operational Systems | Recordkeeping Systems |
| 1. Records Capture | X | X |
| 2. Records Metadata | X | X |
| 3. Records Retreval | X | X |
| 4. Records Classification | | X |
| 5. Records Disposition | X | X |
| 6. Records Integrity | X | X |
| 1. Records Storage* | X | |
| 1. Vital Records | X | |
| 9. Records Audit/History Log | X | X |
| 10. Records Privacy | X | X |
| 11. Records Security | X | X |
| 12. Records Freezes | X | X |
| 13. Records Transfer to ERS | X | |
| 14. Records Preservation* | | X |
| 15. Records Transfer to Archives | | X |
* Records storage in an operational system is substantially different from records preservation in an electronic recordkeeping system. Some of the specific requirements for records preservation include those of records storage.
20
PKI Record capture
Operational

Accurate and complete at or near the time of the event
Event log that trachs all activities associated with capture
Automatic population of record series title, disposition, and vital records status.

Recordkeeping

As database tables or as "rendered for viewing"
Technology neutral formats
Paper-based records
Document transfer of recurds to ERS
Confirm integrity of transferred records
Complete and accurate transfer of metadata
21
PKI records metadata
Operational

Augment event log data with series title, retention period, vital record status
For each unique event:

Common name
Certificate number
Date of event
Distinguished name

Restrict changes in metadata to authorized persons

Recordkeeping

Minimum attributes specified in operational requirements
For CP and CPS use registered Object ID
View/print complete metadata
Computer generated unique id for each record
Record location of electronic and paper records
Human readable bar code for all paper records
Restrict changes to authorized persons
22
Recommendations
Become knowledgeable about X.509
Get involved in PKI discussions NOW
Understand the differences between operational PKI systems and PKI recordkeeping requirements
Adopt/implement federal government guidance
Don't accept "we can't do that" from IT and PKI vendors
Make the risk management argument
23
Summary
Topics covered
Seize the opportunity
24
---
Digital Technology Standards: What to Look Out For
ECURE Conference
October 11, 2002
Charles Dollar
thecdollar@cs.com
1
What are Standards?
"Standards are documented agreements containing technical specifications or other precise criteria to be used consistently as rules, guidelines, or definitions or other characteristics to ensure that materials, products, processes, and services are fit for their purpose." International Standards Organization
2
Standard Principles
Consensus
Industry-wide
Voluntary
3
Types of Standards
De jure (sanctioned standards organizations)
De facto (industry practice)
Proprietary (specific company practice)
4
What Makes A Standard Succeed?
Addresses a real need
Market place penetration
Transparent
Successful and failed standards
5
Strengths and Weaknesses of Standards
Stengths

Stability
Interoperability
Interconnectivity
Portability
Supports migration

Weaknesses

Lag behind technology
Not necessarily the best technical solution
Vendor compliance
Change over time
Unending migration
6
Standards and Migration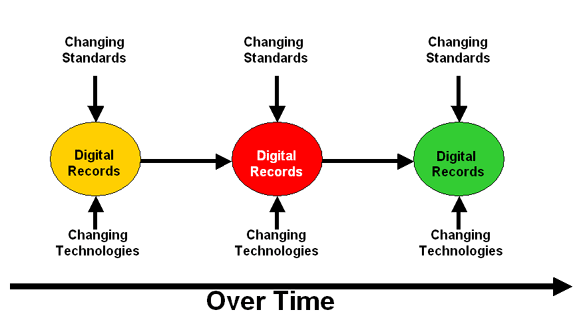 7
Selected Standards that Affect long-Term Access to Electronic Records
8